The NetBlocks internet shutdown observatory has collected technical evidence of multiple internet disruptions in the Democratic Republic of Congo as of Monday 31 December 2018 amid contested general elections.
Confirmed: Internet shutdowns currently spreading across #DRCongo in aftermath of contested election with major outages in #Kinshasa and #Lubumbashi detected just now #RDCVote #KeepItOnhttps://t.co/hQgU0tA9eA pic.twitter.com/CuqtoLeFFO

— NetBlocks.org (@netblocks) December 31, 2018
Major outages affecting mobile and fixed-line connections, and a full blackout in some regions including Lubumbashi and parts of Kinshasa have been detected from 1PM UTC, while mobile connectivity was disrupted in Goma and other regions from 7AM in the morning and earlier.
The incidents are ongoing at the time of writing. NetBlocks has collected 2.5bn individual metrics from DRC since the beginning of the campaign period; the metrics show earlier disruptions to internet connectivity have occurred on the 27th and 29th of December, affecting communications during the run up to elections, the day of polling and vote counting.
The observed pattern of network disruptions indicates that the blocking is not centralized, rather applied at the discretion of the commercial operators.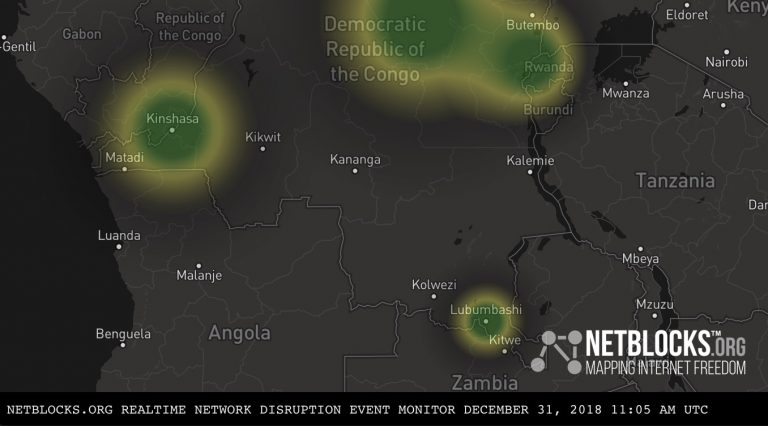 ---
Methodology
NetBlocks diffscans, which map the IP address space of a country in real time, show internet connectivity levels and corresponding outages. Purposeful internet outages generally have a distinct network pattern used by NetBlocks to determine and attribute the root cause of an outage, a process known as attribution which follows detection and classification stages.
---
NetBlocks is a civil society group working at the intersection of digital rights, cyber-security and internet governance. Independent and non-partisan, NetBlocks strives for an open and inclusive digital future for all.
[ methodology handbook | press | contact ] Graphics and visualizations provided under a free and open license for reuse with clear attribution.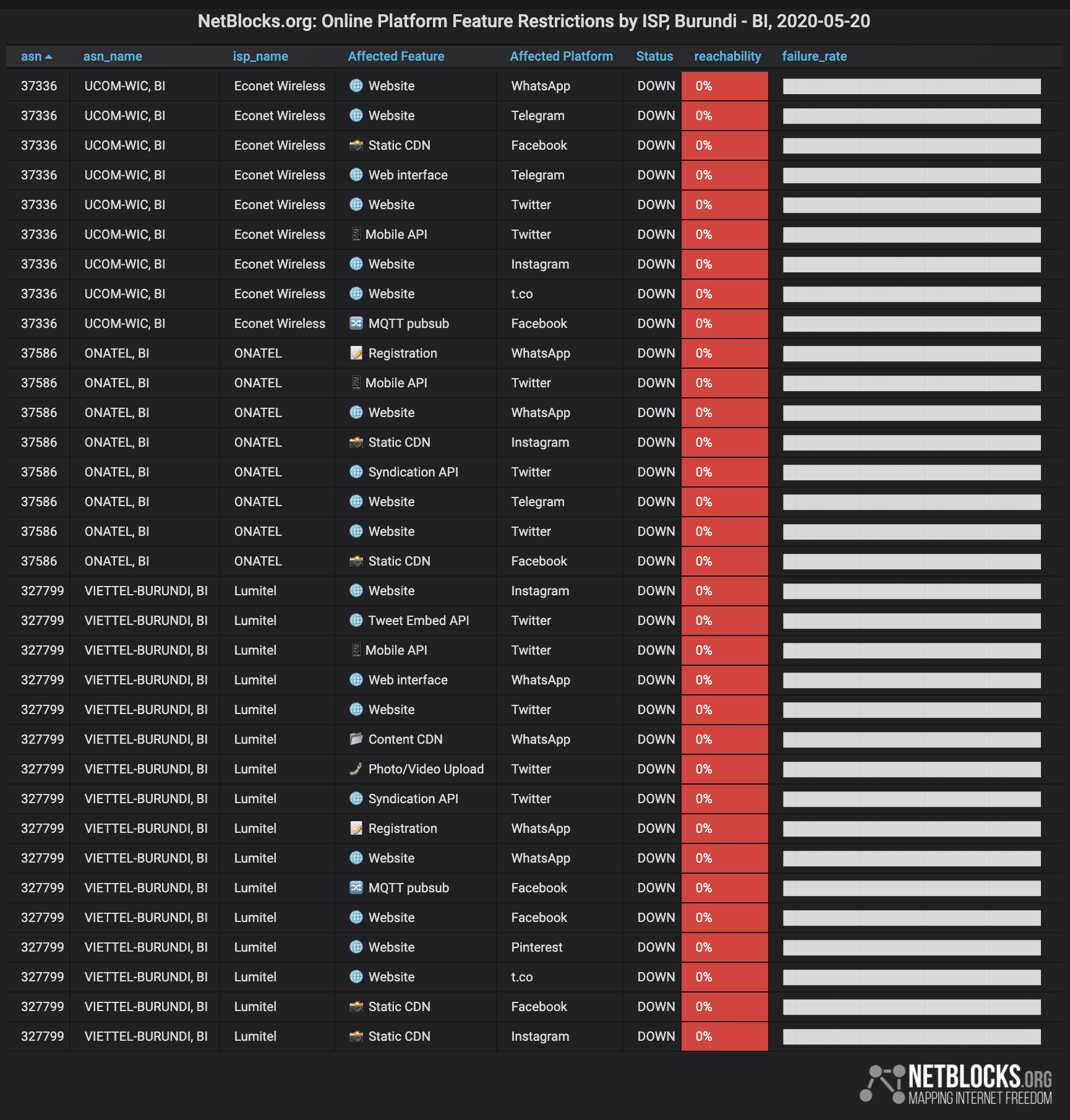 Network data from the NetBlocks internet observatory confirm that social media and messaging apps are disrupted and unavailable in Burundi on the morning of Wednesday, 20 May 2020 as the …