NetBlocks defends your right to privacy, and we work to protect your digital rights whenever you visit our websites and engage with us online or offline.
Data Usage Policy
Last updated: August 2019
Metrics We Collect
We strive to collect as little data as we need to further our mission.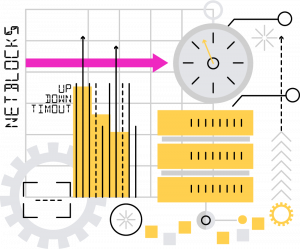 We collect information regarding visits to our website and sites that are linked to or referenced from our website. We log IP addresses, browser, operating system, visiting time (local and server), session, actions per visit, pageviews per visit, load times and reachability data for NetBlocks and external online properties, and request headers which include referring site information.
Your Consent
We will not associate any data gathered from this site with personally identifying information from any source unless you explicitly submit that information, or unless you otherwise provide consent and explicitly opt-in for services and facilities that involve the processing of sensitive personal data.
Our Data Pledge
We will never use analytics or measurement tools to track or to collect any personally identifiable information of visitors to our site without consent.
Neither we nor our measurement partners will seek to link an IP address with the identity of a computer user, other than to mitigate attacks on technical infrastructure or vital interests as permitted and/or required by law.
External Links and Resources
This site contains links to other sites that publish relevant information, and it performs performance checks in order to assess and report on the network quality available to visitors in the public interest.
NetBlocks and its authors are not responsible for the privacy practices or the content of linked platforms. No endorsement of online content linked to, reported on or tested by NetBlocks calculators and measurement tools is expressed or implied.
Social Media Policy
We use social media, social networking, telephony and mailing services to advance our mission. Some of these platforms and applications are provided by third party service providers. Please see their privacy policies for more information and contact us if you have specific concerns or recommendations, including but not limited to Twitter and Facebook.
Intended Audience and Applicability
NetBlocks' website and services are not intended for, or designed to attract, individuals under the age of 18. We do not knowingly collect personally identifiable information from any person under 18 years of age.
This policy details current, or planned, use of data and opt-in services by the website's operator. Actual data use may vary based on factors such as the visitor's inferred geographic location, network or time of day.
This Policy document can change over time, for example to comply with legal requirements, to meet changing needs or make clarifications. The most up-to-date version can be found on this web page.
Limitation of Liabilities
NetBlocks will not be liable for damages of any kind resulting from the use of, or the inability to use, our information. No information on this website constitutes financial, legal, technical or other professional advice.
Where data is provided or reported on, the visitor expressly acknowledges that the it may contain nonconformities, defects, or errors. NetBlocks does not warrant that data or reporting will meet the visitor's needs or expectations, nor that the provision of data will be uninterrupted, nor that nonconformities, defects, or errors can or will be corrected.
Where margins of errors, sample sizes or other statistics are stated, they are provided for guidance only and no assurance of accuracy or fitness for a purpose is expressed or implied. NetBlocks is not inviting reliance on provided data, and visitors should always verify information, for example by comparison against other data sets and reports.
We are not liable for the loss of, unauthorized access to, or alteration of a user's transmissions or data or for the cost of procurement of substitute information, goods, and services, including but not limited to damages for loss of profits, use, data or other intangibles, even if NetBlocks or any of its authorized agents have been advised of the possibility of such damages or have been negligent.
Contacting NetBlocks
If you have questions about this statement, the practices of this site, or your interactions with this website, you can get in touch via our contact page.