Network data from the NetBlocks internet observatory confirm that Twitter, Facebook and Instagram, and messaging apps have been restored for many users across Iraq on 21 November 2019. The services were blocked fifty days ago by most internet providers in south Iraq as protests swept the country.
At the time of writing, network data show that access is restored by leading fixed-line/wifi internet provider Earthlink. There are also signs of recovery with mobile operator Zain, however overall connection quality and performance remain poor across most of the country, particularly with cellular networks.
Work is ongoing to identify other restrictions that remain in place across multiple service providers.
Confirmed: Social media partially restored in #Iraq after 50 days of filtering amid widespread protests; Twitter, Facebook and Instagram now unblocked with leading fixed-line/wifi provider Earthlink but other restrictions remain in place 📈#IraqProtestshttps://t.co/tmqYifkUKd

— NetBlocks (@netblocks) November 21, 2019
What happened?
Iraq blocked social media platforms and restricted messaging apps on 2 October 2019. The restrictions were shortly followed by a near-total internet shutdown that cut off Iraq as protests escalated and evidence of targeted killings of protesters emerged.
The near-total shutdowns were implemented  through much of October, and again through early November. Even at times internet access returned, social platforms remained blocked and overall service was highly slowed for most users:
Confirmed: #Iraq has blocked Facebook, Twitter, WhatsApp, Instagram and other platforms as of 12:30 UTC amid growing unrest as protesters approach Green Zone; network data show multiple providers affected; incident ongoing #Iraq_Protest #KeepItOn 📉

📰 https://t.co/7GF42YLDWU pic.twitter.com/mb6fjZTdbG

— NetBlocks (@netblocks) October 2, 2019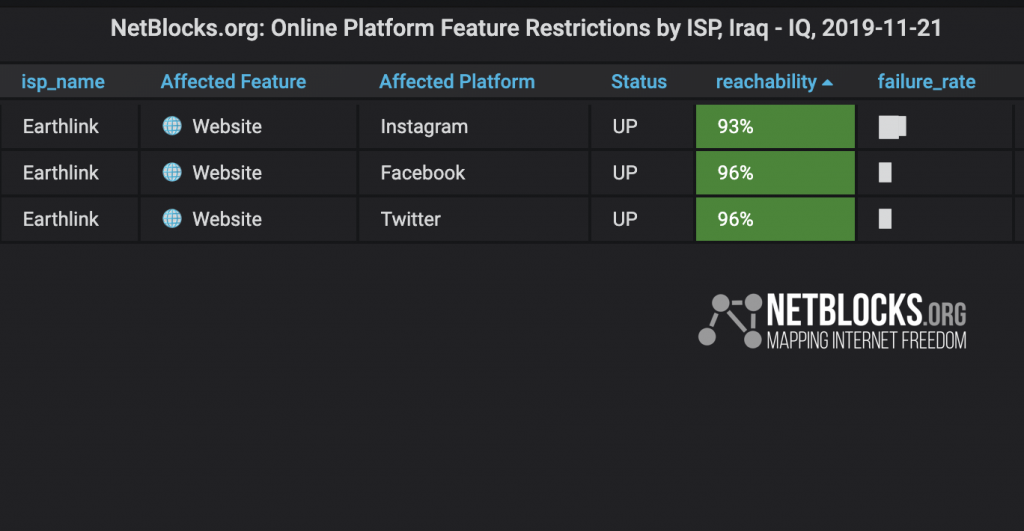 ---
Methodology
Internet performance and service reachability are determined via NetBlocks web probe privacy-preserving analytics. Each measurement consists of latency round trip time, outage type and autonomous system number aggregated in real-time to assess service availability and latency in a given country. Network providers and locations are enumerated as vantage point pairs. The root cause of a service outage may be additionally corroborated by means of traffic analysis and manual testing as detailed in the report.
---
NetBlocks is an internet monitor working at the intersection of digital rights, cyber-security and internet governance. Independent and non-partisan, NetBlocks strives to deliver a fair and inclusive digital future for all.
[ press | contact ] Graphics and visualizations are provided for fair use in unaltered form reflecting the meaning and intent in which they were published, with clear credit and source attribution to NetBlocks. Intellectual property rights are protected including but not limited to key findings, facts and figures, trademarks, copyrights, and original reporting, are held by NetBlocks. Citation and source attribution are required at the point of use.