Data from the NetBlocks internet observatory confirm that Venezuela's state-run internet provider ABA CANTV (AS8048) has restricted access to Twitter, Facebook and Instagram social media services through the morning of Saturday 16 November,  subsequently also extending to YouTube. The targeted filtering comes on the morning of planned political protests and a new mobilization for free and fair elections in the country.
⚠️Alert: Twitter, Facebook and Instagram restricted in #Venezuela on morning of planned marches calling for free and fair elections; intermittent disruptions ongoing #16Nov #16NTodaVenezuelaEnProtesta 📉

📰 https://t.co/fmwGEAym1m pic.twitter.com/2DvNyqC6up

— NetBlocks (@netblocks) November 16, 2019
Technical measurements corroborate reports from across Venezuela from users who report having to use to VPN tools to gain access to the affected services.
Update: Streaming service YouTube, Google services and Bing have also been restricted as of 1:00 p.m. local time, as Juan Guaidó takes the podium to make a live-streamed speech from Caracas discussing the recent transition in Bolivia and his plans for change in Venezuela. The disruption marks the return of ephemeral streaming services that had been observed frequently in early 2019:
Update: Access to YouTube, Google services and Bing restored by #Venezuela's state-run internet provider at end of speech, marking the return of ephemeral censorship measures targeting Guaidó; incident duration ~1 hour 📈

📰 https://t.co/fmwGEAym1m pic.twitter.com/1US0xuVs6H

— NetBlocks (@netblocks) November 16, 2019
Why are social media restricted?
Although Venezuela doesn't issue public blocking orders, the restrictions are believed to target protests planned for Saturday by Juan Guaidó. Hours earlier, reports emerged that the offices of Juan Guaidó had been stormed by armed men and tensions remain high.
Venezuela systematically censored the leader's speeches through the first half of 2019. The new disruption marks the return of social media blocking measures at scale.
Authorities simultaneously announced that certain lines and stations of the Caracas metro system serving the protest would close their doors:
"Por razones de mantenimiento" el Metro de Caracas anuncia que no trabajará este #16nov en la Línea 1 desde la estación Sabana grande hasta Palo Verde y Bello Monte. En la Línea 2 desde la estación Ruíz Pineda hasta las Adjuntas pic.twitter.com/hNKhY5GOSl

— VPItv (@VPITV) November 16, 2019
What is the mechanism of the social media blocks?
NetBlocks tests show that SNI blocking is in use, impacting TLS secure connections to the affected platforms. The SNI restrictions are intermittent, with moments when access is briefly available through the morning.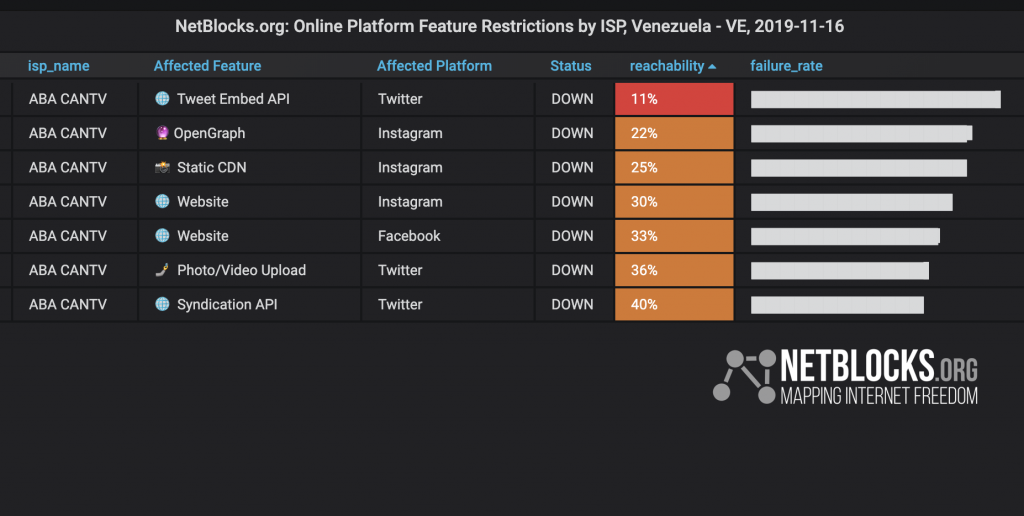 ---
Methodology
Internet performance and service reachability are determined via NetBlocks web probe privacy-preserving analytics. Each measurement consists of latency round trip time, outage type and autonomous system number aggregated in real-time to assess service availability and latency in a given country. Network providers and locations are enumerated as vantage point pairs. The root cause of a service outage may be additionally corroborated by means of traffic analysis and manual testing as detailed in the report.
---
NetBlocks is an internet monitor working at the intersection of digital rights, cyber-security and internet governance. Independent and non-partisan, NetBlocks strives to deliver a fair and inclusive digital future for all.
[ press | contact ] Graphics and visualizations are provided for fair use in unaltered form reflecting the meaning and intent in which they were published, with clear credit and source attribution to NetBlocks. Intellectual property rights are protected including but not limited to key findings, facts and figures, trademarks, copyrights, and original reporting, are held by NetBlocks. Citation and source attribution are required at the point of use.