Network data from the NetBlocks internet observatory confirm that social media have been blocked in the Republic of Guinea beginning 8:00 p.m. Saturday evening, 21 March 2020 continuing through Sunday's parliamentary elections and constitutional referendum until Monday morning.
Twitter, Facebook and Instagram were blocked while WhatApp servers were partially restricted. The restrictions continued through election day, 22 March, limiting global visibility into events as they took place.
Social media platforms were finally unblocked the morning after polls closed at 8:00 a.m. UTC Monday morning 23 March, with a recorded incident duration of 36 hours.
Update: Twitter, Facebook and Instagram have now been restricted in #Guinea for ~22 hours limiting transparency and media coverage on the day of national elections at a critical moment for the country's future #Guinée⏱

📰https://t.co/Gm064C8yDD pic.twitter.com/xeQ0YZvOmt

— NetBlocks (@netblocks) March 22, 2020
The social media restrictions with Orange (AS37461) and MTN (AS37612) mobile networks specifically target Twitter, Facebook, Instagram, Messenger, as well as some WhatsApp functionality.
The major social media platforms were disabled at the ISP while WhatsApp remained partially usable as the mobile app automatically switches to backup servers, a feature recently introduced that makes the messaging platform more resistant to restrictions.
The new set of targeted platform restrictions follow a widespread but brief near-total internet cut, which ended shortly after the incident was reported by NetBlocks on Friday and which is not technically related to the social media blackout.
Update: Internet connectivity has been restored in #Guinea with users back online for now; data show impact across all major network operators; decision to schedule internet cuts for maintenance on election weekend had raised international concern 📉📈

📰https://t.co/IDLuMipkdR pic.twitter.com/eGe86BIlVE

— NetBlocks (@netblocks) March 20, 2020
How has the information blackout been implemented?
Technical data indicate that the blocks are implemented individually by each of the network operators, and websites other than the affected social media platforms are not affected. The disruption is consistent with techniques used to restrict online content close to the application layer, hence unrelated to maintenance work or physical layer outages.
Findings are based on real-time web analytics data and testing by contributors, updated with coverage from over a hundred network vantage points and corroborated by checks through the course of Saturday evening and Sunday morning. Access was restored on Monday morning at 8:00 a.m.
Update: Access to social media has been restored in #Guinea as of Monday morning; network data confirm targeted restrictions on Twitter, Facebook and Instagram were in place throughout election day; incident duration 36 hours 📈#Guinée

📰https://t.co/Gm064C8yDD pic.twitter.com/WZLDjrIaqV

— NetBlocks (@netblocks) March 23, 2020
Guinea's elections come amid heightened tensions following a series of delays and months of political protest against proposed constitutional amendments, as the country faces its second reported case of COVID-19.
What are the authorities saying?
No legal basis or notice of the nationwide ban has been issued by the leadership in Conakry.
Opposition groups raised concerns that President Alpha Conde would attempt to extend his appointment beyond the two five-year term limits, with some parties saying they would boycott Sunday's elections.
Hours before the internet shutdown on Friday, GUILAB, Guinea's telecommunication infrastructure operator, assured the public that maintenance work would be postponed until after elections. However, the new platform blocks arise downstream at the point where network operators supply services to end customers.
How can users get back on social media?
Internet users have confirmed to NetBlocks that VPN services are effective in working around the platform blocks in Guinea. Virtual Private Networks provide an encrypted tunnelling mechanism that can circumvent government censorship.
What is the regional context of Guinea's social media blackout?
Guinea joins Togo, Benin, Mauritania, Mali, Cameroon and other countries in the region that have faced internet shutdowns and social media blockades during elections impacting transparency, free expression and civic engagement at critical moments. In Liberia, Orange and MTN waited almost 24 hours before revealing the underlying government order to customers. In other cases disclosure has taken weeks or even months.
What just happened #Guinea?@RFI_en reports on killings at polling stations as the country comes back online from a 36 hour social media blackout, after ECOWAS, African Union, EU and UN election observers were withdrawn or prevented from sending teams.https://t.co/k43mbit7G4

— NetBlocks (@netblocks) March 23, 2020
Malawi recently annulled its presidential election results after a judgement on widespread irregularities, during which NetBlocks identified that networks were partially cut by unidentified actors as votes were counted.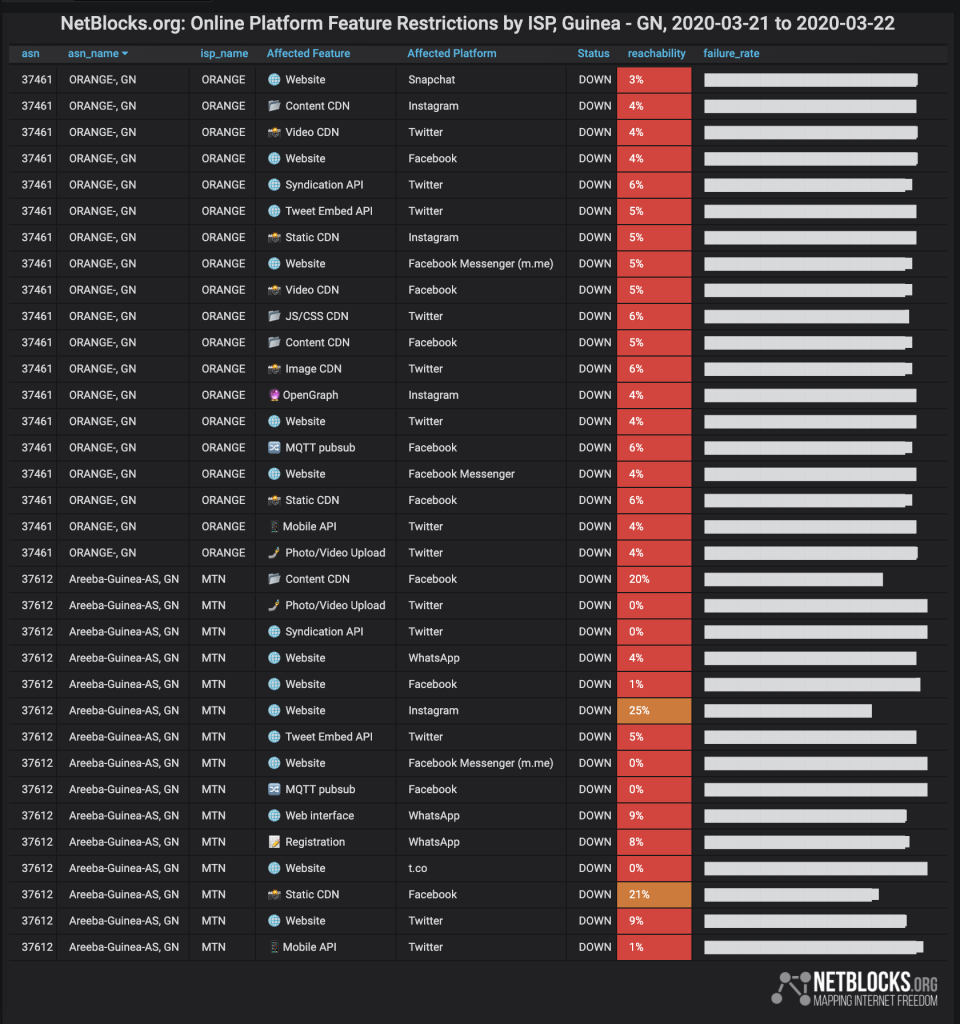 ---
Methodology
Internet performance and service reachability are determined via NetBlocks web probe privacy-preserving analytics. Each measurement consists of latency round trip time, outage type and autonomous system number aggregated in real-time to assess service availability and latency in a given country. Network providers and locations are enumerated as vantage point pairs. The root cause of a service outage may be additionally corroborated by means of traffic analysis and manual testing as detailed in the report.
---
NetBlocks is an internet monitor working at the intersection of digital rights, cyber-security and internet governance. Independent and non-partisan, NetBlocks strives to deliver a fair and inclusive digital future for all.
[ press | contact ] Graphics and visualizations are provided for fair use in unaltered form reflecting the meaning and intent in which they were published, with clear credit and source attribution to NetBlocks. Intellectual property rights are protected including but not limited to key findings, facts and figures, trademarks, copyrights, and original reporting, are held by NetBlocks. Citation and source attribution are required at the point of use.