Internet access has been totally cut off in Benin as of 11:00 AM UTC, Sunday 28 April 2019, as the country was due to vote in parliamentary elections.
Earlier in the day, providers in Benin blocked access to social media networks and communication apps for several hours, according to network data from the NetBlocks internet observatory. Facebook, Twitter, Instagram and messaging apps WhatsApp, Telegram and Viber were among the affected apps.
Network data shows Benin's leading internet providers was fully shut down as of 11:00 AM UTC, following the social media blocks imposed earlier in the day:
Update: A new internet disruption in #Benin has disabled the last remaining connections; network data shows 99.5% of country now offline as election day comes to a close #BeninShutdown #KeepItOn ⬇️https://t.co/WHAKSNUDAD pic.twitter.com/5BQZblYgyV

— NetBlocks (@netblocks) April 28, 2019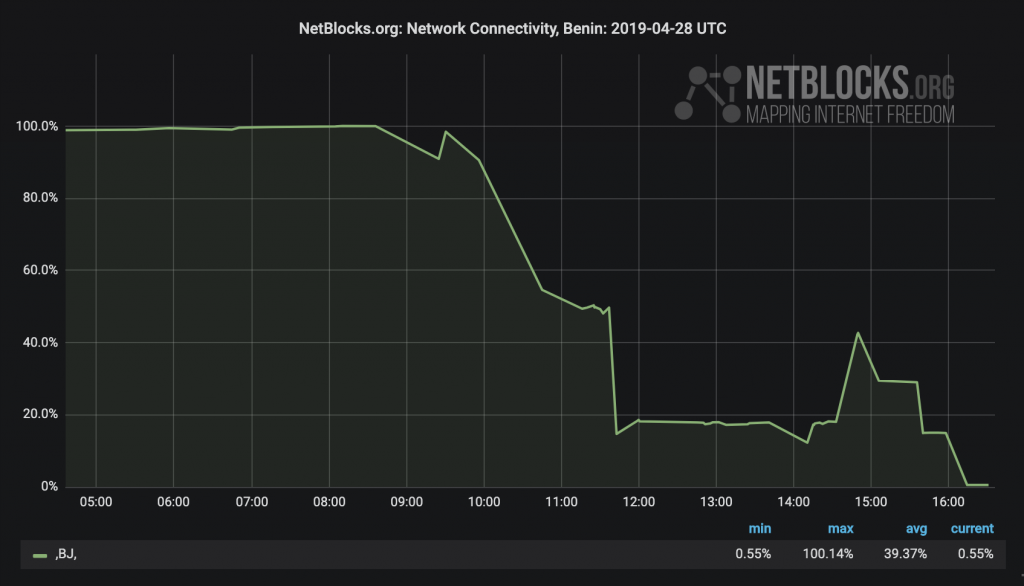 The move comes as the government has been accused of excluding political opposition, instead authorizing candidates from parties in the presidential camp.
NetBlocks measurements collected by dozens of volunteers across Benin showed that the initial blocks were implemented at the ISP level, with leading network operator Spacetel most impacted. Several VPN services, used to work around network restrictions, were also found to be unavailable through the morning.
Update: Internet connectivity started to return to Benin as of 10:50 PM UTC after a 15 hour nationwide internet blackout. Full access was subsequently fully restored on the morning of Monday 29 April 2019:
Update: Connectivity has started to return to #Benin as of 10:50 PM UTC after a 15 hour nationwide internet blackout on election day #BeninShutdown #KeepItOn ⬇️https://t.co/WHAKSNUDAD pic.twitter.com/3gthpSvvkE

— NetBlocks (@netblocks) April 28, 2019
Indications are that the platform restrictions started to come into place approximately midnight universal time. The rest of Benin's internet connectivity was subsequently disconnected between 9:00 AM and 11:00 AM, preventing information from entering or leaving the country.
Urgent: Network data shows #Bénin has blocked Facebook, Twitter, Instagram, WhatsApp, Telegram and all major social media and messaging platforms on election day, threatening the democratic process. VPN services are also restricted #KeepItOn ⬇️https://t.co/Y94ipLiLsv pic.twitter.com/EECIWDdQ1b

— NetBlocks (@netblocks) April 28, 2019
Social media has been an important channel for independent political speech in Benin following recent restrictions on independent media and peaceful demonstrations, and messaging app WhatsApp is used extensively by domestic and international observers during elections. Hence, the blocks are likely to have significant impact on the election process.
Concerns over connectivity in Benin have been rising following setbacks to political freedoms during the pre-election period. Last month, Benin's Internet Society chapter explored the legal and economic consequences a nationwide disruption could have citing research by NetBlocks.
Une journée sans #Internet au Bénin pourrait coûter $1, 548 043 !!! Découverte du #costofshutdown Tool développé par @netblocks Et @internetsociety . # [MembresForces] pic.twitter.com/1Qmn4gDuih

— Internet Society Chapitre du Bénin (@isocbenin) March 16, 2019
Communication services shown to be restricted by NetBlocks measurement data prior to the total outage are: Facebook, Twitter, Instagram, WhatApp, Telegram, Viber, Google Hangouts, Facebook Messenger, LinkedIn, WeChat, Skype, Tinder, Snapchat. Link sharing service t.co, and backend image, video and registration services for several of the apps are also blocked. Blocked VPNs include Tunnelbear, Hola, TigerVPN, PureVPN and the homepage of the open source OpenVPN software project.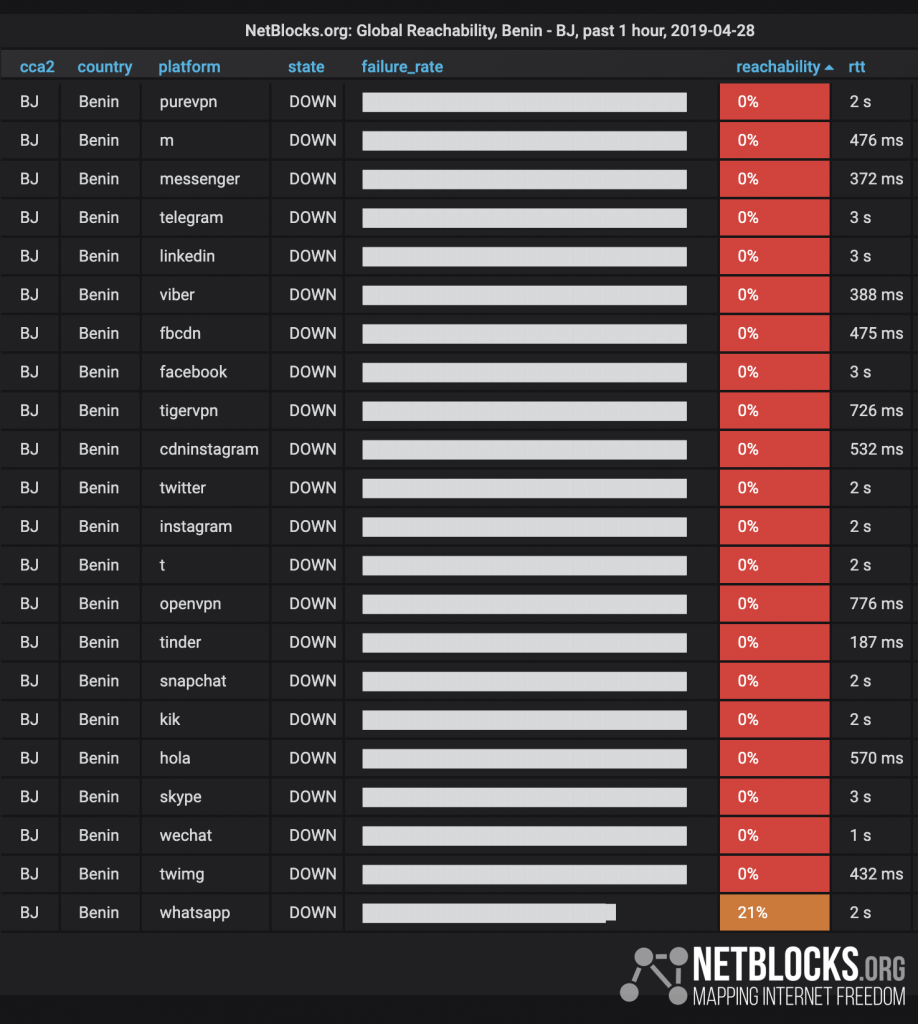 Confirmed: All major internet providers now disconnected in #Benin on day of scheduled parliamentary elections; incident ongoing #BeninShutdown #KeepItOnhttps://t.co/Y94ipLiLsv pic.twitter.com/a5kfChnJvL

— NetBlocks (@netblocks) April 28, 2019
---
Methodology
This report follows the NetBlocks Election Pathfinder Rapid Response methodology which defines a set of core principles, workflows and benchmarks for network measurement and evaluation during elections and referenda.
Internet performance and service reachability are determined via NetBlocks web probe privacy-preserving analytics. Each measurement consists of latency round trip time, outage type and autonomous system number aggregated in real-time to assess service availability and latency in a given country. Network providers and locations are enumerated as vantage point pairs. The root cause of a service outage may be additionally corroborated by means of traffic analysis and manual testing as detailed in the report.
---
NetBlocks is an internet monitor working at the intersection of digital rights, cyber-security and internet governance. Independent and non-partisan, NetBlocks strives to deliver a fair and inclusive digital future for all.
[ press | contact ] Graphics and visualizations are provided for fair use in unaltered form reflecting the meaning and intent in which they were published, with clear credit and source attribution to NetBlocks. Intellectual property rights are protected including but not limited to key findings, facts and figures, trademarks, copyrights, and original reporting, are held by NetBlocks. Citation and source attribution are required at the point of use.