Internet observation and monitoring during elections seeks to enhance digital integrity by deterring and exposing disruptions and shutdowns, deterring and mitigating potentials for internet-based attacks on critical infrastructure and offering recommendations for improving internet governance and digital policy.
Since 2017, the NetBlocks Election Pathfinder program has tracked network disruptions and their likely causes and impacts before, during and after elections, working hand in hand with the global NetBlocks community, election observation missions, and independent observers on the ground. The NetBlocks Election Pathfinder Rapid Response initiative uses a sub-methodology which provides rapid documentation of emergent incidents around elections.
Reports incorporate human and technical reporting, visualisations, impact assessments and are accompanied with methodological summaries, and independent press, government and academic citations of the work.
A list of NetBlocks publications on internet shutdown and network observation missions during elections can be found via the Elections tag.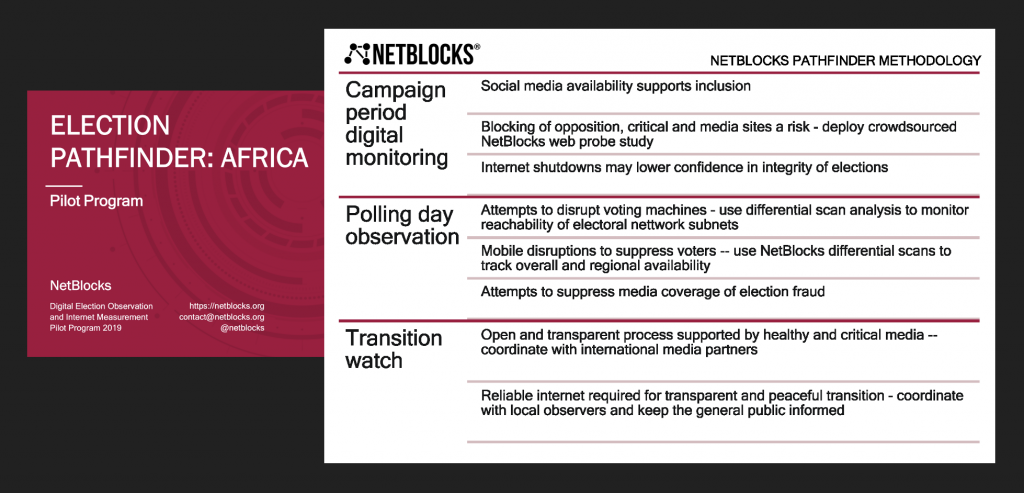 Learn more about the Election Pathfinder program from at the 2019 Norad Conference for digitalisation and development hosted by the Norwegian Agency for Development Cooperation: