The NetBlocks network observatory has identified internet disruptions, believed to be part of an intentional regime of internet shutdowns intended to influence the course of the presidential elections in Mali. The disruption in the new video is between 11PM UTC on the 15 August and 5AM UTC this morning 16 August, hours before the election winner was to be announced.
Outage during announcement of runoff election results, 16 August, 2018
New internet disruption as #Mali announces results of presidential election runoff: outages, degraded access to social platforms and high mobile latency evident throughout the election period #KeepItOnhttps://t.co/zh9Y25B1lq pic.twitter.com/1kCz4izdKF

— NetBlocks.org (@netblocks) August 16, 2018
Degraded network performance during runoff election period
Further to the outages, network connectivity to social media platforms and messaging platforms including WhatsApp were degraded by mobile operators during the election period. Other services including international and local content were not affected and remained performant, according to web probe measurements taken in a rapid-response study undertaken in collaboration with Internet Sans Frontières and local volunteers. The figures capture internet service as perceived by end-users in Mali and have provided insights into the extent and nature of the disruption.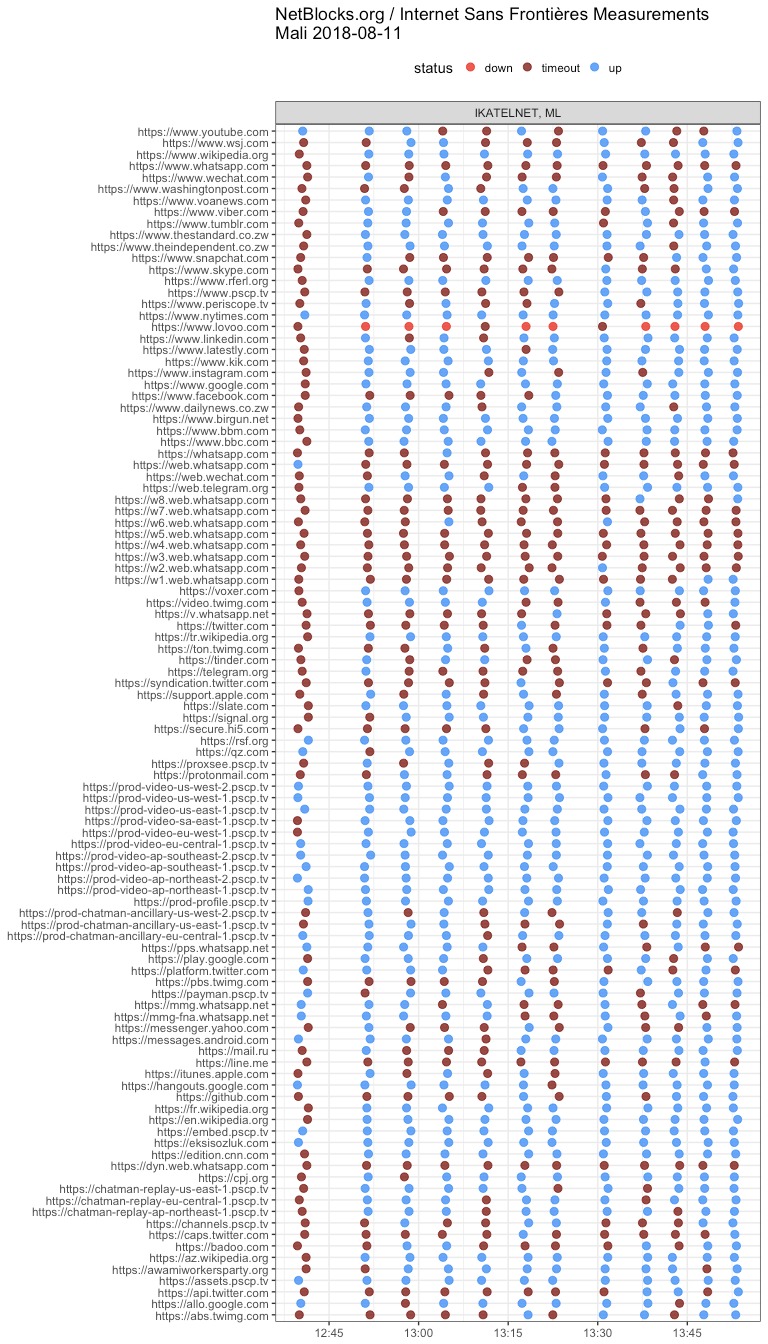 Brief outage prior to runoff elections, 10 August 2018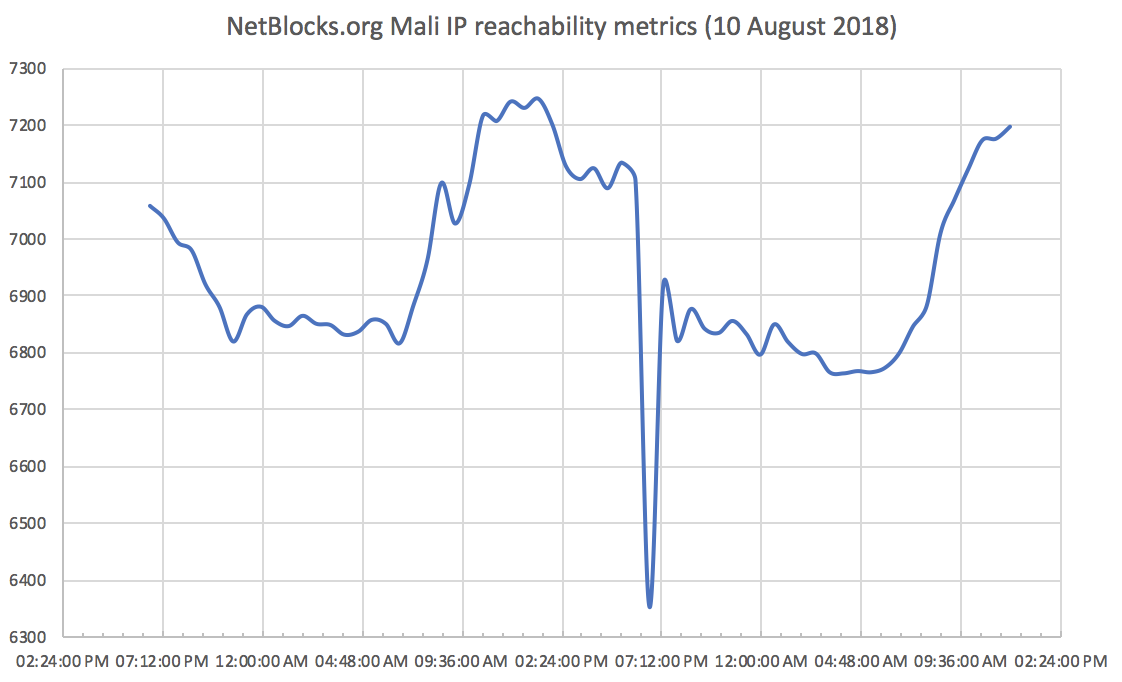 As NetBlocks verified network disruptions, President Ibrahim Boubacar Keïta was re-elected with 67% of the vote, claiming a overwhelming victory over the opposition candidate, Soumaïla Cissé. Allegations of election fraud and security concerns marred the elections with threats by armed fighters forcing nearly 500 polling stations from opening. Violence throughout the country has been the backdrop of the elections. Islamic revolt seen as fuelled by intercommunal violence has created years of instability. Currently, 15,000 UN peacekeepers and a regional G5 Sahel force are deployed with the aim of fighting insurgents mostly in the northern region of the country.
Access to internet is extremely low in Mali. According to Freedom House, over 10 percent of Malians were able to access the internet in 2015. There is only one private internet service provider currently licensed in the country. Despite the low rates of internet and mobile connectivity, the government of Mali continues to order shutdowns. In June 2017, Twitter and Facebook were censored by Mali authorities during street protests against the referendum on the constitutional reform project.
On a whole, internet censorship has been on the rise in Africa where network disruptions have recently also occurred in Cameroon and Ethiopia. Governments in these countries have argued for restrictions in order to ensure national security.