Network data from the NetBlocks internet observatory confirm that internet has been cut across the Republic of Guinea as of 8:00 p.m. UTC, ahead of parliamentary elections scheduled for Sunday, 22 March 2020.
Update: Social media has been blocked in Guinea as of Saturday evening. See new report for details.
Update: Some connectivity has returned after a near-total blackout lasting approximately two hours, although it remains unclear how much access is restored and whether connectivity will be sustained.
Update: Internet connectivity has been restored in #Guinea with users back online for now; data show impact across all major network operators; decision to schedule internet cuts for maintenance on election weekend had raised international concern 📉📈

📰https://t.co/IDLuMipkdR pic.twitter.com/eGe86BIlVE

— NetBlocks (@netblocks) March 20, 2020
Technical measurements show all six networks in the West African country including leading operator Orange have shut down, with national connectivity now at 12% of ordinary levels. Cellular and fixed-line networks are similarly affected.
Subsea cable repair works had originally been scheduled to coincide with parliamentary elections this weekend were widely condemned by observers and rights monitors, on the basis of their impact to the democratic process and transparency.
However, hours before the cut on Friday, GUILAB, Guinea's telecommunication infrastructure operator, assured the public that maintenance work would be postponed until after elections.
Users who were able to contact the outside after the cut expressed concern over the situation, which comes amid regional efforts to contain COVID-19 as Guinea faces its second confirmed case.
The near-total outage comes after a series of smaller daily cuts at around midnight over the last three days.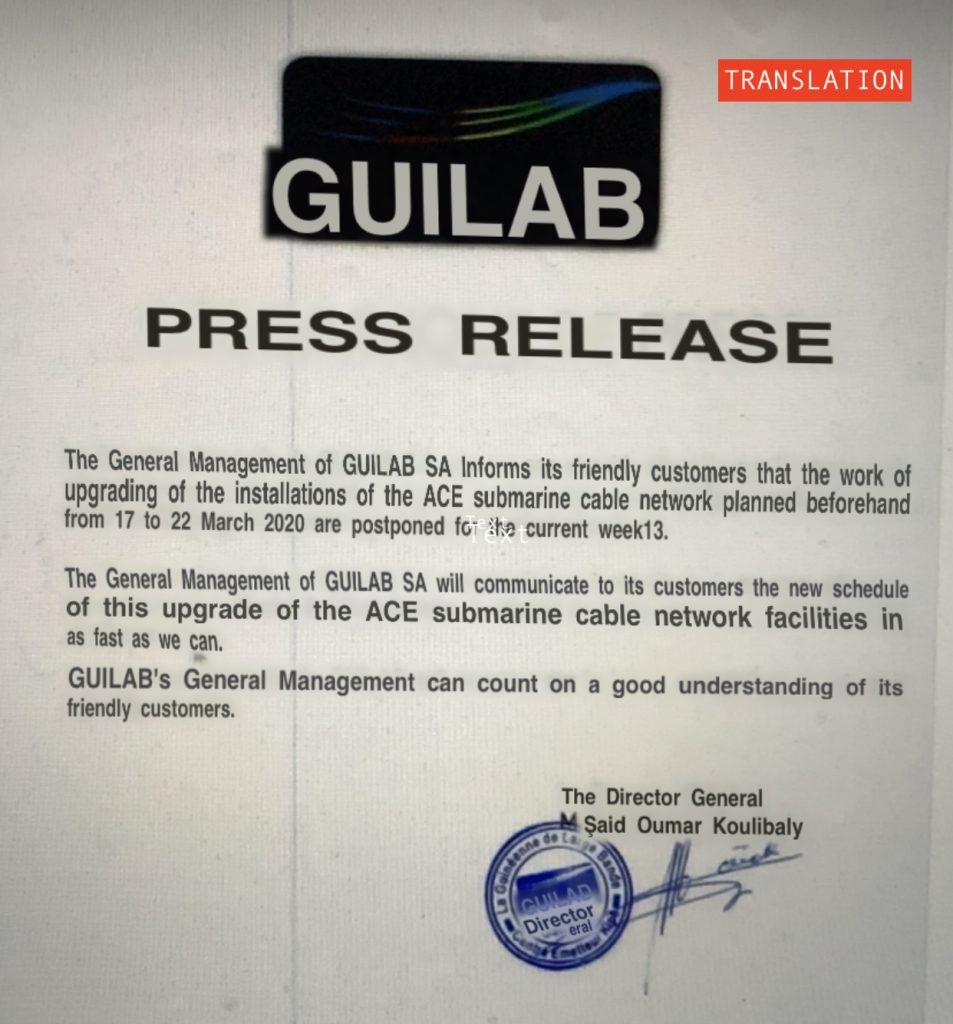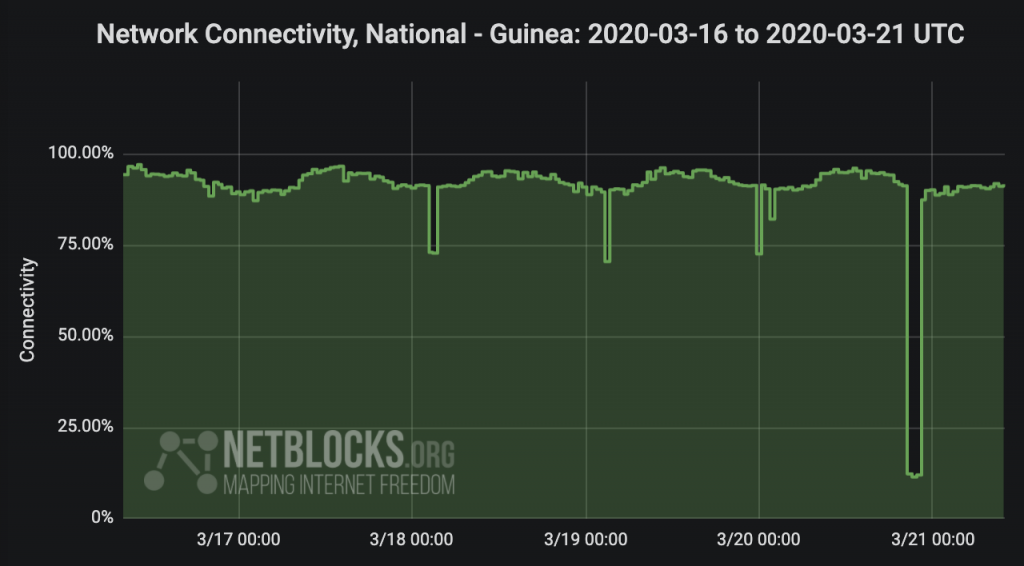 ---
Methodology
NetBlocks diffscans, which map the IP address space of a country in real time, show internet connectivity levels and corresponding outages. Purposeful internet outages may have a distinct network pattern used by NetBlocks to determine and attribute the root cause of an outage, a process known as attribution which follows detection and classification stages.
A summary of data visualizations used in this report:
Network Connectivity (National): Internet providers and networks serving the affected region are visualized in a stacked time-series histogram to identify the start and end times of an internet shutdown event. Scales on the y-axis are adjusted to match localized maxima while minima indicate periods when networks became unreachable. The x-axis represents Universal Coordinated time (GMT+0).

Standard: Connectivity levels on the y-axis correspond directly to the observed number of reachable connections, as with National Connectivity charts.
---
NetBlocks is an internet monitor working at the intersection of digital rights, cyber-security and internet governance. Independent and non-partisan, NetBlocks strives to deliver a fair and inclusive digital future for all.
[ press | contact ] Graphics and visualizations are provided for fair use in unaltered form reflecting the meaning and intent in which they were published, with clear credit and source attribution to NetBlocks. Intellectual property rights are protected including but not limited to key findings, facts and figures, trademarks, copyrights, and original reporting, are held by NetBlocks. Citation and source attribution are required at the point of use.