Network data from NetBlocks confirm that social media platforms Twitter, Facebook, Instagram, and messaging apps Messenger and WhatsApp have been restricted on multiple internet providers in Zambia on Thursday 12 August 2021 amid presidential and parliamentary elections. Metrics corroborate widespread user reports of loss access to the services.
Measurements indicate that WhatsApp frontend and backend servers initially become unavailable from Thursday afternoon, followed by the other platforms approximately one hour later. The restrictions are likely to limit the free flow of information online presenting a challenge to election transparency as polls are held and votes counted. Social media access was restored from Friday evening while WhatsApp remained unavailable until Saturday morning.
⚠️ Update: Real-time network data confirm that social media and messaging platforms including Twitter, Facebook, Instagram and Messenger are now restricted in #Zambia on election day in addition to the earlier WhatsApp restriction #ZambiaDecides2021

📰 https://t.co/pTzmnesKzP pic.twitter.com/Nw58eCTfu8

— NetBlocks (@netblocks) August 12, 2021
The restrictions are identified on networks operated by Zambia's government-owned Zamtel (AS37154), Airtel Zambia (AS37287), MTN (AS36962) and Liquid Telecom (AS30844).
How has the information blackout been implemented?
Technical data indicate that websites other than the affected platforms are not generally impacted. The disruption is consistent with techniques used to restrict online content close to the application layer, hence unrelated to maintenance work or physical layer outages and internet service remains otherwise operational.
Findings are based on real-time web analytics data and testing by contributors, updated with coverage from a set of 30 vantage points.
What are the authorities saying?
The legal status of potential election-period internet restrictions in Zambia is disputed. A week prior to the elections, word spread of potential government plans to shut down internet service during the elections. Authorities initially rejected the claims.
How can users regain access to social media and WhatsApp?
Internet users have confirmed to NetBlocks that VPN services are effective in working around the platform restrictions in Zambia. Virtual Private Networks provide an encrypted tunnelling mechanism that can circumvent online censorship.
What is the context of Zambia's social media blackout?
Zambia's elections are hotly contested, with the governing Patriotic Front (PF) and main opposition United Party for National Development (UPND) who say that the PF has not met the expectations of Zambians.
Zambia joins Congo, Uganda, Tanzania, Guinea, Burundi, Togo, Mauritania, Benin, Cameroon, Mali and other countries in the region that have faced internet shutdowns and social media restrictions during elections impacting transparency, free expression and civic engagement at critical moments.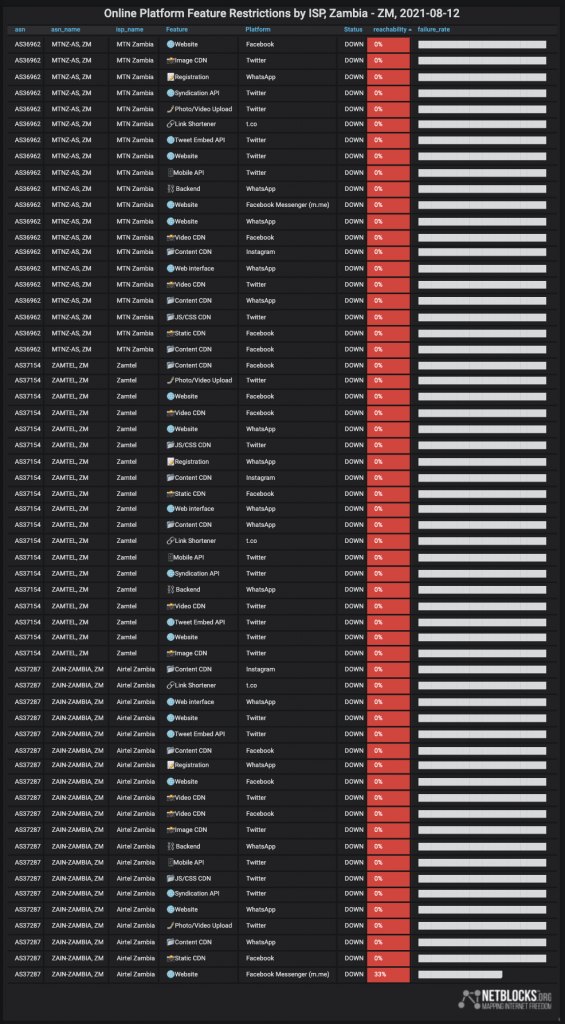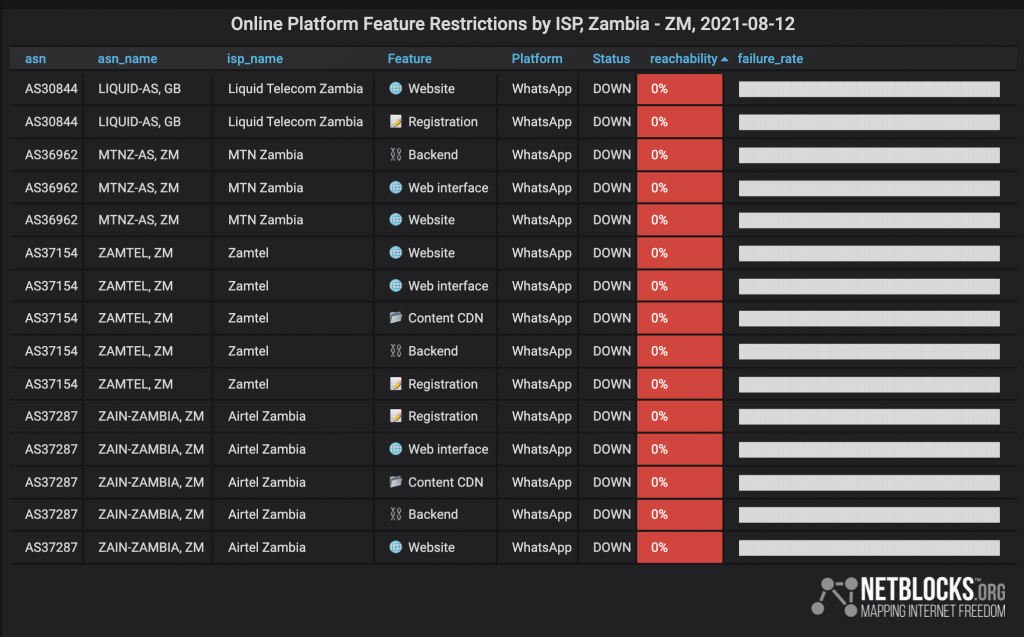 Published with thanks to Open Zambia, Erasmus Mweene and members of the public for their input during the preparation of this report.
Further reading:
---
Methodology
This report follows the NetBlocks Election Pathfinder Rapid Response methodology which defines a set of core principles, workflows and benchmarks for network measurement and evaluation during elections and referenda.
Internet performance and service reachability are determined via NetBlocks web probe privacy-preserving analytics. Each measurement consists of latency round trip time, outage type and autonomous system number aggregated in real-time to assess service availability and latency in a given country. Network providers and locations are enumerated as vantage point pairs. The root cause of a service outage may be additionally corroborated by means of traffic analysis and manual testing as detailed in the report.
---
NetBlocks is an internet monitor working at the intersection of digital rights, cyber-security and internet governance. Independent and non-partisan, NetBlocks strives to deliver a fair and inclusive digital future for all.
[ press | contact ] Graphics and visualizations are provided for fair use in unaltered form reflecting the meaning and intent in which they were published, with clear credit and source attribution to NetBlocks. Intellectual property rights are protected including but not limited to key findings, facts and figures, trademarks, copyrights, and original reporting, are held by NetBlocks. Citation and source attribution are required at the point of use.