Network data from the NetBlocks internet observatory confirm that internet has been disrupted in Guinea as of 7:30 a.m. UTC Friday 23 October 2020 as the West African country prepares to announce official results from this week's presidential elections. The incident has nation-scale impact and is likely to significantly limit the domestic and international flow of information.
Tensions are high in capital Conakry as supporters of opposition candidate Cellou Dalein Diallo and incumbent President Alpha Conde each appeared to declare their candidate's victory ahead of the official announcement.
Update: Real-time network data show restoration of internet connectivity in #Guinea via cellular operator Orange as of 1:00 pm; social media restricted on MTN and Cellcom during same period; incident duration ~100 hours 📈 #GuineeVote2020#Guinée

📰 https://t.co/qewhk37TJh pic.twitter.com/iXwlzLrJFr

— NetBlocks (@netblocks) October 27, 2020
Technical measurements from the observatory confirm major disruptions on leading cellular network operator Orange, with national connectivity registering at just 9% of ordinary levels. Meanwhile, MTN and Cellcom exhibit partial restrictions limiting access to major social media and communication platforms. The incident has been registered with a duration of 100 hours.
Elections in Guinea have been held under an increasingly restrictive media environment that include national internet restrictions. In March 2020, NetBlocks confirmed disruptions to internet connectivity on Guinea's internet backbone supplied by submarine cable. Following international expressions of concern, the measures were rolled back by GUILAB, the organization responsible for Guinea's international link via the ACE subsea cable. The incident was nevertheless followed with partial disruptions as access was again restricted on polling day.
Authorities have not issued any public statement in relation to the restrictions.
Further reading: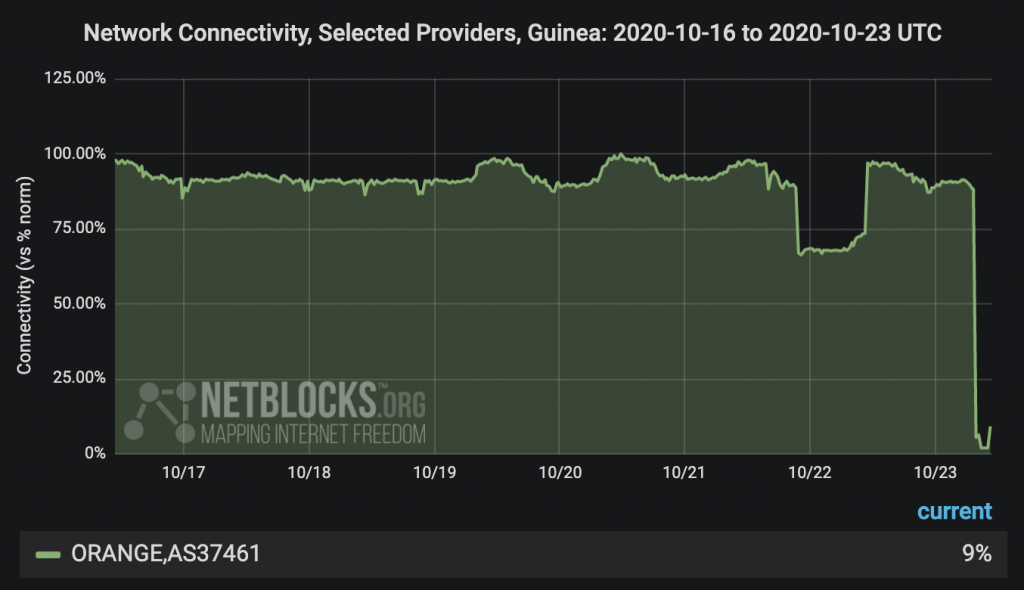 ---
Methodology
This report follows the NetBlocks Election Pathfinder Rapid Response methodology which defines a set of core principles, workflows and benchmarks for network measurement and evaluation during elections and referenda.
NetBlocks diffscans, which map the IP address space of a country in real time, show internet connectivity levels and corresponding outages. Purposeful internet outages may have a distinct network pattern used by NetBlocks to determine and attribute the root cause of an outage, a process known as attribution which follows detection and classification stages.
A summary of data visualizations used in this report:
Network Connectivity (National): Internet providers and networks serving the affected region are visualized in a stacked time-series histogram to identify the start and end times of an internet shutdown event. Scales on the y-axis are adjusted to match localized maxima while minima indicate periods when networks became unreachable. The x-axis represents Universal Coordinated time (GMT+0).

Standard: Connectivity levels on the y-axis correspond directly to the observed number of reachable connections, as with National Connectivity charts.
---
NetBlocks is an internet monitor working at the intersection of digital rights, cyber-security and internet governance. Independent and non-partisan, NetBlocks strives to deliver a fair and inclusive digital future for all.
[ press | contact ] Graphics and visualizations are provided for fair use in unaltered form reflecting the meaning and intent in which they were published, with clear credit and source attribution to NetBlocks. Intellectual property rights are protected including but not limited to key findings, facts and figures, trademarks, copyrights, and original reporting, are held by NetBlocks. Citation and source attribution are required at the point of use.