NetBlocks metrics confirm an internet blackout in the Republic of Congo on the day of presidential elections, Sunday 21 March 2021. The incident has a recorded duration of three days.
⚠️ Confirmed: Internet has been shut down in the Republic of the #Congo on the day of presidential elections.

Network data show a near-total collapse of national connectivity from midnight local time. The incident is ongoing as polls are due to open 📉

📰https://t.co/zFgnSgs2JQ pic.twitter.com/Fuhkkc89FE

— NetBlocks (@netblocks) March 21, 2021
Metrics show a near-total loss of connectivity from just around midnight local time on the morning of the elections. The internet disruption continued as polling took place and as votes were counted, and service was not substantially restored until after election results were announced on Tuesday night.
Update: Internet has been substantially restored in the Republic of #Congo after the announcement of election results on Tuesday night, with incumbent Sassou Nguesso taking another term as President; incident duration ~3 days 📈

📰https://t.co/zFgnSgs2JQ pic.twitter.com/LdPA0LSjom

— NetBlocks (@netblocks) March 24, 2021
The incident follows a pattern of election day internet shutdowns in Congo-Brazzaville, with a similar information blackout imposed by authorities during March 2016 presidential elections.
Incumbent President Denis Sassou Nguesso, in power for a total of some 36 years, prevailed to take a fourth term as predicted at the polls, which were panned for their lack of transparency.
Work is ongoing to monitor and evaluate the incident.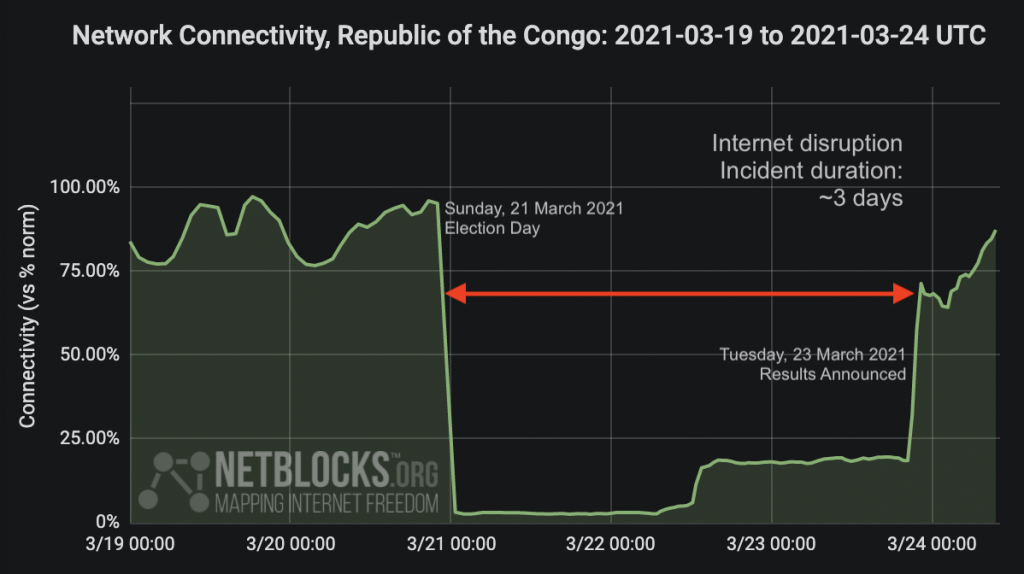 Further reading:
---
Methodology
This report follows the NetBlocks Election Pathfinder Rapid Response methodology which defines a set of core principles, workflows and benchmarks for network measurement and evaluation during elections and referenda.
NetBlocks diffscans, which map the IP address space of a country in real time, show internet connectivity levels and corresponding outages. Purposeful internet outages may have a distinct network pattern used by NetBlocks to determine and attribute the root cause of an outage, a process known as attribution which follows detection and classification stages.
---
NetBlocks is an internet monitor working at the intersection of digital rights, cyber-security and internet governance. Independent and non-partisan, NetBlocks strives to deliver a fair and inclusive digital future for all.
[ press | contact ] Graphics and visualizations are provided for fair use in unaltered form reflecting the meaning and intent in which they were published, with clear credit and source attribution to NetBlocks. Intellectual property rights are protected including but not limited to key findings, facts and figures, trademarks, copyrights, and original reporting, are held by NetBlocks. Citation and source attribution are required at the point of use.