Network data from the NetBlocks internet observatory confirm targeted disruption to internet access Papua, Indonesia. The disruptions come as protests against discrimination are being countered by Indonesian security personnel, amid renewed calls for an independence referendum from pro-separatist groups.
Major network outages have been identified in Jayapura and surrounding regions on Wednesday 21 August 2019 between 8:00 a.m. and 10:00 a.m. UTC with state-owned provider Telkom (PT Telekomunikasi Indonesia Tbk). Technical measurements show signs of restrictions through previous days, although Wednesday's disruptions mark an escalation in the restriction of telecommunication services.
Confirmed: Internet disrupted in #Papua #Indonesia to counter mass-protests amid rising calls for independence referendum; data show escalation of information controls as of Wednesday morning #Jayapura #Sorong #Timika #WestPapua

📰 https://t.co/uH2w2c76sG pic.twitter.com/b1rrfBvrGq

— NetBlocks (@netblocks) August 21, 2019
West Papuans allege systemic racism and discrimination, while Indonesia says it has sent the security personnel to counter violence and arson. Violence has been exacerbated after inmates escaped from prison on Monday while protesters were on the streets. Throttling, or the slowing of connectivity speeds, has been reported in affected parts of Indonesia since the beginning of the week.
Update: Internet has now been cut in parts of #Indonesia for multiple days limiting news coverage and rights; real-time network data show disruption to #Telkomsel mobile networks ongoing since Wednesday 21 amid #Papua and #WestPapua civil unrest 📉

📰 https://t.co/uH2w2coHke pic.twitter.com/WAdRKMczPp

— NetBlocks (@netblocks) August 23, 2019
Confirmed: Internet disrupted in #Jayapura, #Papua from 7:00 a.m. UTC (~4:00 p.m. local time) today amid new anti-discrimination rallies #Indonesia #KeepItOn 📉

📰 https://t.co/uH2w2c76sG pic.twitter.com/EQxfbAk593

— NetBlocks (@netblocks) August 29, 2019
NetBlocks previously reported the blocking of social media and messaging platforms including Facebook, Twitter and WhatsApp in May 2019. Investigations identified a sophisticated filtering regime targeting video and photo uploads. In that instance, filtering measures were implemented by authorities to suppress post-election protests.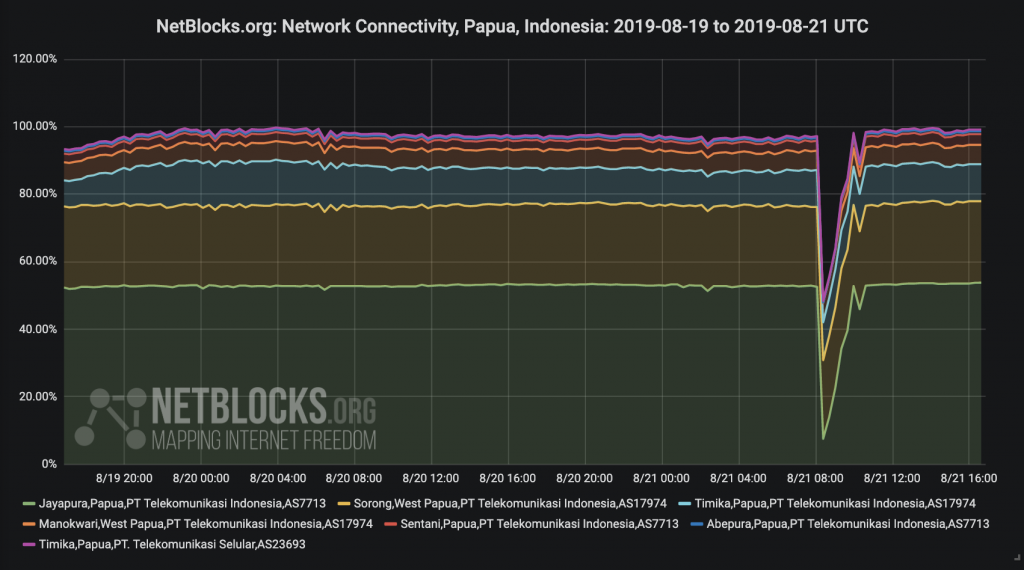 ---
Methodology
NetBlocks diffscans, which map the IP address space of a country in real time, show internet connectivity levels and corresponding outages. Purposeful internet outages may have a distinct network pattern used by NetBlocks to determine and attribute the root cause of an outage, a process known as attribution which follows detection and classification stages.
---
NetBlocks is an internet monitor working at the intersection of digital rights, cyber-security and internet governance. Independent and non-partisan, NetBlocks strives to deliver a fair and inclusive digital future for all.
[ press | contact ] Graphics and visualizations are provided for fair use in unaltered form reflecting the meaning and intent in which they were published, with clear credit and source attribution to NetBlocks. Intellectual property rights are protected including but not limited to key findings, facts and figures, trademarks, copyrights, and original reporting, are held by NetBlocks. Citation and source attribution are required at the point of use.