Network data from the NetBlocks internet observatory provide evidence of the extent and impact of an internet shutdown affecting India's north-east regions including Assam. As of Thursday 12 December, the disruptions have extended to cover many fixed-line networks manifesting in an information blackout in affected regions following a mobile data shutdown the previous day.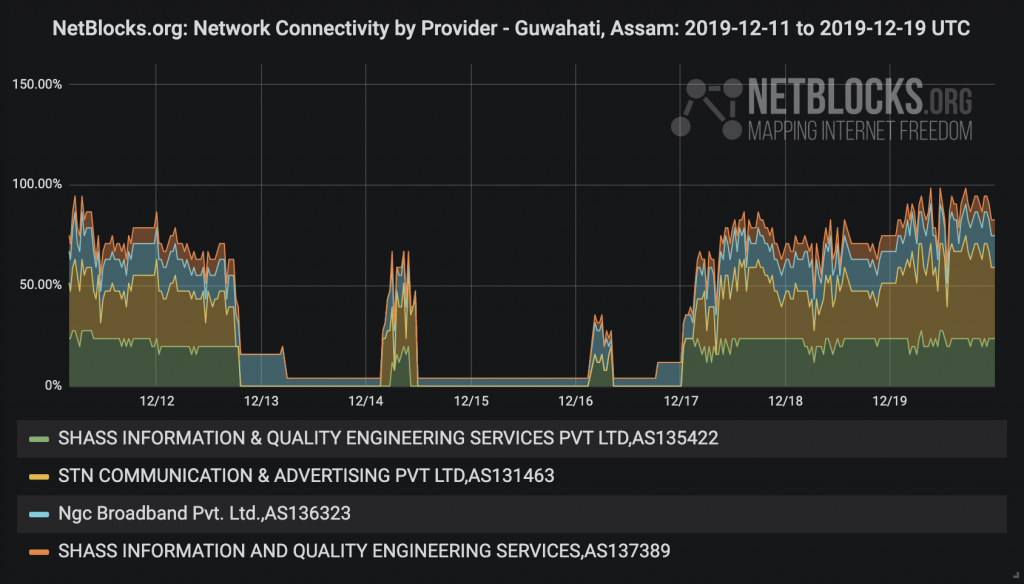 Tens of thousands of residents protesting the bill descended on the streets of Assam on Wednesday clashing with police and triggering widespread unrest. Authorities have responded by ordering internet operators to disconnect their subscribers while imposing a regional curfew.
Technical data corroborate reports that network operators have complied with orders by authorities to cut off telecommunications in Assam, leaving the state in the midst of a telecommunication blackout.
The ongoing internet shutdown presents a clear threat to independent media coverage, restricting rights to freedom of expression and freedom of assembly at a time when residents most need to be involved in shaping public policy.
Why are Indians concerned about the Citizenship Amendment Bill?
Critical voices from various segments of the political spectrum have united in their criticism of the CAB, leaving authorities without a clear plan of action. Concerns fall into three major categories:
Assamese residents fear an influx of migrants, facilitated by the Citizenship Amendment Bill which allows outsiders to claim residency in the region. Reports indicate that this issue is behind the most violent clashes.
Some consider the bill to be discriminatory and "anti-Muslim" due to provisions in the new law which favour migrants from other religions and ethnicities.
Secular Indian nationalists have objected to the classification of people by race and religion, a distinction which they believe contradicts India's constitution and harms national unity. The government contests claims that the bill is racially biased.
Authorities have issued a heavy-handed response, deploying thousands of troops, imposing a curfew and suspending internet services to limit dissent.
Why has India shut down internet access in Assam?
Although India does not implement nationwide internet shutdowns, the country has become increasingly emboldened with the scale and duration of regional blackouts it orders to push through legislative bills that lack popular support.
Internet access remains largely shut in Kashmir since the government revoked Article 370 in August terminating provisions for self-governance. Internet was cut for several days in Aligarh this November when courts issued a ruling to settle a 70-year ethnic land dispute in Ayodhya.
The latest incident is the third high-profile case in recent months where Prime Minister Narendra Modi's government and ruling Hindu nationalist Bharatiya Janata Party have sought to push through bills despite limited public support, using mass-scale telecommunications blackouts to silence oppositional voices after failing to achieve consensus.
Internet shutdowns are used by leaders to preserve their public image while consolidating power domestically and suppressing voices of dissent. However rights advocates contend that mass-censorship measures represent a direct threat to human rights, democracy and public safety.
How was the internet shutdown implemented?
Mobile providers were the first to cut service on Wednesday, 11 December 2019 as corroborated by multiple local reports. Technical data indicate a drop on the 11th potentially consistent with those reports. The shutdown was fully in force by the evening of the 12th, with only a brief restoration on the 14th and on the 16th, up until a more significant restoration began on the 17th and normal levels were reached on the 19th.
After getting full Internet today …. I must thank @netblocks for highlighting the Internet shutdown in assam (December 11- December 19)

— Happy Birthday To Me (@firingouty) December 20, 2019
Hence, many Assam residents were already offline on Thursday and unable to read tweets by Prime Minister Narendra Modi claiming his government was "constitutionally committed to safeguard the political, linguistic, cultural and land rights of the Assamese people."
Confirmed: Evidence of internet shutdowns in #Assam and northeastern states as #India seeks to push through Citizenship Amendment Bill; mobile and fixed-line connections cut limiting media coverage and free expression; incident ongoing 📉 #CABProtests

📰https://t.co/Vshf54EufC pic.twitter.com/9iqNycwLBQ

— NetBlocks (@netblocks) December 14, 2019
There is no indication of a kill-switch or advanced technical mechanism in use to disable telecommunications, and timings confirm that individual operators have each been forced to switch off access to their subscribers through a manual process after being legally compelled to do so.
First Kashmir, now Assam. Where will internet etc be banned next in India ? pic.twitter.com/nIsHkVkyMr

— Markandey Katju (@mkatju) December 11, 2019
Drops in connectivity have been observed in Nagaland, Meghalaya, Arunachal Pradesh and Tripura at the time of writing, and appear be related to further shutdown orders, although these outages are not yet validated.
Just In | Mobile internet and messaging services withdrawn in #Meghalaya for 48 hours, says a senior state Home department official. PTI #CAB

— The Hindu (@the_hindu) December 12, 2019
NetBlocks recommends against the use of network disruptions to limit the rights to free expression and free assembly.
---
Methodology
NetBlocks diffscans, which map the IP address space of a country in real time, show internet connectivity levels and corresponding outages. Purposeful internet outages may have a distinct network pattern used by NetBlocks to determine and attribute the root cause of an outage, a process known as attribution which follows detection and classification stages.
A summary of data visualizations used in this report:
Network Connectivity by Provider: A subset of internet providers and networks serving the affected region are visualized in a stacked time-series histogram to identify the start and end times of an internet shutdown event. Scales on the y-axis are adjusted to match localized maxima while minima indicate periods when networks became unreachable. The x-axis represents Universal Coordinated time (GMT+0).

Standard: Connectivity levels on the y-axis correspond directly to the observed number of reachable connections, as with National Connectivity charts.
Normalized: Connectivity levels on the y-axis are normalized so that each network has equal representation at the initial time represented in the chart, offering a comparative view.
---
NetBlocks is an internet monitor working at the intersection of digital rights, cyber-security and internet governance. Independent and non-partisan, NetBlocks strives to deliver a fair and inclusive digital future for all.
[ press | contact ] Graphics and visualizations are provided for fair use in unaltered form reflecting the meaning and intent in which they were published, with clear credit and source attribution to NetBlocks. Intellectual property rights are protected including but not limited to key findings, facts and figures, trademarks, copyrights, and original reporting, are held by NetBlocks. Citation and source attribution are required at the point of use.