Network data from the NetBlocks internet observatory confirm Pakistan has shut down internet access multiple regions. Two distinct schedules of disruption appear to be in place.
Azad Kashmir internet blackout
In parts of Azad Kashmir, internet access has been cut as of 7th of September 2019 amid protests against India's revocation of Article 370. Data show that PTCL networks were shut in Kashmir on multiple dates through August and the longest of these disruptions continues at the time of writing.
Confirmed: #Pakistan has shut down internet access in Azad #Kashmir as of Saturday amid widening protests against #Article370 revocation; cellular disruptions now also registered in #Punjab for #Ashura commemorations; incidents ongoing 📉📉

📰 https://t.co/Qq2v7tJvZ0 pic.twitter.com/xYXtxwVplz

— NetBlocks (@netblocks) September 10, 2019
The information blackouts affect national telecommunication provider Pakistan Telecommunication Company Limited (PTCL) and timings are consistent with the dates of major protests.
Thousands of people from different districts of Azad Kashmir are marching towards Tetrinot, LoC today. This video has just been uploaded from Rawalakot city. People are charged. Violence may erupt if govt tries to stop them. Local and int'l media needs to cover it. pic.twitter.com/c8GBzGTwmz

— Frontline Kashmir Reports (@Fkdotpk1) September 7, 2019
Similar disruptions were identified on 15 August 2019, Indian Independence Day, between 7:00 a.m. and 8:00 p.m. local time when the protests gained momentum:
Data show that #Pakistan's PTCL internet service was also disrupted in #AzadKashmir on 15 August 2019 between 7:00 a.m. and 8:00 p.m. local time as protests against India's abrogation of #Article370 gathered pace⏱

📰 https://t.co/Qq2v7tJvZ0 pic.twitter.com/14jrDGZ31x

— NetBlocks (@netblocks) September 10, 2019
The measures come only weeks after India drew criticism from the international community and the United Nations after switching off internet and telephony services as it imposed a military curfew and terminated autonomy in the state of Jammu and Kashmir:
Urgent: Severe internet disruption registered in #Srinagar, #Kashmir with backbone access largely severed by India from 18:00 UTC; information blackout poses immediate risk to safety and rights of individuals; incident ongoing #KeepItOn
📰 https://t.co/ENx1iLc4nQ pic.twitter.com/jv0KMbp3CM

— NetBlocks (@netblocks) August 4, 2019
Ashura mobile internet restrictions
In other regions of Pakistan, mobile internet shutdowns have been reported from 8 September 2019 as a purported security measure for the religious festival of Ashura.
Each year, Pakistan restricts mobile access along the paths of processions. The practice has been called out by local communities who increasingly rely on the internet and social media platforms for their livelihoods.
One of several affected cities, Lahore was subject to mobile restrictions beginning 7 September and becoming more severe on the 10th: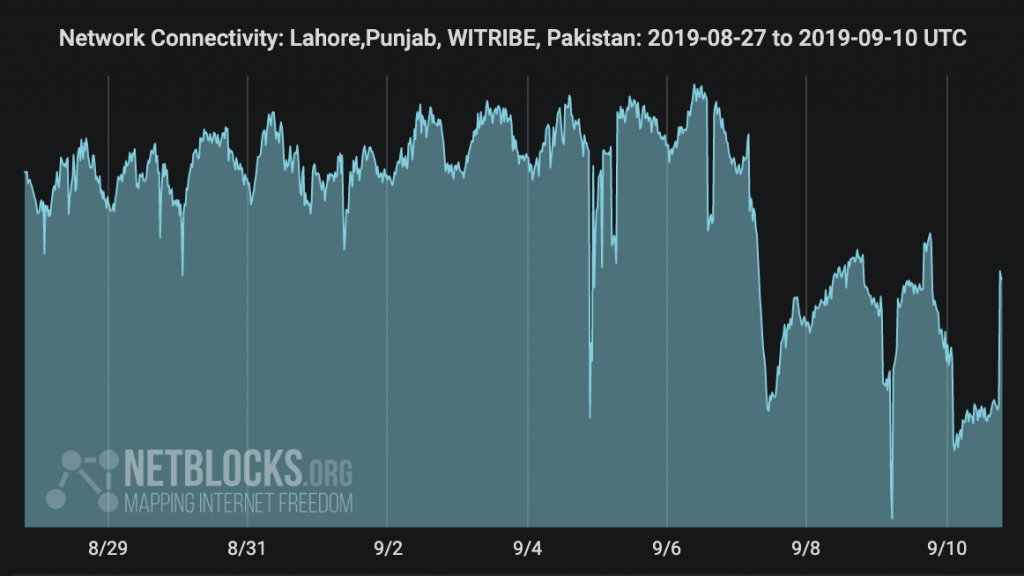 Analysis
The combined measures present a significant challenge to the rights of Kashmir and Pakistan residents at a time when India's shutdown in Jammu and Kashmir are already in the spotlight.
The combined schedules of network disruptions present a significant barrier to freedom of assembly and freedom of expression at a time when citizens need to be involved in civic discourse.
Further, ongoing disruptions in India and Pakistan are likely to fuel the spread of misinformation by cutting off authentic sources of news, according to investigative reports.
Why are Kashmiris protesting?
On Saturday, 7 September, thousands of Kashmiris took to the streets to protest India's abrogation after local groups designated a "black day."
Protests in Pakistan's northern periphery have swelled through recent weeks and continue as of 10 September with participants approaching the Line of Control:
Thousands of Kashmiris from Azad Kashmir side have gathered near the Line of Control (LoC) to protest the scrapping of #Article370 by the Indian govt pic.twitter.com/ZZ1RGqwdtq

— Murtaza Ali Shah (@MurtazaViews) September 9, 2019
Media coverage has been muted, partly due to blackouts limiting the flow of information in both Pakistan and India-controlled parts of Kashmir, as well as self-censorship, state media regulation and reprisals against journalists in both countries.
Why has Pakistan shut down the internet?
Protesters in Azad Kashmir criticise India but many also question Pakistan's handling of the crisis. Some elements among the crowd have gone further, reports claim, challenging the military and demanding independence. All of this potentially complicates the territorial dispute.
Last week, uncomfortable video footage emerged purportedly showing heavy-handed countermeasures by police officers sent from Punjab, raising questions about jurisdictional overreach.
The Pak­istan Telecommunication Authority (PTA) on Sunday confirmed mobile phone services would be suspended in areas through which Muharram processions pass.
However, no explanation has been forthcoming regarding the schedule of protest-related shutdowns in Kashmir taking place since August.
Which areas of Pakistan are offline?
Technical data indicate that two distinct schedules of internet shutdowns appear to be concurrently in effect:
Azad Kashmir: An ongoing network shutdown is in effect starting on Saturday, 7 September and resuming Sunday, presenting a near-total disruption of communications for many users.
Punjab and other regions: Mobile restrictions are implemented limiting access to information and communications. Cities including Lahore, Rawalpindi, Faisalabad and Gojra show signs of disruption.
What is the impact on citizens?
Residents of Kashmir and reporters at the protests have expressed concerns about the loss of communications which have limited news coverage:
And what can you say about the (Punjab) police attack on JKLF protestors in Kotli, Azad Kashmir yesterday which injured 50 protestors? (Which then led complete media/internet blackout)

Can the honorable governor explain why force was used against them? https://t.co/8fv4nmPBEU

— ProgressivePakistani (@ProgPakistani) September 8, 2019
Azad Kashmir, s people are raising voices in favor of our bros and sisters against Indian brutally but Pakistan, s media is not providing coverage. here is also internet block-out. pic.twitter.com/cVurtBbnym

— Sardar Safeer Jumas (@SafeerJumas) September 8, 2019
Background
Pakistan has previously used national social media restrictions and targeted subnational shutdowns during religious holidays and protests. The country's now-dissolved Federally Administered Tribal Areas experienced some of the longest recorded telecommunications disruptions globally while Pakistan sought to temper tribal and insurgent tensions.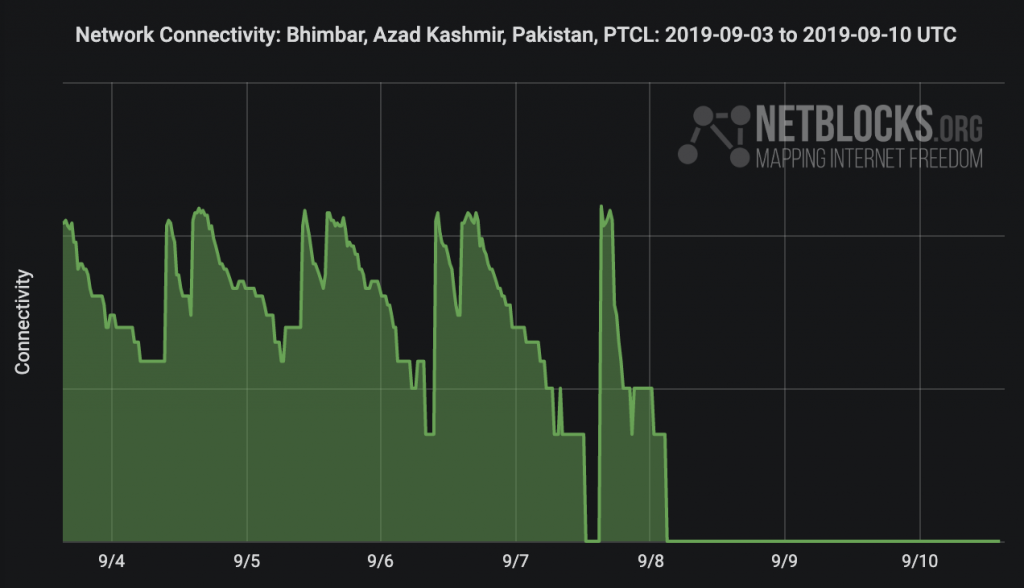 ---
Methodology
NetBlocks diffscans, which map the IP address space of a country in real time, show internet connectivity levels and corresponding outages. Purposeful internet outages may have a distinct network pattern used by NetBlocks to determine and attribute the root cause of an outage, a process known as attribution which follows detection and classification stages.
---
NetBlocks is an internet monitor working at the intersection of digital rights, cyber-security and internet governance. Independent and non-partisan, NetBlocks strives to deliver a fair and inclusive digital future for all.
[ press | contact ] Graphics and visualizations are provided for fair use in unaltered form reflecting the meaning and intent in which they were published, with clear credit and source attribution to NetBlocks. Intellectual property rights are protected including but not limited to key findings, facts and figures, trademarks, copyrights, and original reporting, are held by NetBlocks. Citation and source attribution are required at the point of use.