Network data from the NetBlocks internet observatory confirm that YouTube and several Google services and websites have been blocked across Algeria on the evening of Thursday 8 August 2019 by state-run Algeria Telecom (AS36947) and other leading internet providers.
The restrictions come after the publication of a video where Algeria's ex-defense minister Khaled Nezzar addressed "members of the National People's Army" calling on them to "realize the demands of the people," understood as to be a call for the public to oust military leader Ahmed Gaid Salah.
Update: The multi-hour nationwide restriction has been lifted as of 23:00 UTC. It remains unclear who ordered the block and whether further disruptions are due to be implemented.
Confirmed: YouTube, Google Translate and several other Google services blocked across #Algeria after video published calling for ouster of military leader #KeepItOn #Algérie
📰https://t.co/t9pP532pha pic.twitter.com/8lXAXt7jZw

— NetBlocks (@netblocks) August 8, 2019
Technical data show that YouTube as well as Android mobile platform backends, Google Translate, Google Hangouts and Play Store are unreachable in Algeria. The outage is consistent with methods used to restrict online content in the country.
Users report that they are resorting to VPN tools to circumvent the national censorship measure, for which no legal basis or court order had been established at the time of writing.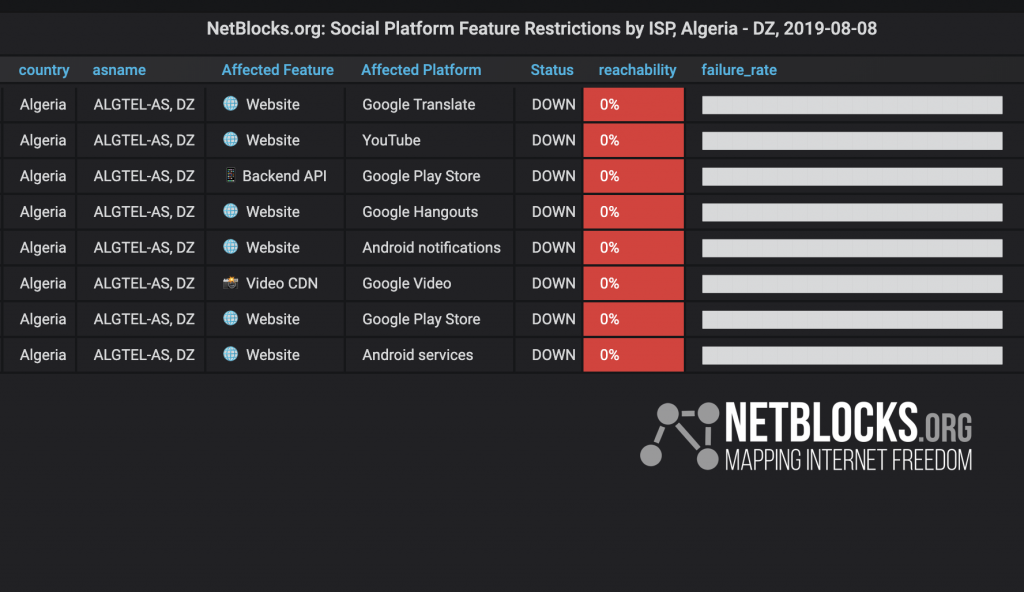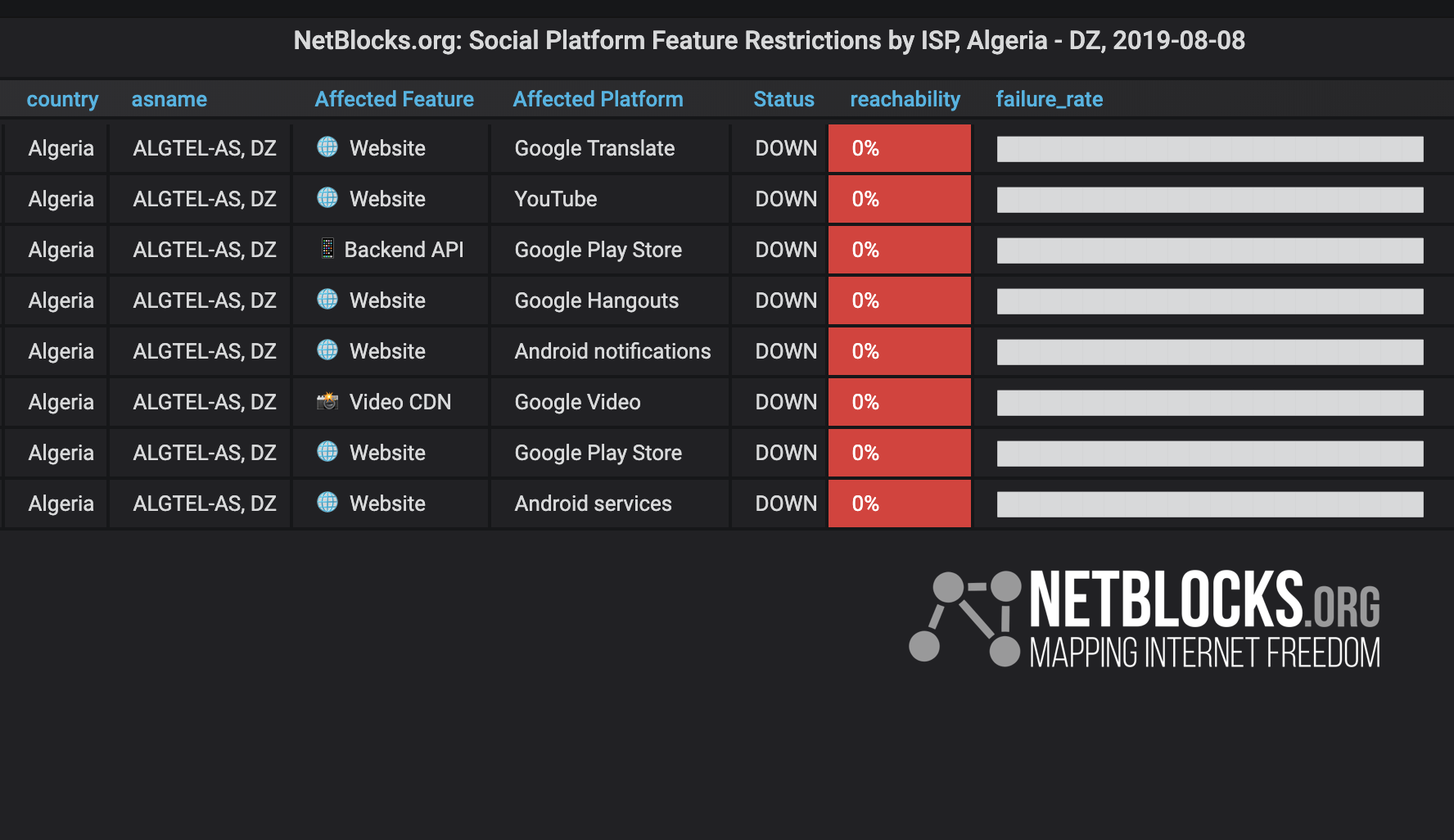 NetBlocks has previously tracked internet disruptions in Algeria during protests against Abdelaziz Bouteflika, and during school examinations earlier this summer as an apparent measure to prevent cheating.
---
Methodology
Internet performance and service reachability are determined via NetBlocks web probe privacy-preserving analytics. Each measurement consists of latency round trip time, outage type and autonomous system number aggregated in real-time to assess service availability and latency in a given country. Network providers and locations are enumerated as vantage point pairs. The root cause of a service outage may be additionally corroborated by means of traffic analysis and manual testing as detailed in the report.
---
NetBlocks is an internet monitor working at the intersection of digital rights, cyber-security and internet governance. Independent and non-partisan, NetBlocks strives to deliver a fair and inclusive digital future for all.
[ press | contact ] Graphics and visualizations are provided for fair use in unaltered form reflecting the meaning and intent in which they were published, with clear credit and source attribution to NetBlocks. Intellectual property rights are protected including but not limited to key findings, facts and figures, trademarks, copyrights, and original reporting, are held by NetBlocks. Citation and source attribution are required at the point of use.