Internet users are coming back online in Sudan as of Tuesday 9 July 2019, as real-time network data shows a marked increase in mobile connectivity and some fixed-line providers for the first time in 36 days.
The partial return comes after a month-long near-total internet shutdown which began on 3 June 2019 amidst paramilitary attacks on pro-democracy demonstrators in Khartoum. It remains unclear if the connectivity will hold with levels fluctuating as of Tuesday afternoon.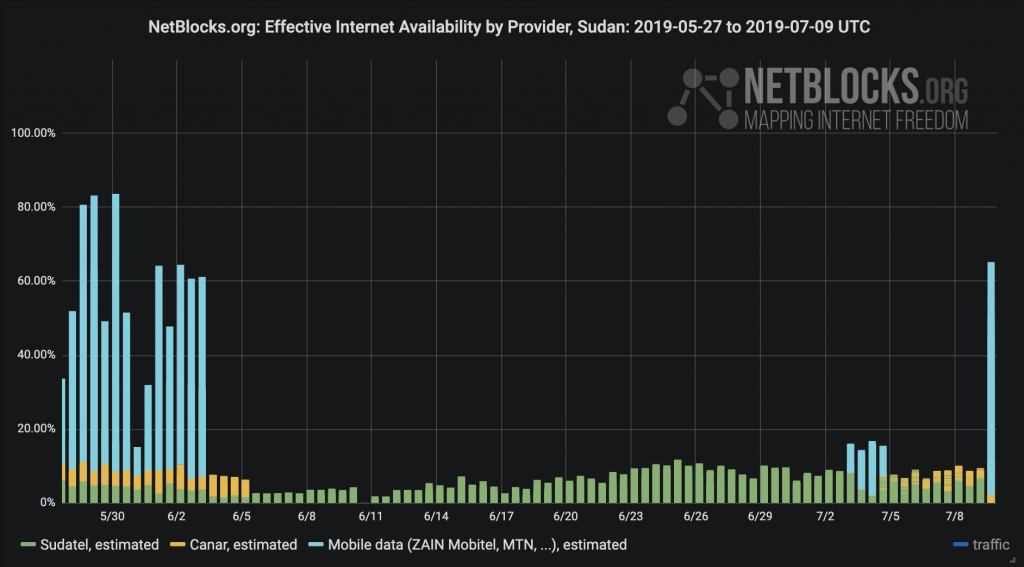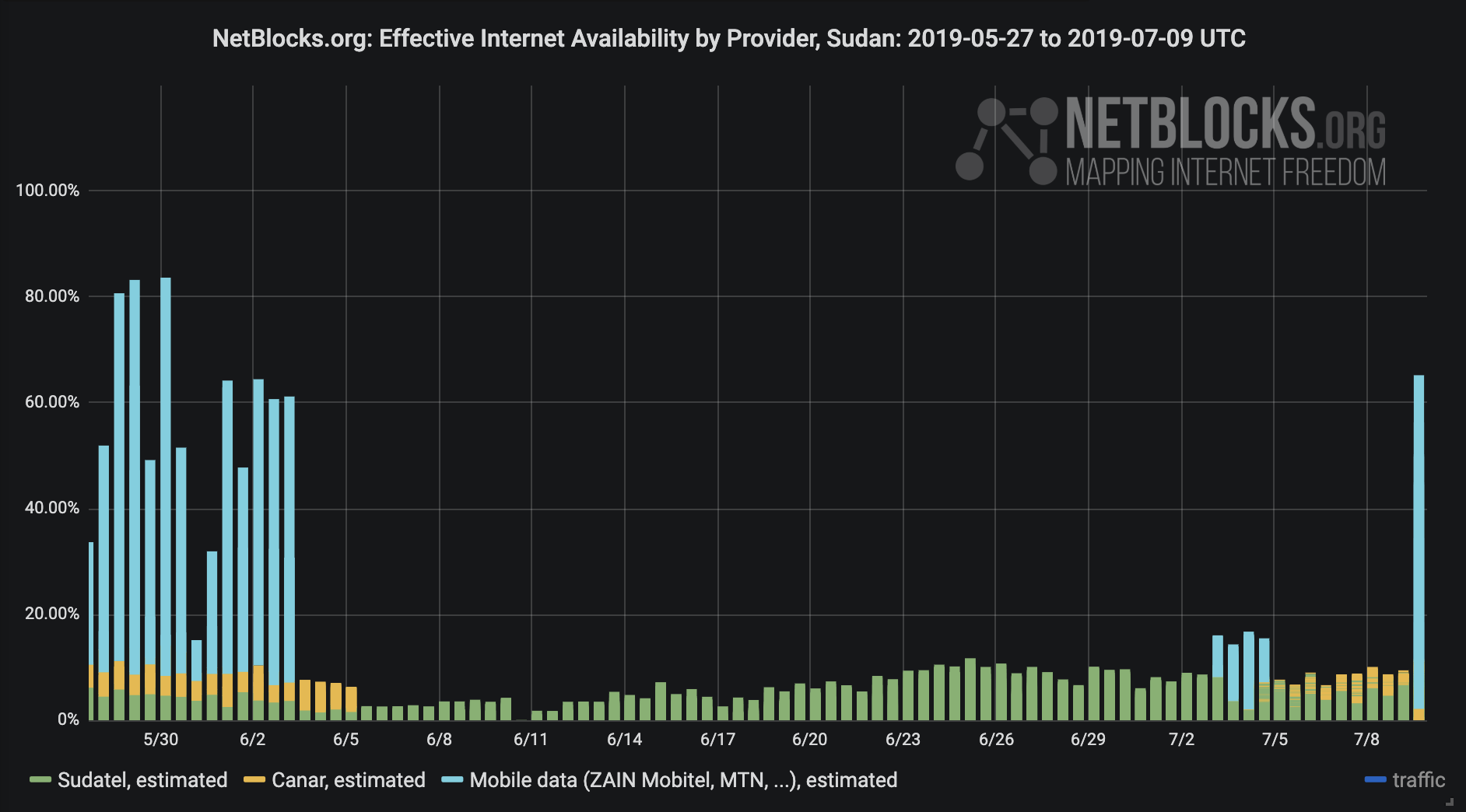 On Tuesday morning mobile internet users with MTN first reported being able to get online after five weeks of outages. Both internet measurement data and network traffic metrics confirm this partial restoration. However, there are as yet no strong signs of a return with Mobiltel ZAIN, Sudan's other leading mobile provider.
Fixed line operator Canar (Kanartel) also saw a rise in acccess on Tuesday morning. Meanwhile, state-run provider Sudan Telecom has experienced fluctuations through the day, with a series of disruptions and reconnections which may indicate technical work still in progress.
Key findings:
NetBlocks internet scans show partial restoration of both mobile and fixed-line connections via multiple providers
Real-time measurements show no social media or messaging app restrictions via the leading providers that have come online as of 4:00 p.m. UTC
Current traffic data show levels remain significantly below 3 June levels, suggesting many users remain offline at present
Background
NetBlocks classed the outages beginning 3 June 2019 a near-total restriction on the flow of information in and out of Sudan.
Data showed that restrictions were in place targeting all internet providers, affecting Sudan's fixed-line connectivity as well as mobile access.
Internet measurements confirmed that the new restrictions understood to have been ordered by Sudan's Transitional Military Council were more severe than those implemented during the rule of ousted president Omar al-Bashir.
In recent weeks, Internet users took legal action to regain connectivity, with courts ordering the immediate restoration of access following a successful legal petition:
Success! #Sudan court orders provider to end military-ordered internet blackout – lawyer

➡️ Khartoum District Court orders Zain to "immediately restore internet services to the country"
➡️ Zain had been "instructed verbally" to cut internet

— 📰 @Reutershttps://t.co/WyA7oVIQ8E

— NetBlocks (@netblocks) June 23, 2019
The series of disruptions may cost Sudan's economy upwards of $1bn USD as assessed by the COST tool developed by NetBlocks and the Internet Society which estimates the economic impact of network disruptions. During the current disruption economic losses have been estimated at over $10m USD per day, without accounting for further losses due to a collapse in consumer and investor confidence.
The partial restoration of access comes one day after the U.N. Human Rights Council issued a critical report citing NetBlocks' research and expert opinions on the situation of Sudan from December 2018 through June 2019.
Earlier, December through April, Sudanese ISPs disrupted social media, censored media and frequently disabled nationwide connectivity as protesters took to the streets to drive president Omar al-Bashir out of power.
Access to Twitter, Periscope, Facebook, Instagram, and WhatsApp were restored in Sudan on Thursday 11 April 2019 as the leader stepped down following months of intense demonstrations, as show in network measurement data collected by the NetBlocks internet observatory.
During the longest disruption, Sudan cut social media for 68 consecutive days, with Facebook, Twitter, Instagram and WhatsApp outages beginning 10 AM 21 December 2018 and lasting until February 26 2019, according to NetBlocks internet measurements.
Civil society and technical groups including the Internet Society have called for the restoration of connectivity in Sudan.
NetBlocks maintains that the availability of unfiltered internet access and an end to political censorship are essential for a successful transition to a civilian-led government.
Methodology
Internet performance and service reachability are determined via NetBlocks web probe privacy-preserving analytics. Each measurement consists of latency round trip time, outage type and autonomous system number aggregated in real-time to assess service availability and latency in a given country. Network providers and locations are enumerated as vantage point pairs. The root cause of a service outage may be additionally corroborated by means of traffic analysis and manual testing as detailed in the report.
NetBlocks diffscans, which map the IP address space of a country in real time, show internet connectivity levels and corresponding outages. Purposeful internet outages may have a distinct network pattern used by NetBlocks to determine and attribute the root cause of an outage, a process known as attribution which follows detection and classification stages.
---
NetBlocks is an internet monitor working at the intersection of digital rights, cyber-security and internet governance. Independent and non-partisan, NetBlocks strives to deliver a fair and inclusive digital future for all.
[ press | contact ] Graphics and visualizations are provided for fair use in unaltered form reflecting the meaning and intent in which they were published, with clear credit and source attribution to NetBlocks. Intellectual property rights are protected including but not limited to key findings, facts and figures, trademarks, copyrights, and original reporting, are held by NetBlocks. Citation and source attribution are required at the point of use.