Twitter, Periscope, Facebook, Instagram, WhatsApp and Telegram have been blocked in Sudan on Sunday 7 April 2019 amid intense demonstrations, according to NetBlocks internet measurement data.
Telecom operators SDN, MTN, Sudatel and Kanartel have blocked the popular social media and messaging platforms as demonstrators reportedly converged on army headquarters in Khartoum, following months of rallies against the rule of President Omar al-Bashir.
Urgent: Twitter, Periscope, Facebook, Instagram, WhatsApp, Telegram blocked in #Sudan as calls for end to President al-Bashir's rule intensify; demonstrations converging in #Khartoum; developing incident #SudanUprising ⬇️https://t.co/dtaR72LR8B pic.twitter.com/OEmA6CuDWM

— NetBlocks (@netblocks) April 7, 2019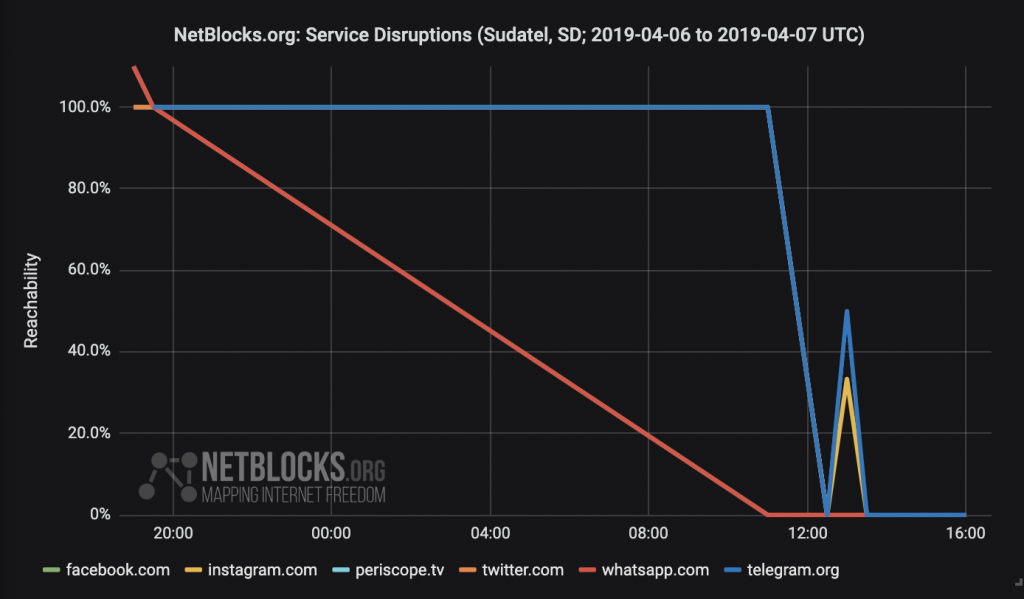 The app and website blocks, introduced from morning to midday Sunday 7 April 2019 have been followed by major power outages disabling some 45% of telecommunications across Sudan later in the day.
NetBlocks diffscans, which map the entire IP address space of a country in real time, confirm that internet outages corresponding to power cuts affecting multiple fixed-line and mobile service providers in Sudan at 1:00 PM UTC, hours after the first social media censorship incidents were registered.
Power disruptions knocked 45% of #Sudan's telecom infrastructure offline at 1:00 PM UTC this afternoon shortly after the introduction of social media restrictions, further limiting the flow of information and media coverage #SudanUprising #KeepItOn ⬇️https://t.co/dtaR72LR8B pic.twitter.com/KKqeGjAdiA

— NetBlocks (@netblocks) April 7, 2019
Network measurement data show that the filtering of social media platforms by internet providers is not technically related to the subsequent power outage, but is rather consistent with techniques used to censor online content in Sudan during previous incidents.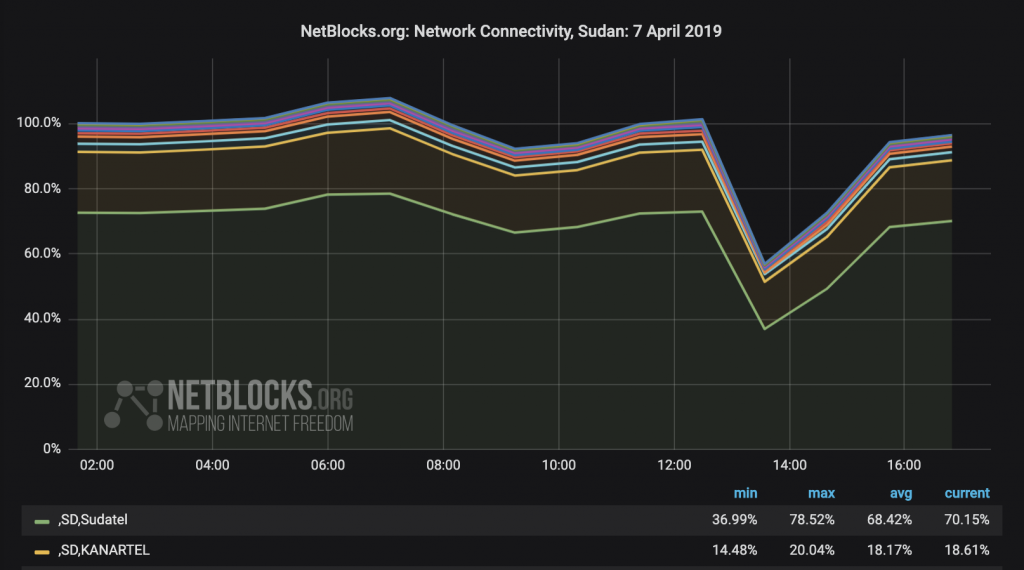 Sudan has previously disrupted social media for 68 consecutive days, with Facebook, Twitter, Instagram and WhatsApp outages beginning 10 AM 21 December 2018 and lasting until February 26 2019, according to NetBlocks internet measurements.
The list of currently blocked apps and social media platforms matches the list from previous censorship incidents in Sudan (see chart from 21 December 2018, below, and newswires) with one new addition: the website and web gateway for Telegram, a mobile messaging app popular with activists in Sudan and globally, are now also restricted.
The reintroduction of Sudan's social media censorship regime and national power disruptions are likely to severely restrict the free flow of information at a critical moment for the North African country's future.
---
Methodology
Internet performance and service reachability are determined via NetBlocks web probe privacy-preserving analytics. Each measurement consists of latency round trip time, outage type and autonomous system number aggregated in real-time to assess service availability and latency in a given country. Network providers and locations are enumerated as vantage point pairs. The root cause of a service outage may be additionally corroborated by means of traffic analysis and manual testing as detailed in the report.
NetBlocks diffscans, which map the IP address space of a country in real time, show internet connectivity levels and corresponding outages. Purposeful internet outages may have a distinct network pattern used by NetBlocks to determine and attribute the root cause of an outage, a process known as attribution which follows detection and classification stages.
---
NetBlocks is an internet monitor working at the intersection of digital rights, cyber-security and internet governance. Independent and non-partisan, NetBlocks strives to deliver a fair and inclusive digital future for all.
[ press | contact ] Graphics and visualizations are provided for fair use in unaltered form reflecting the meaning and intent in which they were published, with clear credit and source attribution to NetBlocks. Intellectual property rights are protected including but not limited to key findings, facts and figures, trademarks, copyrights, and original reporting, are held by NetBlocks. Citation and source attribution are required at the point of use.