Network data from the NetBlocks internet observatory show disruption to Facebook Messenger, Facebook image CDN servers, as well as BBC News and other news sites in Egypt with two leading providers from Sunday, 22 September 2019.
Confirmed: Facebook Messenger, BBC News and social media CDN servers restricted in #Egypt by leading providers amid demonstrations against government corruption; incident ongoing #KeepItOn

📰 https://t.co/MId8ABwkjf pic.twitter.com/ZVIZd7BhRs

— NetBlocks (@netblocks) September 22, 2019
Technical measurements show that the social media and messaging platforms became unavailable on AS8452 (Telecom Egypt) and AS24835 (Raya) on Sunday amid heightened political tensions following the publication of videos alleging state corruption. Egypt has seen some of its first political demonstrations in years after the political videos went viral on social media.
Update: Access to Twitter has also become intermittent in Egypt from 8 p.m. Sunday, local time. As with Facebook Messenger, network data indicate that approximately 40% of users are experiencing difficulty connecting at any given time, with Skype and other communication services also affected:
Update: Access to #Twitter has become intermittent in #Egypt from 8 p.m. Sunday local time. As with Facebook Messenger, network data indicate that ~40% of users are experiencing difficulty connecting at any given time; incident ongoing 📉

📰 https://t.co/MId8ABwkjf pic.twitter.com/OzzMXyPA4M

— NetBlocks (@netblocks) September 23, 2019
The affected sites were previously unrestricted and social media platforms are not generally blocked in Egypt. NetBlocks data confirm widespread user reports of difficulty accessing the services on Sunday.
The incident is ongoing at the time of writing. Measurements also indicate a period of restriction to Facebook image and upload servers although these services are intermittently available.
The new instances of network filtering are likely to impact media freedom and the rights to free assembly and association at a time when dissent is already limited in the region.
Why are Egyptians protesting?
Egypt saw a second night of clashes on Saturday and dozens of arrests in demonstrations against President Abdul Fattah al-Sisi. Anger spread after Egyptian businessman and actor Mohamed Ali posted videos online alleging that Sisi wasted millions on luxury properties at a time when many Egyptians are in poverty.
As clashes intensified, police used tear gas to suppress the protests. Although participation is currently low compared to uprisings in past years, the protests fuelled by social media have been seen as significant at a time when Egypt's opposition is struggling to find representation in government.
Is the internet down in Egypt?
Restrictions are currently limited to specific online platforms and there is no sign of a wider nationwide internet blackout at the time of writing.
Subscribers of state-run telecommunications operator Telecom Egypt and Raya, which are also marketed under other brands, are currently impacted by the social media and news platform restrictions.
Network data show that Facebook Messenger is significantly disrupted for these users, while other users may experience intermittent difficultly uploading and accessing images on the Facebook social media platform. The UK's BBC News and US-supported Alhurra News are also impacted.
Background
NetBlocks previously identified the censorship of campaign websites during the 2019 Egyptian constitutional referendum. Technical restrictions briefly caused disruption to social media link shortening services, causing widespread disruption to social media sharing for several hours.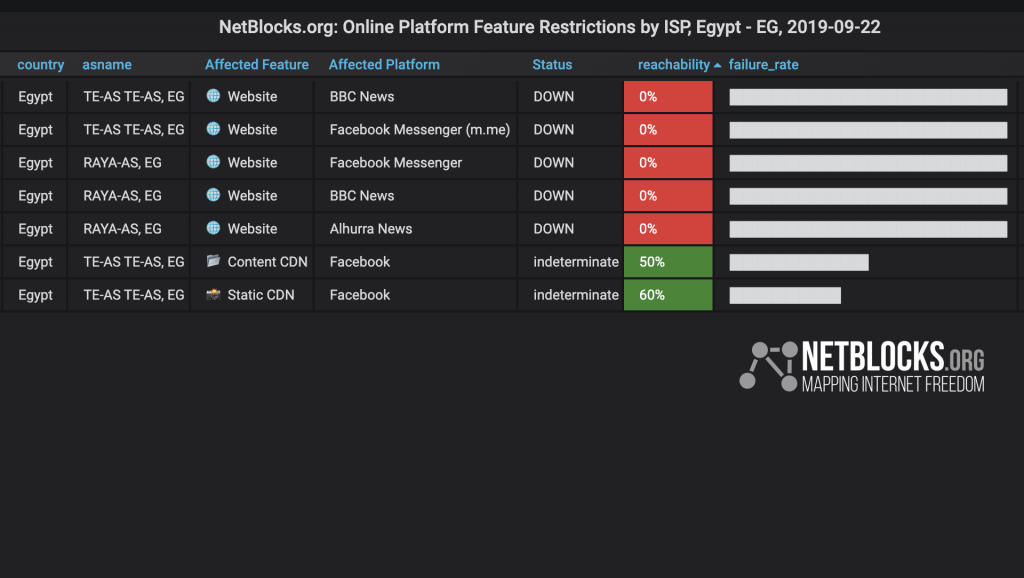 ---
Methodology
Internet performance and service reachability are determined via NetBlocks web probe privacy-preserving analytics. Each measurement consists of latency round trip time, outage type and autonomous system number aggregated in real-time to assess service availability and latency in a given country. Network providers and locations are enumerated as vantage point pairs. The root cause of a service outage may be additionally corroborated by means of traffic analysis and manual testing as detailed in the report.
NetBlocks diffscans, which map the IP address space of a country in real time, show internet connectivity levels and corresponding outages. Purposeful internet outages may have a distinct network pattern used by NetBlocks to determine and attribute the root cause of an outage, a process known as attribution which follows detection and classification stages.
---
NetBlocks is an internet monitor working at the intersection of digital rights, cyber-security and internet governance. Independent and non-partisan, NetBlocks strives to deliver a fair and inclusive digital future for all.
[ press | contact ] Graphics and visualizations are provided for fair use in unaltered form reflecting the meaning and intent in which they were published, with clear credit and source attribution to NetBlocks. Intellectual property rights are protected including but not limited to key findings, facts and figures, trademarks, copyrights, and original reporting, are held by NetBlocks. Citation and source attribution are required at the point of use.