Several Internet providers in Egypt restricted access to the bit.ly URL shortener service on Thursday 18 April 2019, breaking an estimated 37.5 billion web links shared via the service, according to new NetBlocks internet measurement data. The restrictions, implemented for a duration of approximately 12 hours, have prevented access to current and historic links shared online using the system which is popular with news media and blogging websites.
Confirmed: #Egypt has blocked access to the #bitly URL shortening service breaking an estimated 37.5 billion web links hosted via the service, including those shared via social media #KeepItOnhttps://t.co/6cCeyBqwGK pic.twitter.com/PZRdrtn6Xn

— NetBlocks (@netblocks) April 18, 2019
Network data shows that the two IP addresses serving the bit.ly domain were inaccessible via internet providers Telecom Egypt, Raya, Etisalat and, intermittently, Vodafone, from Thursday morning 18 April 2019. Some users of Vodafone's mobile network remained able to access the service, while the majority of fixed line and mobile operators implementing a total block.
The underlying reason for the outage, which had been ongoing for over an hour at time of publication, remains unclear. Bitly's corporate website, bitly.com, which provides information about the company's products, is not affected by the block.
Network data shows access to the #Bitly URL shortening service being restored across Egypt as of 20:15 UTC:
Update: Access to the #Bitly URL shortening service is being restored across #Egypt as of 20:15 UTC following a half-day block which broke an estimated 37.5 billion web links #KeepItOn ⬇️https://t.co/6cCeyBqwGK pic.twitter.com/lmh1iB3E2K

— NetBlocks (@netblocks) April 18, 2019
Link shortening services are used to simplify the sharing of web links and news articles via social media, and are also used in print media where the full web address is considered too long to publish. Bitly service hosted at the domain bit.ly advertises 37.5 billion links published as of August 2018 with the current figure expected to be higher.
Disruption to a link shortening service prevents users from following the shortened links, including all current and historic posts shared using the service. Hence, shorteners are considered critical to the day-to-day operation of social networks and blogging sites. The built-in link shortener used by Twitter, t.co, has been unaffected by the restrictions.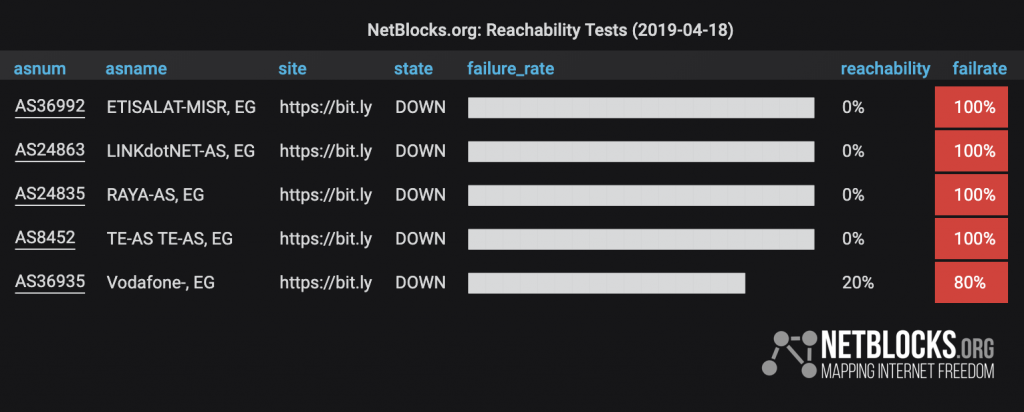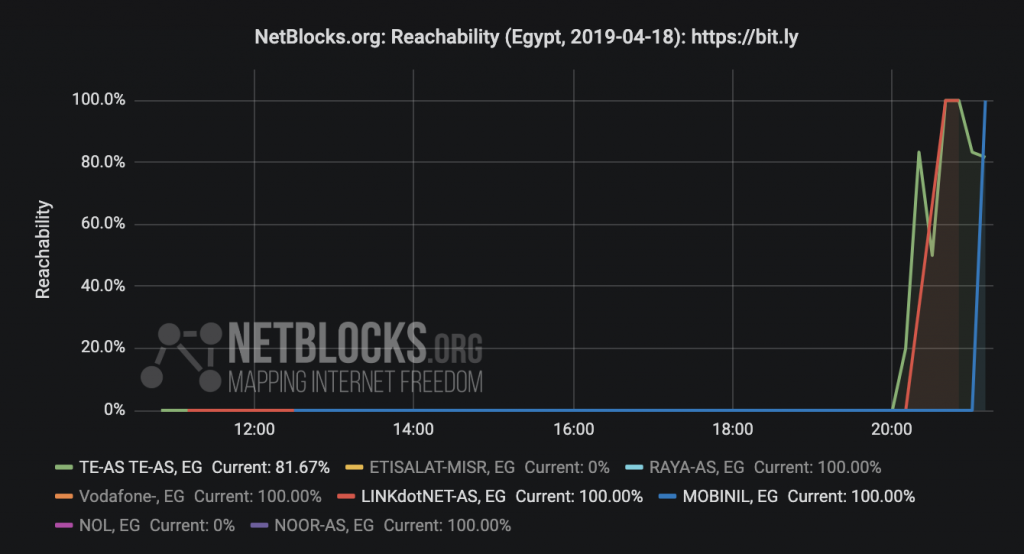 ---
Methodology
Internet performance and service reachability are determined via NetBlocks web probe privacy-preserving analytics. Each measurement consists of latency round trip time, outage type and autonomous system number aggregated in real-time to assess service availability and latency in a given country. Network providers and locations are enumerated as vantage point pairs. The root cause of a service outage may be additionally corroborated by means of traffic analysis and manual testing as detailed in the report.
---
NetBlocks is an internet monitor working at the intersection of digital rights, cyber-security and internet governance. Independent and non-partisan, NetBlocks strives to deliver a fair and inclusive digital future for all.
[ press | contact ] Graphics and visualizations are provided for fair use in unaltered form reflecting the meaning and intent in which they were published, with clear credit and source attribution to NetBlocks. Intellectual property rights are protected including but not limited to key findings, facts and figures, trademarks, copyrights, and original reporting, are held by NetBlocks. Citation and source attribution are required at the point of use.