Algeria has cut access to most social media platforms, as of 1:15 p.m. UTC, Sunday 16 June 2019 according to NetBlocks network measurement data, in an apparent bid to counter cheating during national baccalaureate school exams which will last 5 days according to the minister of education.
Communications platforms restricted by state provider Algeria Telecom (ALGTEL, AS36947) include U.S. social platforms Facebook, Twitter, Instagram, Tumblr, Pinterest, LinkedIn, Tinder, Russian social networks VKontakte and Odnoklassniki as well as servers for messaging apps WhatsApp, Telegram, Skype, Viber and Line. Data indicate that restrictions with Algeria Telecom first appeared on Saturday and Sunday morning, then were lifted until noon before today's widespread blocks were imposed.
Confirmed: Facebook, Twitter, Instagram, WhatsApp, Telegram, VK and other social media blocked in #Algeria from 1:15 p.m. UTC in bid to counter baccalaureate school exam cheating; VPN services also affected; incident ongoing #KeepItOn 📉https://t.co/LHtlNTma0Y pic.twitter.com/8Ejxc6JwzK

— NetBlocks.org (@netblocks) June 16, 2019
Update: Sunday 16 June 2019 – 3:30 p.m. UTC: Access to restricted services has been restored by Algeria Telecom as of 3:30 p.m. UTC. The Ministry of Education has provided a schedule of upcoming exams for reference.
Update: Monday 17 June 2019 – 9:30 a.m. UTC: Social media are cut again as exams commence.
Social media restrictions and regional internet shutdowns were previously observed by NetBlocks during protests against the rule of president Abdelaziz Bouteflika. However, internet access had been largely unfiltered since his resignation up to the present. The current list of blocked sites is among the most extensive NetBlocks has recorded globally through recent months.
While Algeria has a history of exam blackouts, Sunday's internet disruptions come as street protests continue, and as Algeria's former PM and former finance minster appear in court, inviting speculation over alternative political motivations for the cuts.
In recent days, Ethiopia blocked internet access nationwide for four consecutive days as part of measures appearing to target secondary school exam cheats, a measure which businesses and internet users criticised as being disproportionate and harmful to economic confidence and growth.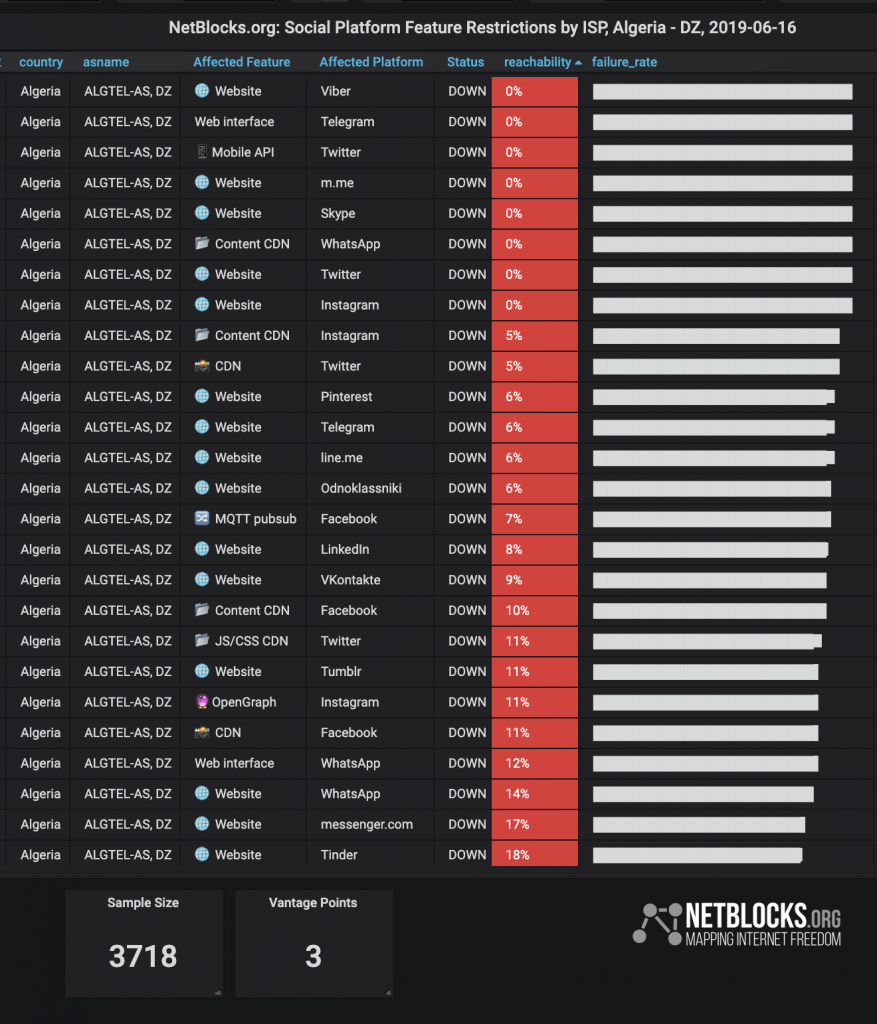 ---
Methodology
Internet performance and service reachability are determined via NetBlocks web probe privacy-preserving analytics. Each measurement consists of latency round trip time, outage type and autonomous system number aggregated in real-time to assess service availability and latency in a given country. Network providers and locations enumerated as vantage point pairs. The root cause of a service outage may be additionally corroborated by means of traffic analysis and manual testing as detailed in the report.
---
NetBlocks is a civil society group working at the intersection of digital rights, cyber-security and internet governance. Independent and non-partisan, NetBlocks strives for an open and inclusive digital future for all.
[ methodology handbook | press | contact ] Graphics and visualizations provided under a free and open license for reuse with clear attribution.