Internet connectivity has been partially disrupted in Sudan through the morning of Monday 3 June 2019. The new outages come amid reports of shots fired at protesters continuing sit-ins at Khartoum.
Unlike internet outages during the Sudanese uprising, the new disruptions affect specific providers and compliance with any blocking order appears to be partial and focuses on mobile connectivity.
Update: See full report at Further internet cuts target Sudan's pro-democracy movement with nationwide impact
Confirmed: Internet service partially cut in #Sudan amid new #Khartoum unrest limiting access to information at critical moments; unlike past shutdowns, only MTN and Mobitel affected #SudanUprising #KeepItOn 📉📈https://t.co/8Qio901WCR pic.twitter.com/yosrWf4bU6

— NetBlocks (@netblocks) June 3, 2019
Network data confirms reports of disruptions with provider MTN, as well as a major partial disruption with Mobitel (ZAIN). Connectivity appeared to return for some users with MTN as security forces stepped down the operation in the afternoon, however most mobile internet users remain offline across Sudan. while Sudan's education and research network SUDREN is also currently totally disconnected.
The outage does not have total national impact and users continue to have connectivity through the fixed-line networks of Sudatel, Canar (Kanartel) and parts of the MTN network.
Through December to April, Sudanese ISPs disrupted social media, censored media and frequently disabled nationwide connectivity as protesters took to the streets to drive president Omar al-Bashir out of power.
Access to Twitter, Periscope, Facebook, Instagram, and WhatsApp were restored in Sudan on Thursday 11 April 2019 as the leader stepped down following months of intense demonstrations, as show in network measurement data collected by the NetBlocks internet observatory.
During the longest disruption, Sudan cut social media for 68 consecutive days, with Facebook, Twitter, Instagram and WhatsApp outages beginning 10 AM 21 December 2018 and lasting until February 26 2019, according to NetBlocks internet measurements.
The availability of unfiltered internet access and an end to political censorship remain essential for a successful transition to a civilian-led government.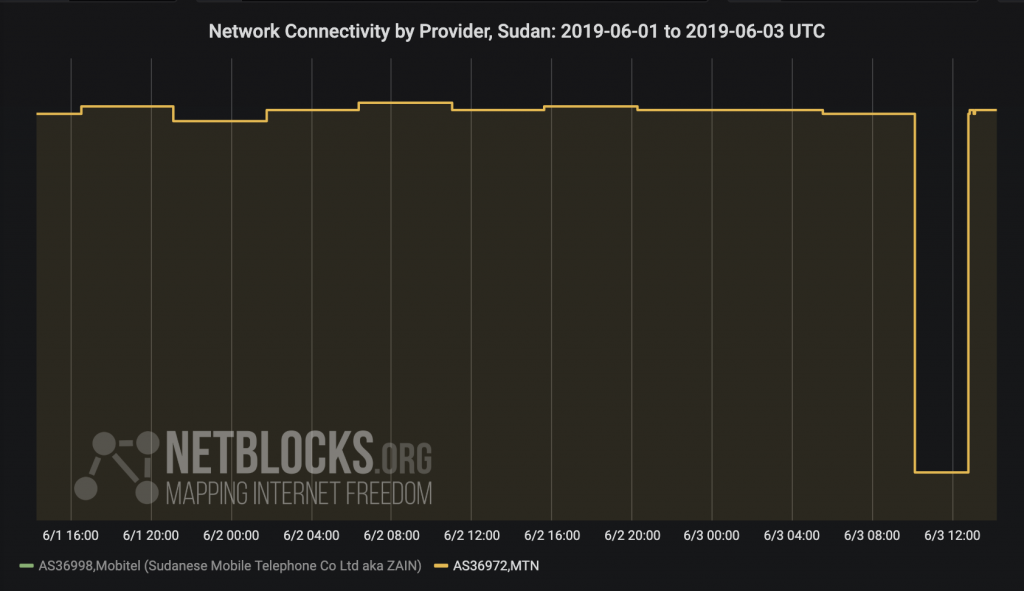 ---
Methodology
NetBlocks diffscans, which map the IP address space of a country in real time, show internet connectivity levels and corresponding outages. Purposeful internet outages may have a distinct network pattern used by NetBlocks to determine and attribute the root cause of an outage, a process known as attribution which follows detection and classification stages.
---
NetBlocks is an internet monitor working at the intersection of digital rights, cyber-security and internet governance. Independent and non-partisan, NetBlocks strives to deliver a fair and inclusive digital future for all.
[ press | contact ] Graphics and visualizations are provided for fair use in unaltered form reflecting the meaning and intent in which they were published, with clear credit and source attribution to NetBlocks. Intellectual property rights are protected including but not limited to key findings, facts and figures, trademarks, copyrights, and original reporting, are held by NetBlocks. Citation and source attribution are required at the point of use.