Nicolás Maduro today announced the creation of a new state corporation that will unite phone and internet provider CANTV, submarine cable operator Gran Caribe as well as national postal services. The contested head of state revealed the formation of a National Telecommunications and Postal Services Corporation at the Innovation, Science and Technology Fair of the Bolivarian National Armed Forces (FANB).
Following the event, where Maduro showcased a prototype nano-satellite unit to be developed under the program as well as a range of domestically-built automatic firearms, Venezuela's ministry of communications circulated a press release explaining that the nationalized organization will "group all socialist and private enterprises in the area of telecommunications."*Original text via www.minci.gob.ve'agrupará todas las empresas socialistas y privadas en materia de Telecomunicaciones'
Analysis: Did #Venezuela just announce plans for a sovereign internet? We explore today's launch of a state-run National Telecommunications Corporation which will unite public and private operators using investment from Huawei #23May 📰https://t.co/Y6iMojcRTe

— NetBlocks (@netblocks) May 24, 2019
The new umbrella organization is to be directed by the head of Venezuela's telecommunications regulator CONATEL, Jorge Márquez, with immediate investment from Chinese ICT suppliers Huawei and ZTE. By also integrating the Transmission Network of Venezuela and initiatives of the ministry for university education, science, technology, Maduro highlighted a need for domestic research and development in areas such as 4G cellular and space technology to counteract international sanctions.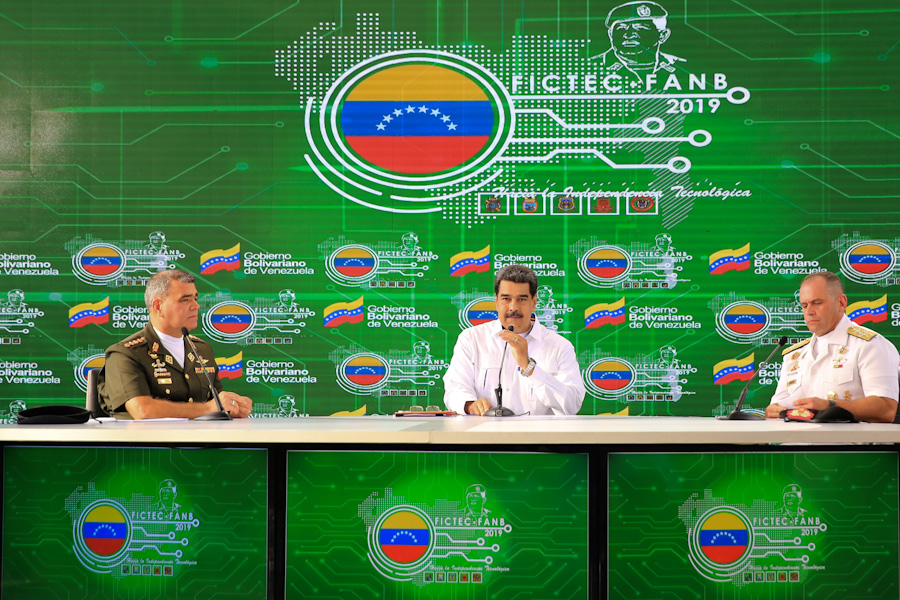 Venezuelan state-run telephone and internet service provider CANTV is one of the first telephone service enterprises in the country, founded in 1930 and remaining the largest telecommunications provider in the country. It was privatized in 1991, and re-nationalized in 2007 by Hugo Chavez and is responsible for the majority of internet restriction reports published by NetBlocks in 2019.
Chinese mega-corporation Huawei has recently come under fire from U.S. regulators, and earlier this week U.S. companies were forbidden from directly cooperating with the business and its close associates, sending shock-waves through the technology industry. Huawei provides infrastructure to several countries with a low internet freedom ratings in Freedom House reports, potentially increasing the risk of centralization and international influence in Venezuela's affairs.
On Tuesday, NetBlocks reported an election day network outage in Malawi — an incident involving fiber infrastructure recently installed by Huawei amid unease over China's influence in Africa. However, the company contests such concerns and countries including the United Kingdom have taken the middle-ground, permitting Huawei's competitively priced equipment to be installed so long as it is for non-critical infrastructure.
Venezuela's telecommunications networks are today operated by several enterprises, including CANTV which operates ABA and Movilnet, and smaller private businesses including Telemic, Digitel, Telefonica, Net Uno and Supercable. It remains unclear whether the move will also involve nationalization of these networks; while the initial announcement only specified the union of state-run establishments the subsequent press release outlined a plan to integrate private sector operators.
Countries with a diverse and pluralistic internet infrastructure tend to have more open and resilient internet infrastructure, although Central Asian nations have preferred centralisation and Russia is now taking measures to limit ingress and egress points as part of its Sovereign Internet Bill. Network data show that Venezuela's private operators do also censor content, although their restrictions are generally more limited and their subscribers enjoy a wider space for independent political speech.
Data show that several independent news outlets are permanently banned and some international online platforms such as Soundcloud, which was only restored on 16 May following a three-month ban, have also been subject to semi-permanent blocks. That is in addition to short-term, or so-called ephemeral blocks of YouTube, Periscope and Google services which target speeches by interim president Juan Guaidó and sessions of the country's own parliament for minutes or hours.
Little is yet set in stone and it could prove challenging to implement nationalization while the country's legislative and executive bodies are divided. Nevertheless, the announcement raises the stakes for Venezuela's online spaces and its citizens' constitutionally-protected right to free expression in the online sphere.
---
NetBlocks is an internet monitor working at the intersection of digital rights, cyber-security and internet governance. Independent and non-partisan, NetBlocks strives to deliver a fair and inclusive digital future for all.
[ press | contact ] Graphics and visualizations are provided for fair use in unaltered form reflecting the meaning and intent in which they were published, with clear credit and source attribution to NetBlocks. Intellectual property rights are protected including but not limited to key findings, facts and figures, trademarks, copyrights, and original reporting, are held by NetBlocks. Citation and source attribution are required at the point of use.