Network data from the NetBlocks Internet Observatory confirm partial disruption to social media and streaming platforms in Cuba between Friday 27 November 2020 and Monday 30 November 2020. The disruptions are likely to limit the flow of independently sourced information from Cuba. The incident follows three days of limited service and comes amid protests in Havana by a group calling for artistic rights.
Confirmed: Social media and messaging platforms disrupted in #Cuba from Friday to Monday on state-run internet provider #Cubacel; network data corroborate reports of outages amid protests for artistic freedom in #Havana; incident duration ~3 days 📵

📰 https://t.co/JOKfRpfe8D pic.twitter.com/XoqU2pOOTF

— NetBlocks (@netblocks) November 30, 2020
NetBlocks metrics show that social media and communications platforms Twitter, WhatsApp, and, at certain moments also YouTube and some Google and Facebook servers, were intermittently unavailable over the weekend up until Monday morning on networks operated by government-owned ETECSA (Empresa de Telecomunicaciones de Cuba, S.A. / AS27725) with high impact observed on Cubacel, the cellular network operated by Cuba's sole telecommunications company. Findings corroborate user reports of disruptions as citizens raised concerns over access to information in relation to political discourse.
What happened in Cuba over the weekend?
The disruptions were first registered on Friday as a protest movement in Havana spiralled into a highly visible dispute between Cuba's single-party state and human rights activists. The demonstration and ensuing fallout are among the most prominent incidents driven by rising social media usage to date in the country, where internet access has become more widely available in recent years following decades of political isolation.
State-run media adopted a critical stance toward the movement while the identified internet disruptions left many users unable to communicate over the weekend. Protesters made use of various social media platforms and posted videos calling for the release of jailed colleagues.
On Friday, hundreds of artists, actors and performers staked out in protest calling for freedom of expression in front of the Ministry of Culture in Havana. Despite initial attempts at dialogue, authorities later implied that the United States was seeding the movement to trigger an uprising. Although the U.S. has operations including human rights programs in Cuba, claims of a plot to overthrow the government could not be independently verified.
NetBlocks internet performance metrics from 50 observation points between 27 November 2020 and 30 November 2020 (UTC) confirm that the listed online platform backend and frontend servers became partially unavailable on fixed and cellular lines in Cuba corroborating widespread user reports. Work is ongoing to to review the nature of legal frameworks relating to the apparent targeted restriction of service during the time in question.
NetBlocks recommends that governments comply with international norms and internet governance frameworks and ensure reliable internet connectivity including at times of political discourse.
Published with thanks to Redes Ayuda, YucaByte, and members of the public for their input during the preparation of this report.
Update: On Thursday 10 December 2020, further disruptions have been identified limiting access to Facebook and Twitter, coinciding with calls for demonstrations to mark International Human Rights Day. Users report having to use VPN services to connect to the impacted platforms. Network data indicate that the disruption affects a lesser set of services than in the previous incident, and WhatsApp remains available to subscribers at the time of writing:
Confirmed: Facebook and Twitter partially disrupted in #Cuba; real-time network data indicate high impact on state-owned Cubacell network limiting access to social media coinciding with calls for #HumanRightsDay demonstrations 📉

📰 Previously: https://t.co/JOKfRpfe8D pic.twitter.com/bJZVewOUL9

— NetBlocks (@netblocks) December 10, 2020
Further reading: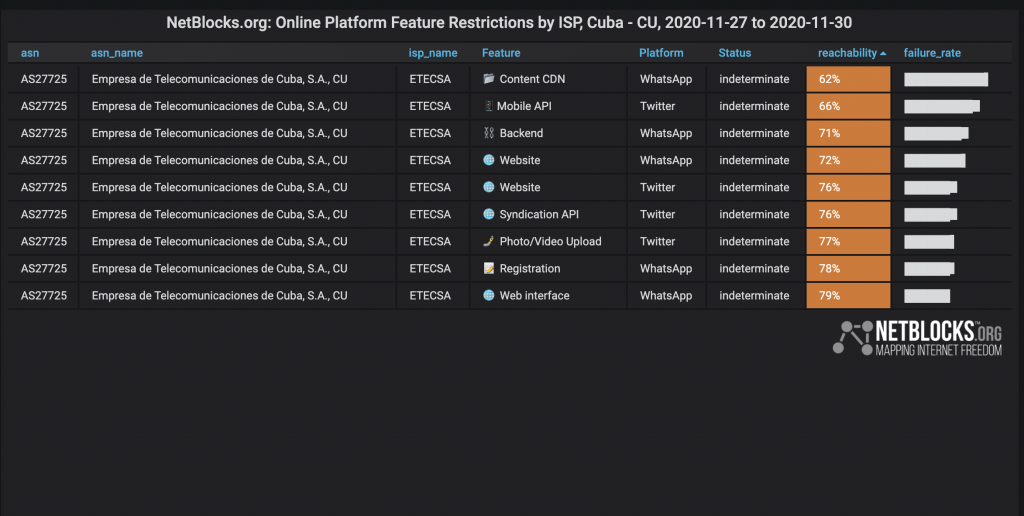 ---
Methodology
Internet performance and service reachability are determined via NetBlocks web probe privacy-preserving analytics. Each measurement consists of latency round trip time, outage type and autonomous system number aggregated in real-time to assess service availability and latency in a given country. Network providers and locations are enumerated as vantage point pairs. The root cause of a service outage may be additionally corroborated by means of traffic analysis and manual testing as detailed in the report.
---
NetBlocks is an internet monitor working at the intersection of digital rights, cyber-security and internet governance. Independent and non-partisan, NetBlocks strives to deliver a fair and inclusive digital future for all.
[ press | contact ] Graphics and visualizations are provided for fair use in unaltered form reflecting the meaning and intent in which they were published, with clear credit and source attribution to NetBlocks. Intellectual property rights are protected including but not limited to key findings, facts and figures, trademarks, copyrights, and original reporting, are held by NetBlocks. Citation and source attribution are required at the point of use.