Network data from the NetBlocks Internet Observatory confirm the disruption of internet service in Cali, Colombia with the incident from approximately 4:30 p.m. Tuesday local time and was ongoing as of the morning of Wednesday 5 May 2021.
⚠️ Confirmed: Real-time network data show internet disrupted in #Cali #Colombia amid social unrest as protesters are met with deadly force by authorities; incident ongoing 📉 #CaliSOS

📰 https://t.co/B4YHVhazsa pic.twitter.com/s4rkdYXdG6

— NetBlocks (@netblocks) May 5, 2021
Network metrics corroborate user reports of difficulty getting online amid widespread protests and the reported use of live fire by security forces.
Fixed-line and cellular services are understood to be affected for the second time in recent days. The disruption has had partial impact but is likely to significantly limit the free flow of information from the scene of the protests. Work is ongoing to monitor the situation.
Earlier this week the United Nations human rights office expressed deep alarm at the situation, alleging heavy-handed policing in response to anti-government protests over the weekend.
Some voices in Colombia's media have called for the deployment of internet censorship to quell the unrest, although many more have spoken to the need for internet freedom and access to communication as a human right amid the crisis.
Operator Movistar subsequently issued a statement asserting that service had been disrupted by unidentified parties in an act of vandalism. The Ministry of Information Technologies and Communications reassured connectivity as a right for all Colombians, placing the number of subscribers at 7000 and stating that some maintenance efforts had been delayed due to public disorder.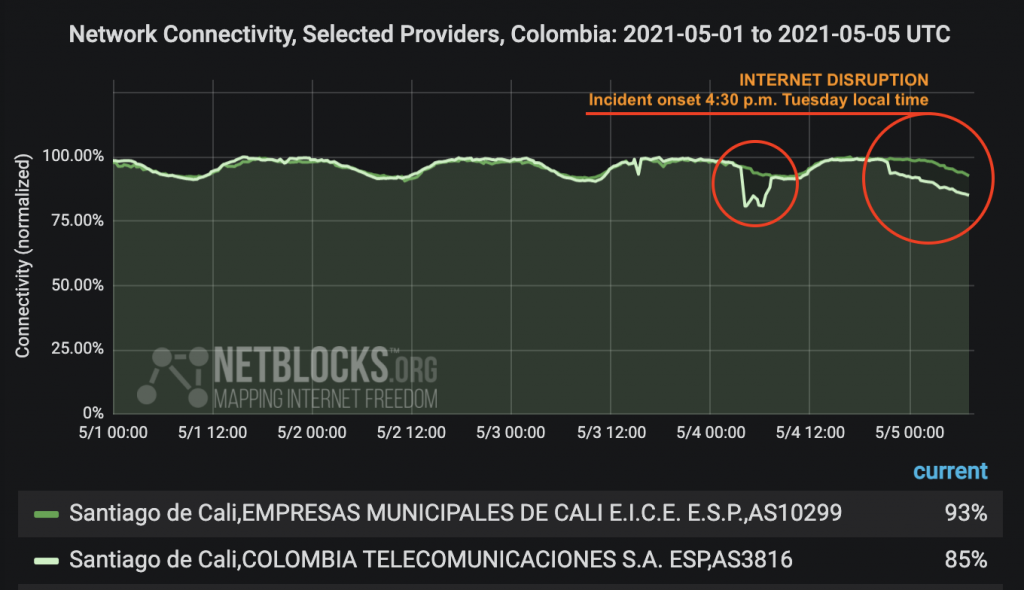 ---
Methodology
NetBlocks diffscans, which map the IP address space of a country in real time, show internet connectivity levels and corresponding outages. Purposeful internet outages may have a distinct network pattern used by NetBlocks to determine and attribute the root cause of an outage, a process known as attribution which follows detection and classification stages.
---
NetBlocks is an internet monitor working at the intersection of digital rights, cyber-security and internet governance. Independent and non-partisan, NetBlocks strives to deliver a fair and inclusive digital future for all.
[ press | contact ] Graphics and visualizations are provided for fair use in unaltered form reflecting the meaning and intent in which they were published, with clear credit and source attribution to NetBlocks. Intellectual property rights are protected including but not limited to key findings, facts and figures, trademarks, copyrights, and original reporting, are held by NetBlocks. Citation and source attribution are required at the point of use.