Network data from the NetBlocks internet observatory show total or partial loss of connectivity to most privately-owned service providers in Venezuela. The disruption is the result of a planned maintenance operation for an undersea cable scheduled for Sunday, 1 December, one of a half a dozen cables which connect the country to the rest of the world. State-run network operator CANTV remains largely unaffected, as does cellular operator Digitel.
Update: Connectivity has largely been restored as of 6pm local time, following the nine-hour disruption:
Update: International connectivity is returning to #Venezuela's privately-owned internet providers as of 6pm local time.

Most networks except CANTV and Digitel were highly impacted by the 9-hour undersea cable repair outage #1Dic 📈

📰 https://t.co/UEPnnouKDh pic.twitter.com/MbYVjwuGA5

— NetBlocks (@netblocks) December 1, 2019
Operators Movistar, Inter Empresarial, and infrastructure provider CenturyLink announced expected disruptions to service the previous day due to maintenance work scheduled between 8am and 3pm Sunday:
Debido a reparaciones en el cable submarino Panama-St Croix, Proveedores de Servicio de Internet como @InterCliente y @MovistarVe han informado que mañana #1dic será interrumpido el servicio desde las 8:00am hasta las 3:00pm pic.twitter.com/TDIi8mu4ty

— RedesAyuda (@RedesAyuda) December 1, 2019
Power outages, censorship and Venezuela's sovereign internet
Venezuela's internet connectivity has been stymied throughout 2019 by failures of the national power grid since March, ageing infrastructure and dozens of instances of nation-scale internet censorship.
In May 2019, contested leader Nicolás Maduro announced plans to nationalize more of the country's telecommunications infrastructure, stating ambitions to bring public, private and undersea cable infrastructure operators under a single socialist establishment:
Analysis: Did #Venezuela just announce plans for a sovereign internet? We explore today's launch of a state-run National Telecommunications Corporation which will unite public and private operators using investment from Huawei #23May 📰https://t.co/Y6iMojcRTe

— NetBlocks (@netblocks) May 24, 2019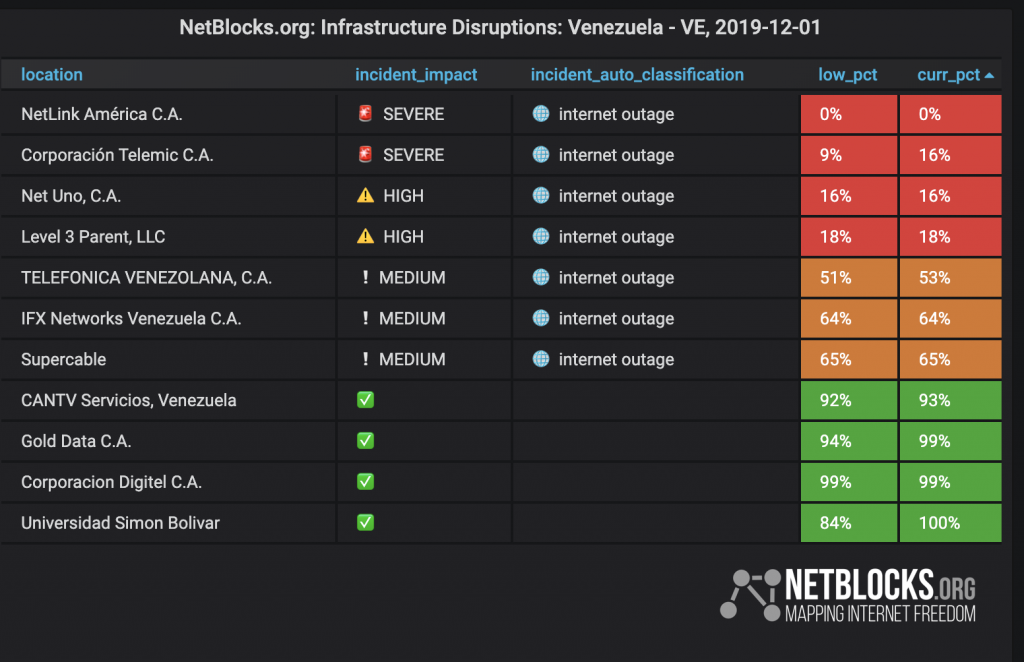 ---
Methodology
NetBlocks diffscans, which map the IP address space of a country in real time, show internet connectivity levels and corresponding outages. Purposeful internet outages may have a distinct network pattern used by NetBlocks to determine and attribute the root cause of an outage, a process known as attribution which follows detection and classification stages.
---
NetBlocks is an internet monitor working at the intersection of digital rights, cyber-security and internet governance. Independent and non-partisan, NetBlocks strives to deliver a fair and inclusive digital future for all.
[ press | contact ] Graphics and visualizations are provided for fair use in unaltered form reflecting the meaning and intent in which they were published, with clear credit and source attribution to NetBlocks. Intellectual property rights are protected including but not limited to key findings, facts and figures, trademarks, copyrights, and original reporting, are held by NetBlocks. Citation and source attribution are required at the point of use.