Facebook, WhatsApp, Instagram, YouTube, Viber, Snapchat and Facebook Messenger, and later also Twitter have been blocked again in Sri Lanka as of Monday 13 May 2019, according to real-time network measurement data from the NetBlocks internet observatory.
NetBlocks data show that leading internet providers Sri Lanka Telecom, Dialog Axiata, Mobitel, Etisalat and Airtel have implemented the restrictions, which is ongoing as of the latest update at 1:10 a.m UTC (6:40 a.m. local time) Tuesday 14 May. The disruption is the third nationwide censorship order deployed by Sri Lanka in the span of one month. Snapchat and Twitter remain available on certain providers, as detailed below.
Urgent: #SriLanka has blocked social media and messaging apps again for a third time in one month; real-time network data show Facebook, WhatsApp, YouTube, Instagram, Snapchat, Viber currently unavailable with main ISPs; incident ongoing #LKA #KeepItOn 📉https://t.co/yJZVRxQRw0 pic.twitter.com/5bpYxnCp57

— NetBlocks (@netblocks) May 13, 2019
Similar blocks were recently implemented on April 21 following a series of deadly terror attacks, and again on May 5 amid tensions in Negombo. The complete set of blocked communication platforms varies by provider, as indicated by the reachability chart.
One of the providers, Dialog Axiata, issued a public announcement via its Twitter account notifying users of the censorship measure, hours before moving to block Twitter itself:
As per the directive issued by the Telecommunications Regulatory Commission of Sri Lanka (TRCSL) Facebook, WhatsApp,Viber, IMO, Snapchat, Instagram & YouTube would be restricted with immediate effect until further notice.

— Dialog Axiata (@dialoglk) May 13, 2019
VPN services currently remain available to internet users in contrast to the first disruption in April when VPN (Virtual Private Network) services were also restricted, making it difficult for users to circumvent the restrictions. Twitter, Telegram, VK, LinkedIn and social platforms less popular in Sri Lanka initially remained available as during previous incidents.
However, Twitter was also subsequently blocked by leading internet provider Dialog Axiata at 4:20 p.m. UTC (9:50 p.m local time), later joined by Airtel:
Alert: For the first time, Twitter is now also blocked in #SriLanka as of 4:20 p.m. UTC (9:50 p.m local time) for all Dialog Axiata ISP subscribers, joining restricted services Facebook, WhatsApp, YouTube, Instagram and Snapchat #LKA #KeepitOn 📉https://t.co/yJZVRxQRw0 pic.twitter.com/36QPpFLnPz

— NetBlocks (@netblocks) May 13, 2019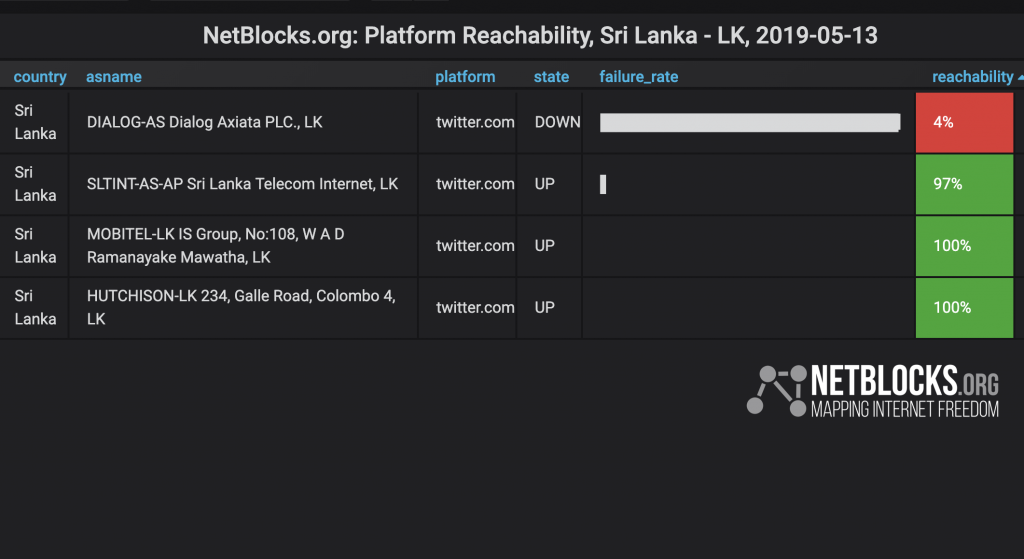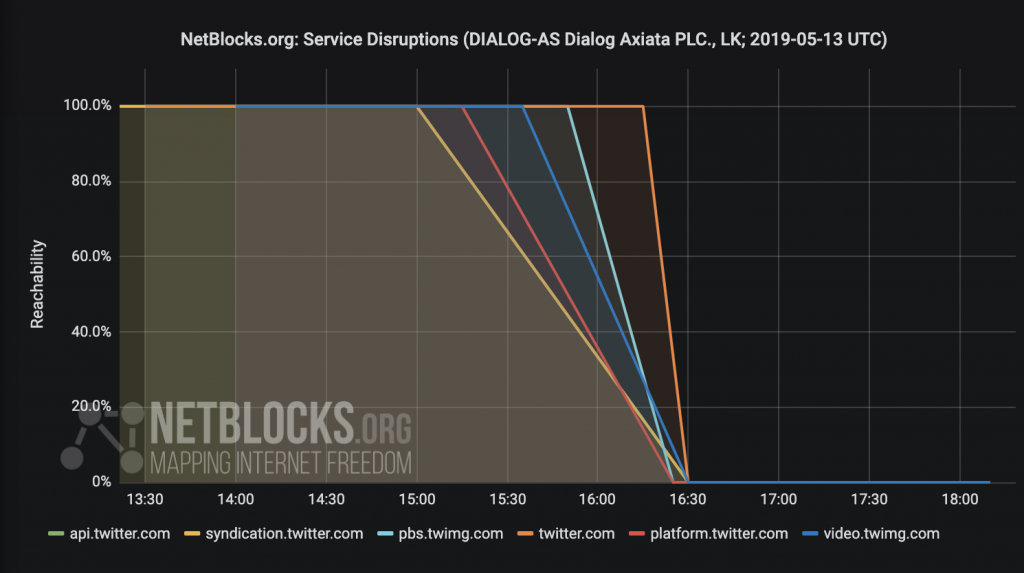 The initial findings were drawn from a set of 5,000 NetBlocks internet performance measurements collected from 30 vantage points across Sri Lanka in addition to a larger global control data set, providing an accurate and representative view of network performance and service reachability via multiple internet service providers.
Each NetBlocks web probe measurement consists of latency round trip, outage type and autonomous system identity aggregated in real-time to assess service availability and performance in a given country.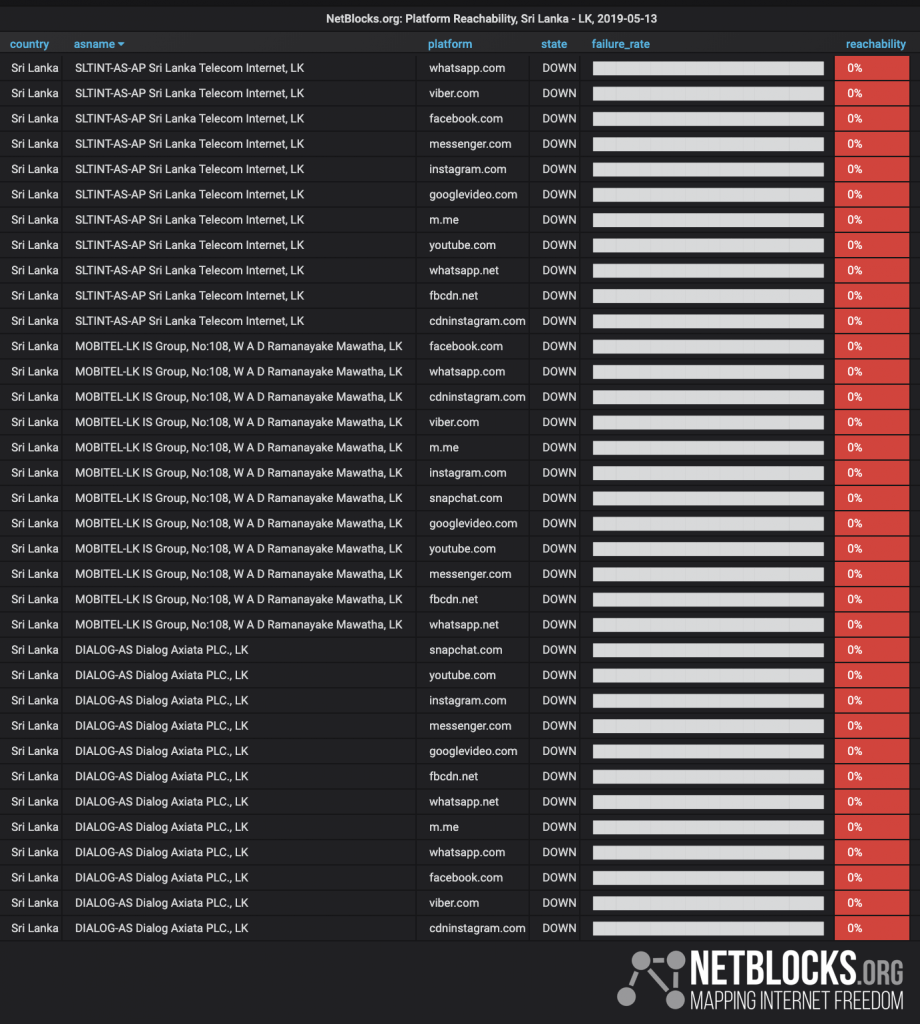 During the previous disruptions in April and early May concerns were raised over the impact to citizens's ability to communicate and impart information in the midst of crisis. Sri Lankan internet users reported difficulty checking on friends and family in the days following the attacks and the blanket ban sparked a global debate about online censorship and the role of social media in society.
Sri Lanka also previously blocked social media in March 2018, for over a week after violence broke out in March 2018. In that instance, research conducted with the Sri Lanka Internet Society chapter highlighted the unanticipated social, technical and economic impacts of protracted digital blockades.
---
Methodology
Internet performance and service reachability are determined via NetBlocks web probe privacy-preserving analytics. Each measurement consists of latency round trip time, outage type and autonomous system number aggregated in real-time to assess service availability and latency in a given country. Network providers and locations are enumerated as vantage point pairs. The root cause of a service outage may be additionally corroborated by means of traffic analysis and manual testing as detailed in the report.
---
NetBlocks is an internet monitor working at the intersection of digital rights, cyber-security and internet governance. Independent and non-partisan, NetBlocks strives to deliver a fair and inclusive digital future for all.
[ press | contact ] Graphics and visualizations are provided for fair use in unaltered form reflecting the meaning and intent in which they were published, with clear credit and source attribution to NetBlocks. Intellectual property rights are protected including but not limited to key findings, facts and figures, trademarks, copyrights, and original reporting, are held by NetBlocks. Citation and source attribution are required at the point of use.