When Sri Lanka used internet controls in an attempt to quell violent riots, it may not have anticipated an associated $30,000,000 collateral dent to its economy. That's the figure NetBlocks in association with the Internet Society has estimated in damage to Sri Lanka's GDP derived from the country's reliance of its traditional and hi-tech sectors on a burgeoning digital economy, using an early version of COST, the Cost of Shutdown Tool, which will is due for release later in 2018.
Sri Lankan Shutdown of Web-Based Services Creates Huge Social Costs https://t.co/WgeTHUSLsi – unintended consequences #KeepItOn pic.twitter.com/lmR0rVjvkh

— Internet Society (@internetsociety) March 27, 2018
The government's tried to cut off communications between organizers of violent mobs, but the shutdown had a huge impact on a wide swath of Internet users, said Sagarika Wickramasekera, president of Internet Society's Sri Lanka chapter.

Because of the loss of social media and calling services, "those who had loved ones in the violence-ridden areas had to go through stressful period of time without any contact with them," she said.

Facebook-based volunteer groups, civil society activists and other social movements lost contact with their audiences, she added. "This reduced the circulation of validated content and education hence the peace and harmony," Wickramasekera added. "People had to rely on rumors."

Businesses and other organizations use WhatsApp and Viber as productivity tools, and their customer communications were disrupted. Small businesses and home-based workers "who were totally depended on social media marketing to sell their products lost contact with the customers," added Wickramasekera, assistant network manager at the SriPalee Campus for the University of Colombo.

In addition, many Sri Lankan families use WhatsApp and Viber to call friends and family overseas, she said.

Most private schools and some public schools also use WhatsApp and Viber as their preferred method of parent-teacher communications. Schools use Facebook as a public notice board for sports practices and events. "These activities were interrupted," Wickramasekera said.

Internet Society partner NetBlocks, which researches the global flow of data and universal access to information, pegged the economic cost of the partial shutdown in Sri Lanka at USD $30 million during the shutdown from 7-15 March 2018. [Note: NetBlocks is developing an online tool to assess the cost of Internet shutdowns with the support of the Internet Society.]
[Read full post on the Internet Society blog]
Understanding COST's economic impact figure
When we needed to choose a sound economic model for cost assessment, the Brookings Institution study on the cost of internet shutdowns stood out. Brookings specifies a means to calculate economic impact of full and partial internet restrictions to a nation's GDP. It is not the only method available, and the COST tool will seek to explore different ways of assessing the cost of information controls, but given that it is well understood Brookings has featured early in our development roadmap.
How do internet shutdowns impact economic growth and prosperity worldwide? @InternetSociety and https://t.co/JLraDAwVMI team up to #KeepItOn with new #COST apphttps://t.co/zh67LWPhfI pic.twitter.com/7CsCG5X73l

— Turkey Blocks (@TurkeyBlocks) November 23, 2017
The Brookings method implemented by COST produces a conservative estimation of the economic impact of internet restrictions — that is to say, it takes into account factors which directly impact GDP, without considering the long-term consumer and business confidence loss which may contribute to a larger impact on the country's economy in the mid- to long-term.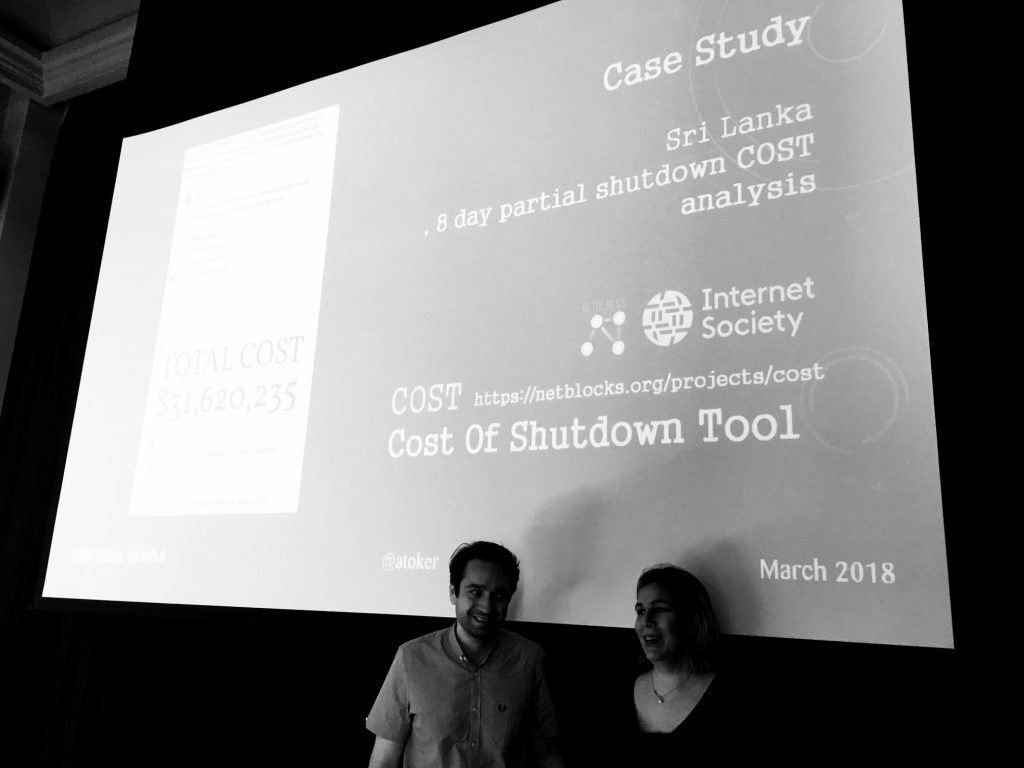 Prior to publication, NetBlocks presented the Sri Lanka economic case study to a group of international academicians in Istanbul on 23 March 2018 as part of a workshop on algorithmic culture hosted by Bilgi University and the Danish Agency for Science and Higher Education.
Urging governments to keep the internet on
The ongoing work to support global internet architecture, bolster human rights and freedom of expression online with a deeper understanding of economic impact, is driven by NetBlocks with support from the Internet Society. Together we urge network service providers and governments to refrain from restricting communications networks which citizens and businesses rely upon each day, particularly at times of emergency.
When #SriLanka used internet controls to shut down violent riots, it didn't anticipate the bill. Behind the figures of our #COST tool estimate with @InternetSociety #KeepItOnhttps://t.co/n3DZK5CHR5

— NetBlocks (@netblocks) March 27, 2018