Network data from the NetBlocks internet observatory confirm that internet connectivity has been significantly disrupted in Algeria, sending much of the country offline for one hour shortly after social media and messaging services became unavailable on the morning of Sunday 13 September 2020.
Update: Online service disruptions have continued through Monday, with another hour-long internet blackout registered at 12:30 UTC.
Update: Internet disruptions continue in #Algeria for a second day, with another hour-long blackout and social media / online platform restrictions on state-run operator Algeria Telecom in apparent bid to prevent exam cheating #Bac2020 #Algérie 📉

📰 https://t.co/yaxxwBjJo4 pic.twitter.com/WZXsQDjDPS

— NetBlocks (@netblocks) September 14, 2020
Metrics confirm that social media platforms including Facebook, Twitter, Instagram and messaging app WhatsApp were unreachable through Sunday morning until 12:00 UTC on Algeria's national telecom operator Algeria Telecom (AS36947).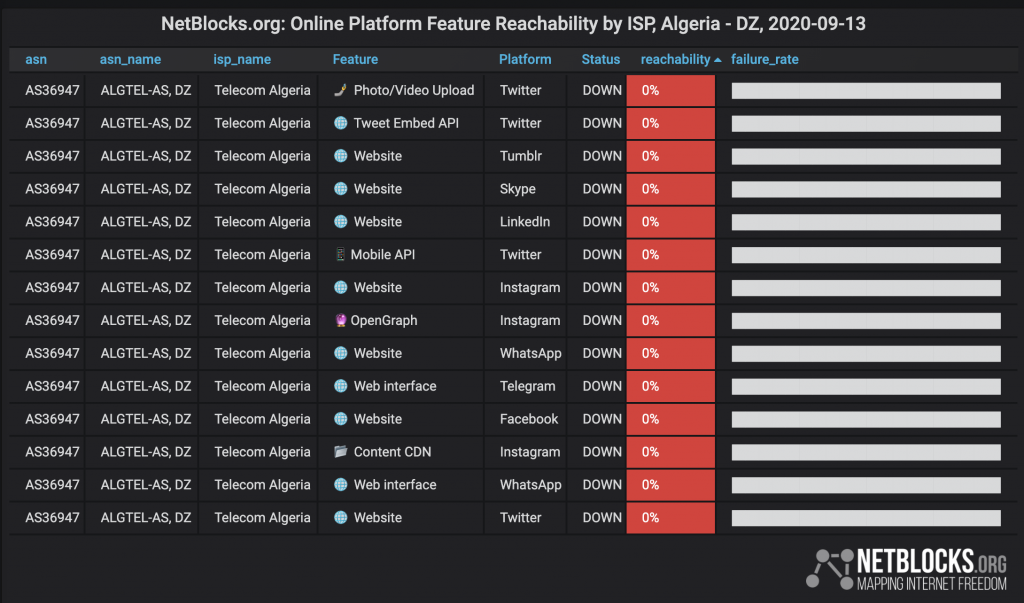 Some users were initially able to regain connectivity via VPN services, however the subsequent loss of connectivity between approximately 13:30 UTC and 14:30 UTC made circumvention options unworkable for a period of one hour.
Students in Algeria are currently sitting Baccalauréat school exams, and the restrictions are consistent with previous internet disruptions documented by NetBlocks in Algeria during exams.
The restrictions are understood to be a measure to prevent the distribution of leaked exam papers, however citizens have complained about the disproportionate impact to Algeria's digital economy, daily life and the fundamental right to free expression.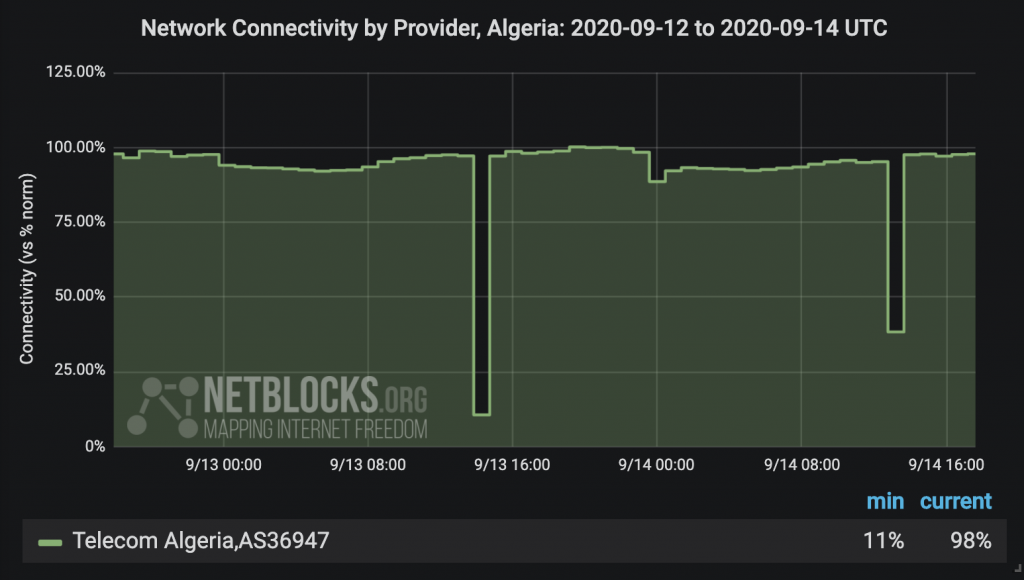 Background
NetBlocks recently documented an extended nation-scale internet disruption beginning 20 August 2020, which left most users with unusably slow service for several days. Previous targeted internet disruptions in Algeria have been identified during protests against military influence, following calls on YouTube for a public uprising, amid protests against Abdelaziz Bouteflika, and during last year's school examinations.
Internet performance metrics collected from an initial 10 observation points confirm that listed online platform backend and frontend servers were among various services restricted on Algeria Telecom (AS36947), corroborating user reports.
---
Methodology
Internet performance and service reachability are determined via NetBlocks web probe privacy-preserving analytics. Each measurement consists of latency round trip time, outage type and autonomous system number aggregated in real-time to assess service availability and latency in a given country. Network providers and locations are enumerated as vantage point pairs. The root cause of a service outage may be additionally corroborated by means of traffic analysis and manual testing as detailed in the report.
NetBlocks diffscans, which map the IP address space of a country in real time, show internet connectivity levels and corresponding outages. Purposeful internet outages may have a distinct network pattern used by NetBlocks to determine and attribute the root cause of an outage, a process known as attribution which follows detection and classification stages.
---
NetBlocks is an internet monitor working at the intersection of digital rights, cyber-security and internet governance. Independent and non-partisan, NetBlocks strives to deliver a fair and inclusive digital future for all.
[ press | contact ] Graphics and visualizations are provided for fair use in unaltered form reflecting the meaning and intent in which they were published, with clear credit and source attribution to NetBlocks. Intellectual property rights are protected including but not limited to key findings, facts and figures, trademarks, copyrights, and original reporting, are held by NetBlocks. Citation and source attribution are required at the point of use.