NetBlocks metrics confirm the disruption of Facebook and Facebook Messenger in Ethiopia from the afternoon of Monday 8 November 2021. Network data show that Facebook and Messenger servers as well as some WhatsApp and Telegram messaging servers are restricted on the state-run monopoly network provider Ethio Telecom (AS24757), corroborating user reports of difficulty accessing the services. The incident continued until Friday, when access was restored with a recorded incident duration of four days.
⚠️Confirmed: Facebook, Messenger, Instagram and some WhatsApp and Telegram servers restricted in #Ethiopia after leak of national exam papers; incident ongoing

📰 Report: https://t.co/uOxnJpyUU3 pic.twitter.com/JkLYn2bFfb

— NetBlocks (@netblocks) November 8, 2021
VPN services are effective in working around the platform restrictions. Virtual Private Networks provide an encrypted tunnelling mechanism that can circumvent online censorship.
Online restrictions leaving the services unusable for many came into place after the content of 12th grade national exam papers were reportedly leaked online, although authorities initially denied the leak.
Only days earlier on Thursday 4 November 2021, Facebook removed a post by Prime Minister Abiy Ahmed for "inciting and supporting violence."
The restrictions come amid heightened tensions and ongoing conflict in restive regions of the country. Metrics are taken from an initial set of ten vantage points across Ethiopia.
Following TPLF and OLA supporters posted the content of 12 grade national exam on social media, three major platforms Facebook, telegram and WhatsApp are being restricted in #Ethiopia. pic.twitter.com/21CYLZi0gt

— Atnaf Brhane 🇪🇹 (@AtnafB) November 8, 2021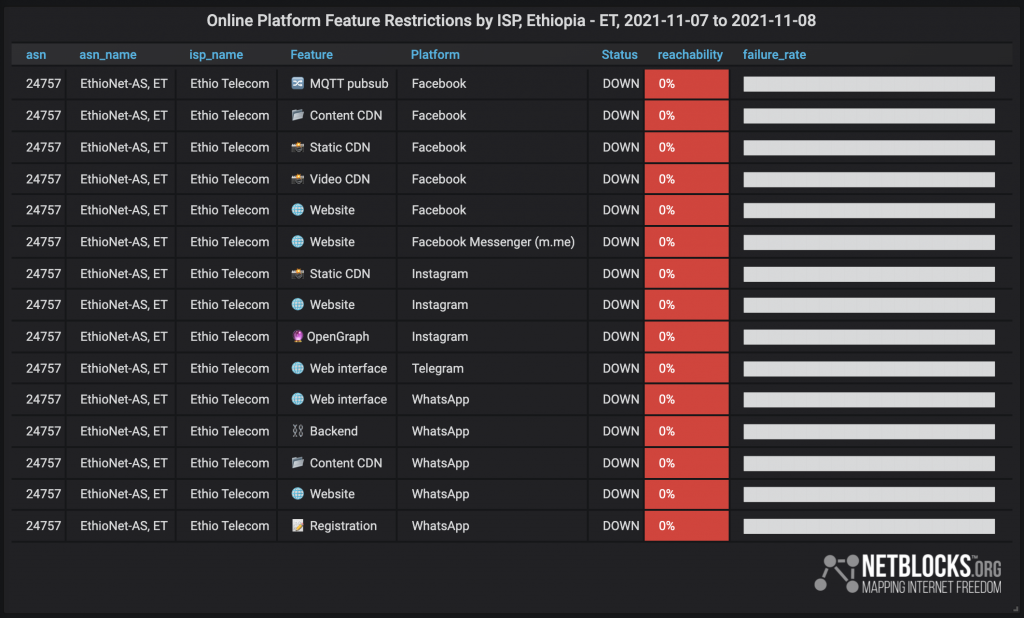 Further reading:
---
Methodology
Internet performance and service reachability are determined via NetBlocks web probe privacy-preserving analytics. Each measurement consists of latency round trip time, outage type and autonomous system number aggregated in real-time to assess service availability and latency in a given country. Network providers and locations are enumerated as vantage point pairs. The root cause of a service outage may be additionally corroborated by means of traffic analysis and manual testing as detailed in the report.
---
NetBlocks is an internet monitor working at the intersection of digital rights, cyber-security and internet governance. Independent and non-partisan, NetBlocks strives to deliver a fair and inclusive digital future for all.
[ press | contact ] Graphics and visualizations are provided for fair use in unaltered form reflecting the meaning and intent in which they were published, with clear credit and source attribution to NetBlocks. Intellectual property rights are protected including but not limited to key findings, facts and figures, trademarks, copyrights, and original reporting, are held by NetBlocks. Citation and source attribution are required at the point of use.