Network data from the NetBlocks internet observatory confirm that internet connectivity has been severely disrupted in Chad since the morning of Sunday 28 February 2021 amid reports of a deadly armed raid at the house of opposition candidate Yaya Dillo.
⚠️ Confirmed: Internet disrupted in #Chad amid reports of deadly standoff at opposition candidate Yaya Dillo's house; real-time network data show national connectivity down to 60% of ordinary levels from ~9:30 am local time; incident ongoing 📉 #Tchad

📰 https://t.co/SsI6N9FCCe pic.twitter.com/vLvI3em4uc

— NetBlocks (@netblocks) February 28, 2021
Metrics show national connectivity disrupted from approximately 9:00 a.m. local time falling to 60% of ordinary levels by 9:30 a.m., corroborating user reports of difficulty getting online from capital N'Djamena.
The incident is ongoing through Monday with only a slight rise in connectivity observed since time of onset. The disruption has regional variation and impacts major cellular networks Airtel and Tigo as well as some fixed-line services.
Ahead of April polls- @netblocks confirm internet block in Chad after incident @ opposition candidate Yaya Dillo's home-he says govt forces entered & killed 5 family members.
Govt say officers shot at as they tried to arrest him for ignoring judicial summons & that 2 ppl killed pic.twitter.com/GVRjKKlPOM

— Samira Sawlani (@samirasawlani) February 28, 2021
Work is ongoing to monitor and assess the situation.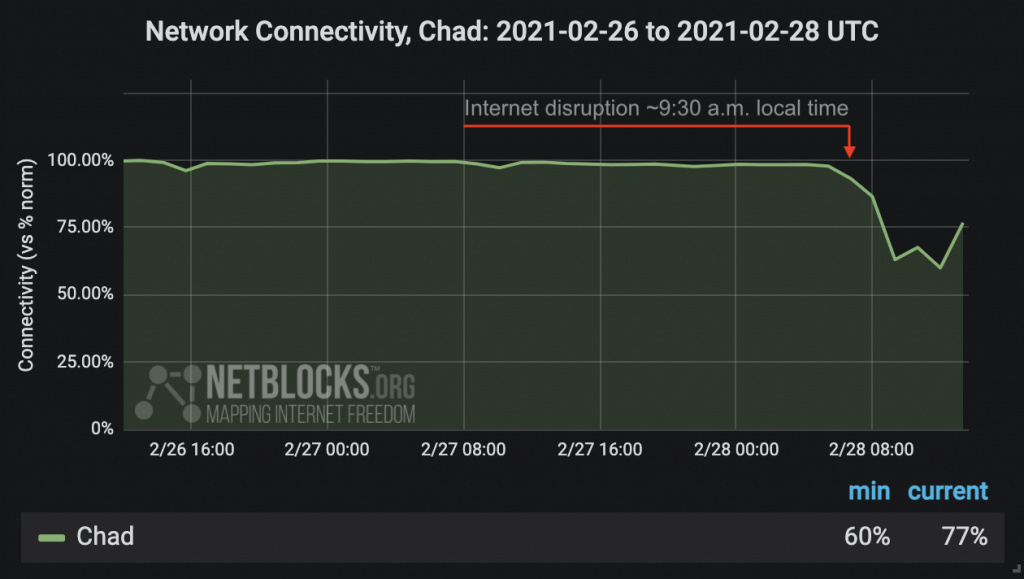 Background: Chad's shutdowns and social media blackouts
Chad has a long-running history of information controls used to manage public narratives during political crises and security incidents.
Internet shutdowns and service restrictions documented by NetBlocks have become core tactics with the rising prevalence of internet access driven by mobile subscribers in the north-central African country.
On 22 July 2020, NetBlocks documented the restriction of the WhatsApp messaging service in Chad following a deadly altercation involving the military in N'Djamena. On 3 August 2020, the Minister of Communication confirmed to AFP that a "temporary measure" had been taken to prevent the alleged "dissemination of messages of incitement to hatred and division," but stopped short of providing specific details.
Confirmed: #WhatsApp has been blocked in #Chad on leading cellular operators Airtel and Tigo; real-time network data show restrictions targeting frontend/backend servers in place with no explanation offered by authorities #Tchad

📰 https://t.co/K4XU49LWF6 pic.twitter.com/EeSqIMyGb4

— NetBlocks (@netblocks) July 22, 2020
NetBlocks records also show that Chad previously blocked social media for over a year in 2018/2019, triggering a legal challenge that is understood to have contributed to Millicom's decision to sell off its Tigo service to Maroc Telecom.
Network measurement data confirm that previously blocked social media and messaging platforms in #Chad are now available via multiple internet providers that had complied with the censorship order 📈 pic.twitter.com/V6rKhC8BeT

— NetBlocks (@netblocks) July 17, 2019
Further reading:
Previously:
🔴@WhatsApp a été bloqué au Tchad depuis hier sur les principaux opérateurs cellulaires @airteltchad et @tigotchad. Les données collectées en temps réel par @netblocks montrent des restrictions ciblant les serveurs. Aucun communiqué officiel. Nous suivons de prêt la situation. pic.twitter.com/f9bPG3gm1k

— Paradigm Initiative (PIN) (@ParadigmHQ) July 23, 2020
---
Methodology
NetBlocks diffscans, which map the IP address space of a country in real time, show internet connectivity levels and corresponding outages. Purposeful internet outages may have a distinct network pattern used by NetBlocks to determine and attribute the root cause of an outage, a process known as attribution which follows detection and classification stages.
---
NetBlocks is an internet monitor working at the intersection of digital rights, cyber-security and internet governance. Independent and non-partisan, NetBlocks strives to deliver a fair and inclusive digital future for all.
[ press | contact ] Graphics and visualizations are provided for fair use in unaltered form reflecting the meaning and intent in which they were published, with clear credit and source attribution to NetBlocks. Intellectual property rights are protected including but not limited to key findings, facts and figures, trademarks, copyrights, and original reporting, are held by NetBlocks. Citation and source attribution are required at the point of use.