Network data from the NetBlocks internet observatory confirm that messaging app WhatsApp is blocked in Chad from Wednesday 22 July 2020. Real-time metrics show that the service remains unavailable as of Tuesday 18 August 2020.
Update: Live network data from #Chad confirm that #WhatsApp remains blocked on Airtel and Tigo despite hopes earlier today of a restoration.

Rights defender @koundougoumi has called for a day to speak up for internet rights, 5 September 2020 🗓 #Tchad

📰 https://t.co/K4XU49LWF6 pic.twitter.com/c7P3b5YgLq

— NetBlocks (@netblocks) August 18, 2020
Internet restrictions specifically target WhatsApp backend and frontend servers for subscribers of leading cellular networks Airtel and Tigo Tchad.
Confirmed: #WhatsApp has been blocked in #Chad on leading cellular operators Airtel and Tigo; real-time network data show restrictions targeting frontend/backend servers in place with no explanation offered by authorities #Tchad

📰 https://t.co/K4XU49LWF6 pic.twitter.com/EeSqIMyGb4

— NetBlocks (@netblocks) July 22, 2020
No explanation was initially provided by authorities, sparking speculation as to the basis of the restrictions. NetBlocks spoke with users who suspected a connection to a deadly altercation between an army colonel and a mechanic at a market in N'Djamena.
The restrictions came just as the International Monetary Fund announced additional credit to the Chadian government of $68.49 million in order to balance losses incurred by the COVID-19 pandemic.
Days after the first publication of this report, government sources speaking on background appeared to support the narrative that the restrictions were related to the market incident. On 3 August 2020, the Minister of Communication confirmed to AFP that a "temporary measure" was taken to prevent the alleged "dissemination of messages of incitement to hatred and division," but stopped short of providing specific details.
Update: Internet restrictions continue in #Chad with #WhatsApp messenger restricted for the ninth consecutive day impacting day-to-day life, trade and access to knowledge; report updated with context and background; incident ongoing 📉 #Tchad

📰 https://t.co/K4XU49LWF6 pic.twitter.com/ur5t96qUDH

— NetBlocks (@netblocks) July 30, 2020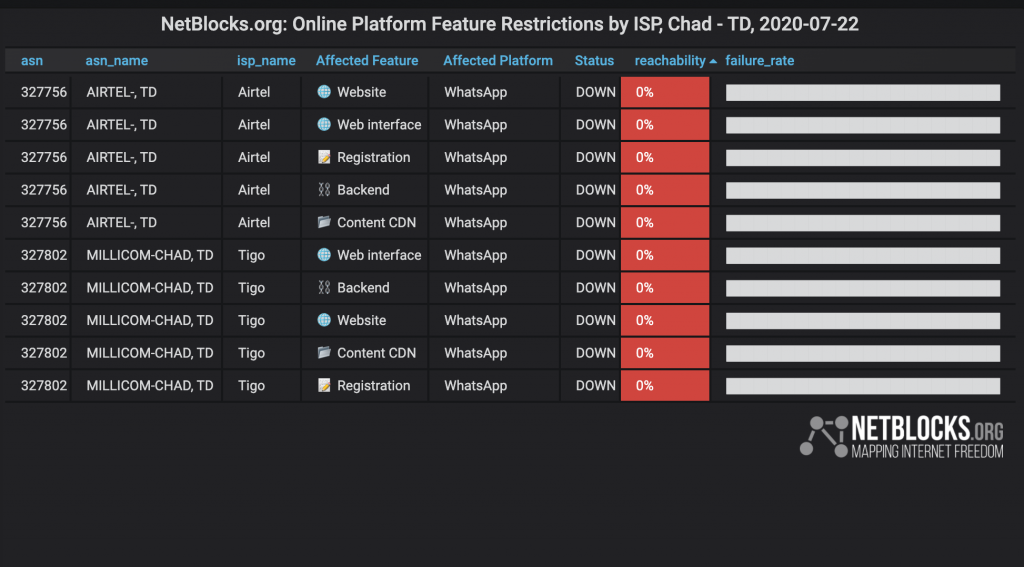 500 Internet performance metrics collected from an initial 10 observation points and a wider set of analytics data confirm on 22 July 2020 that WhatsApp frontend, backend and CDN servers were restricted in Chad. Facebook, Instagram, YouTube and Twitter remained available. Findings are consistent with previous internet restrictions documented in Chad and there is no indication of a technical fault.
Affected users are able to regain access via VPN services which circumvent internet censorship by tunnelling network traffic to other countries.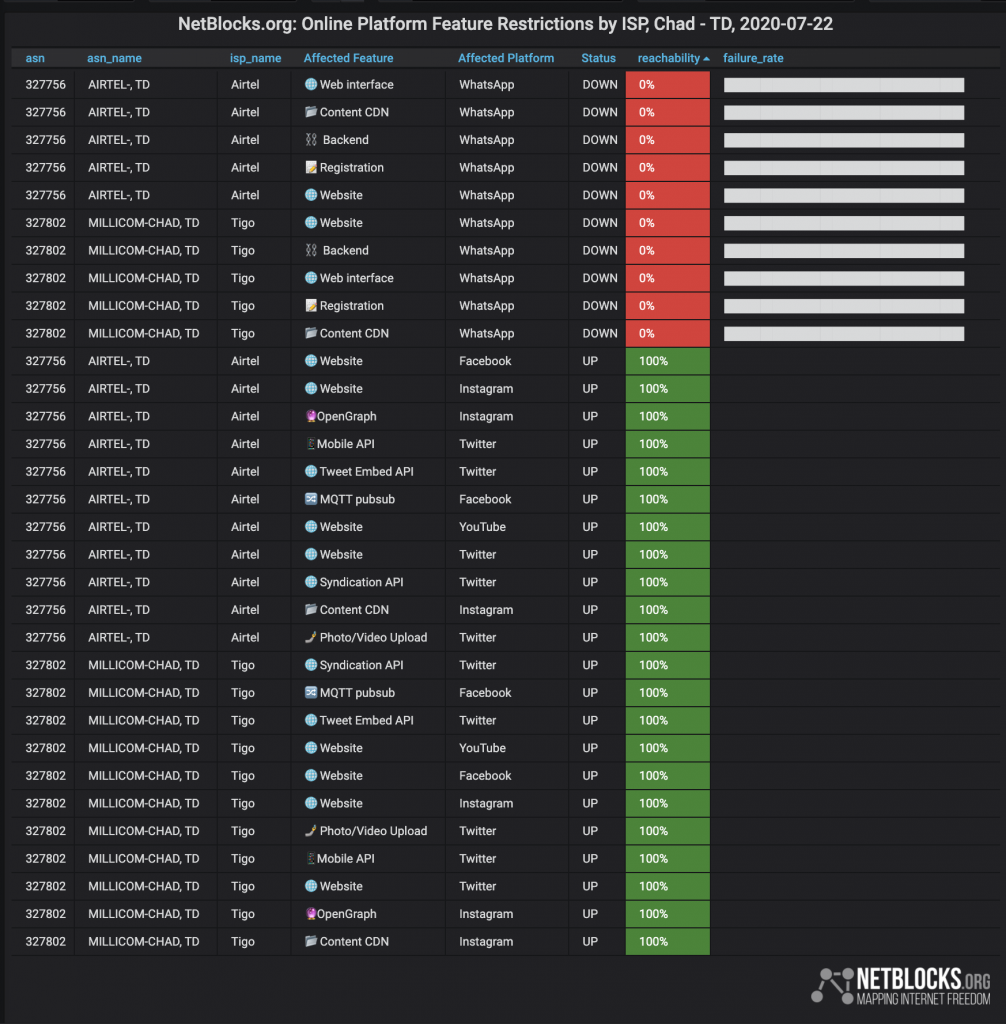 Background: Chad's 2018/2019 extended social media blackout
NetBlocks records show that Chad previously blocked social media for over a year, triggering a legal challenge and ultimately compelling Millicom to sell the Tigo service to Maroc Telecom.
Network measurement data confirm that previously blocked social media and messaging platforms in #Chad are now available via multiple internet providers that had complied with the censorship order 📈 pic.twitter.com/V6rKhC8BeT

— NetBlocks (@netblocks) July 17, 2019
Coverage
Previously:
🔴@WhatsApp a été bloqué au Tchad depuis hier sur les principaux opérateurs cellulaires @airteltchad et @tigotchad. Les données collectées en temps réel par @netblocks montrent des restrictions ciblant les serveurs. Aucun communiqué officiel. Nous suivons de prêt la situation. pic.twitter.com/f9bPG3gm1k

— Paradigm Initiative (PIN) (@ParadigmHQ) July 23, 2020
"Qu'elles que soient les inquiétudes liées à l'usage du réseau WhatsApp, la censure n'est jamais la bonne solution." @KOUNDOUGOUMI #keepiton https://t.co/nTrK5T9RwQ

— Internet Without Borders (@Internet_SF) July 24, 2020
---
Methodology
Internet performance and service reachability are determined via NetBlocks web probe privacy-preserving analytics. Each measurement consists of latency round trip time, outage type and autonomous system number aggregated in real-time to assess service availability and latency in a given country. Network providers and locations are enumerated as vantage point pairs. The root cause of a service outage may be additionally corroborated by means of traffic analysis and manual testing as detailed in the report.
---
NetBlocks is an internet monitor working at the intersection of digital rights, cyber-security and internet governance. Independent and non-partisan, NetBlocks strives to deliver a fair and inclusive digital future for all.
[ press | contact ] Graphics and visualizations are provided for fair use in unaltered form reflecting the meaning and intent in which they were published, with clear credit and source attribution to NetBlocks. Intellectual property rights are protected including but not limited to key findings, facts and figures, trademarks, copyrights, and original reporting, are held by NetBlocks. Citation and source attribution are required at the point of use.