Network data from the NetBlocks internet observatory confirm that internet has been cut regionally in Ethiopia from 1 a.m. Wednesday 4 November 2020 local time. Metrics corroborate widespread reports of a data and telephony blackout in the northern region of Tigray, which are ongoing as of midnight.
Minutes after the network disruption was registered by the observatory, Prime Minister Abiy Ahmed announced via his verified Twitter and Facebook accounts that a "red line" had been crossed and that military action was being taken to "save the country" from restive groups.
Confirmed: Subnational internet blackout registered in #Ethiopia from 1 a.m. local time corroborating reports of network and telephony outages in restive state of #Tigray as PM announces military operation to "save the country"; incident ongoing 📉📵

📰https://t.co/jshXKCb9UY pic.twitter.com/qUk4WFXcfG

— NetBlocks (@netblocks) November 4, 2020
The new telecommunications blackout is understood to be the latest in a series of internet shutdowns imposed by the central government of Ethiopia. Measures imposed during security operations have limited news coverage and visibility around incidents on the ground during calls for autonomy and independence from the federal system. Political reforms promised by Prime Minister Abiy Ahmed have largely stalled amid the collapse of security and killings fulled by ethnic divisions since 2018.
NetBlocks has tracked national and regional internet shutdowns imposed by the government of Ethiopia including a multi-week internet shutdown that came into effect in June 2020 after the killing of activist-singer Hachalu Hundessa, and a similar blackout in 2019 following an alleged coup attempt in the Amhara region.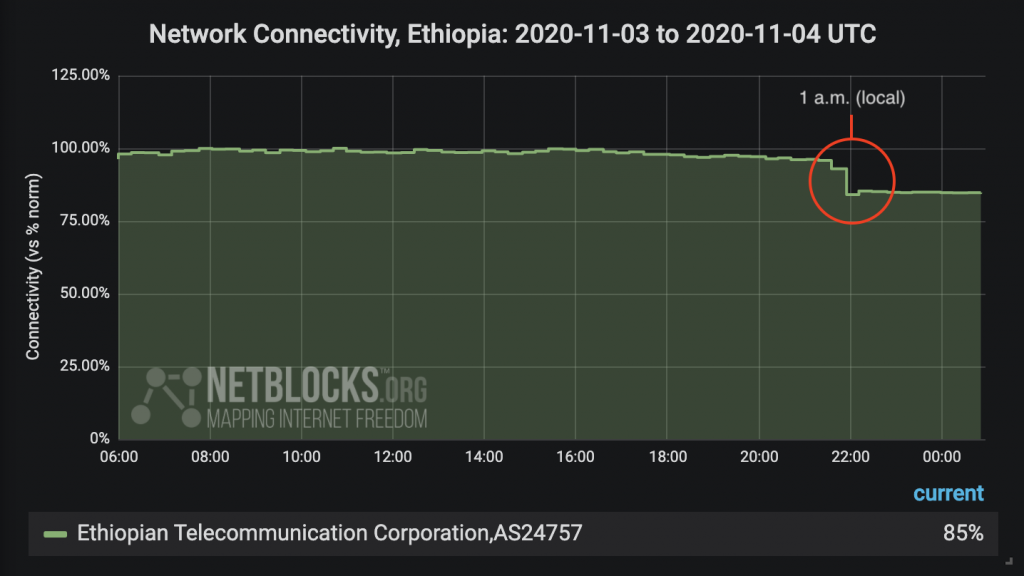 Further reading:
---
Methodology
NetBlocks diffscans, which map the IP address space of a country in real time, show internet connectivity levels and corresponding outages. Purposeful internet outages may have a distinct network pattern used by NetBlocks to determine and attribute the root cause of an outage, a process known as attribution which follows detection and classification stages.
A summary of data visualizations used in this report:
Network Connectivity (National): Internet providers and networks serving the affected region are visualized in a stacked time-series histogram to identify the start and end times of an internet shutdown event. Scales on the y-axis are adjusted to match localized maxima while minima indicate periods when networks became unreachable. The x-axis represents Universal Coordinated time (GMT+0).

Standard: Connectivity levels on the y-axis correspond directly to the observed number of reachable connections, as with National Connectivity charts.
---
NetBlocks is an internet monitor working at the intersection of digital rights, cyber-security and internet governance. Independent and non-partisan, NetBlocks strives to deliver a fair and inclusive digital future for all.
[ press | contact ] Graphics and visualizations are provided for fair use in unaltered form reflecting the meaning and intent in which they were published, with clear credit and source attribution to NetBlocks. Intellectual property rights are protected including but not limited to key findings, facts and figures, trademarks, copyrights, and original reporting, are held by NetBlocks. Citation and source attribution are required at the point of use.