Ethiopia's internet has been largely disconnected starting 8:15 p.m. UTC Saturday 22 June 2019 and having nationwide impact as of 9:00 p.m. UTC, as reports emerge of an attempt to unseat the regional government in Bahir Dar, Amhara state, north of capital Addis Ababa.
Real-time network data show that national IP connectivity dropped to 2% of normal levels as the Prime Minister's secretariat appeared live on Ethiopian Television to explain, "armed men tried to unseat the Amhara Regional State Government by force but their attempt has been foiled."
Gunfire was subsequently been reported in Addis Ababa and security operations are understood to be ongoing. The internet disruption constitutes a significant restriction on the flow of information in and out of Ethiopia, making it difficult to assess the current situation on the ground.
Data indicate that the outages have progressed to nationwide impact, after regions in the north, including Amhara State and eastern regions first went offline as word of the coup spread ultimately leaving 98% of Ethiopia offline, a situation that is ongoing at time of writing.
Update: Internet access in #Ethiopia has been cut for over 24 hours following the coup attempt in #Amhara state; real-time network data show 99% of country currently offline; objective of blackout remains unclear ⬇️https://t.co/v2ex69GzNd pic.twitter.com/wqfWhkLwMb

— NetBlocks (@netblocks) June 23, 2019
Alert: Internet cut across #Ethiopia amid reports of coup attempt targeting #Amhara regional state government; nationwide connectivity currently now at 10% with capital and most states offline; incident ongoing #KeepItOn⚠️📉https://t.co/v2ex69YbbN pic.twitter.com/pAtfI7nAPq

— NetBlocks (@netblocks) June 22, 2019
It remains unclear which party has ordered the internet shutdown at the present time. Timings from the NetBlocks observatory suggest the nationwide disconnection was imposed after the plot was uncovered. Hence, it is not evident whether the internet shutdown is being implemented by those who organised the uprising, or by government forces who are seeking to suppress it:
The brief return of internet in #Ethiopia 21:55 pm. UTC (1.5 hours ago) is unusual and suggests attempts were made to get reconnected.

After a coup attempt governments will generally aim to re-establish state media and internet as a matter of urgency.

But that hasn't happened: pic.twitter.com/BbdMhqhu3u

— NetBlocks (@netblocks) June 22, 2019
In recent weeks Ethiopia has experienced a series of nationwide blackouts causing significant social and economic harm stoking dissatisfaction with Prime Minister Abiy Ahmed.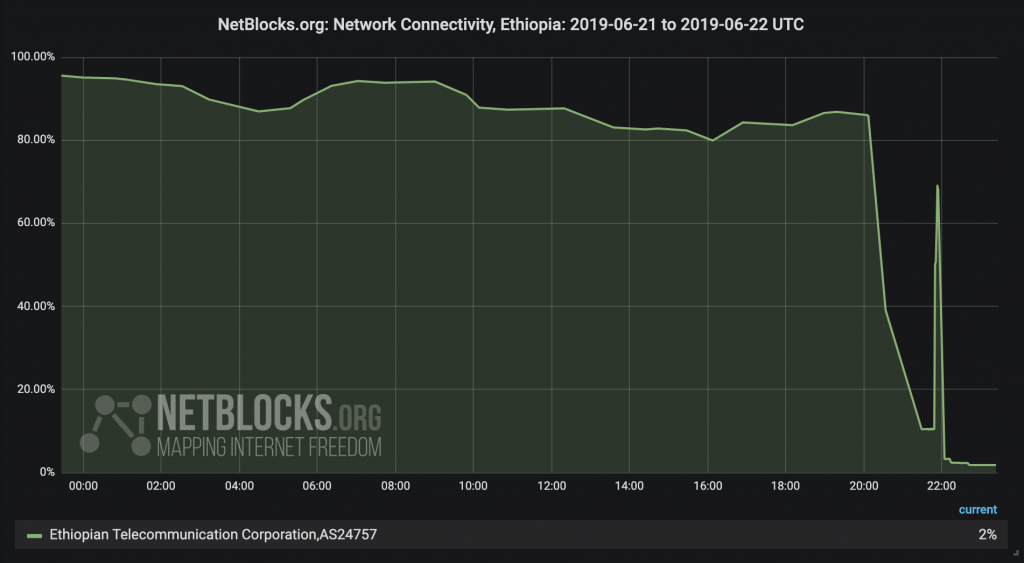 ---
Methodology
NetBlocks diffscans, which map the IP address space of a country in real time, show internet connectivity levels and corresponding outages. Purposeful internet outages may have a distinct network pattern used by NetBlocks to determine and attribute the root cause of an outage, a process known as attribution which follows detection and classification stages.
---
NetBlocks is an internet monitor working at the intersection of digital rights, cyber-security and internet governance. Independent and non-partisan, NetBlocks strives to deliver a fair and inclusive digital future for all.
[ press | contact ] Graphics and visualizations are provided for fair use in unaltered form reflecting the meaning and intent in which they were published, with clear credit and source attribution to NetBlocks. Intellectual property rights are protected including but not limited to key findings, facts and figures, trademarks, copyrights, and original reporting, are held by NetBlocks. Citation and source attribution are required at the point of use.