Access to social media and messaging apps has been restored in Sri Lanka as of 5:30 a.m UTC Tuesday, 30 April, on the ninth day after the services were blocked as a security measure following a series of deadly terror attacks.
Facebook, YouTube and other blocked services now all accessible with Sri Lanka's leading internet providers including Dialog Axiata and Sri Lanka Telecom, Mobitel and others according to NetBlocks network measurement data.
Confirmed: Network data shows social media and messaging apps are in the process of being restored across #SriLanka, over a week after they were restricted following a series of deadly terror attacks #KeepItOn 📰https://t.co/CCNd4xONl2 pic.twitter.com/4Gjy3e81zQ

— NetBlocks (@netblocks) April 30, 2019
Facebook, WhatsApp, Instagram, YouTube, Viber, Snapchat and Facebook Messenger, as well as VPN services used to circumvent censorship, were restricted after the bombings, which targeted churches and hotels.
Access has now fully returned for most internet subscribers, following two hours of gradual restoration starting 5:00 a.m UTC. Users of Dialog Axiata, Sri Lanka Telecom and Mobitel were respectively first to regain access.
The new NetBlocks findings are based on 1000 network measurements, each consisting of latency and reachability status as observed from 60 vantage points across Sri Lanka between 5:00 a.m. and 7:00 a.m. collected with the assistance of volunteers across the country.
During the social media blockade, concerns were raised over impact to citizens's ability to communicate and impart information in the midst of the crisis. In the immediate aftermath of the attacks, Sri Lankan internet users and the families of international visitors complained of difficulty checking up on the wellbeing of friends and family.
The incident is the second recorded instance of social media blocking in Sri Lanka, which previously blocked social media for just over one week after violence targeting minorities broke out in March 2018.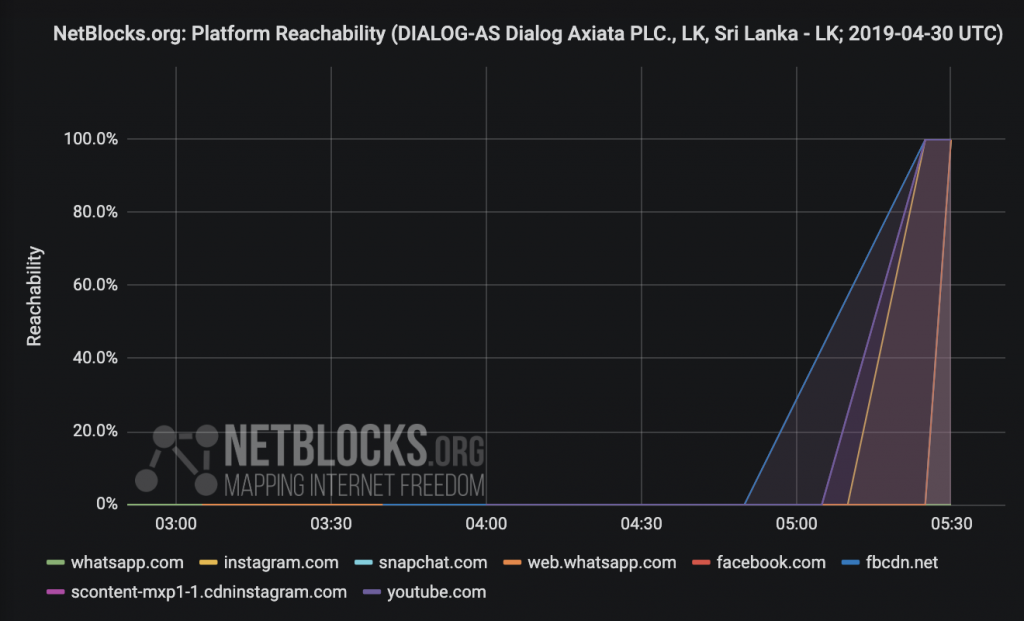 ---
Methodology
Internet performance and service reachability are determined via NetBlocks web probe privacy-preserving analytics. Each measurement consists of latency round trip time, outage type and autonomous system number aggregated in real-time to assess service availability and latency in a given country. Network providers and locations are enumerated as vantage point pairs. The root cause of a service outage may be additionally corroborated by means of traffic analysis and manual testing as detailed in the report.
---
NetBlocks is an internet monitor working at the intersection of digital rights, cyber-security and internet governance. Independent and non-partisan, NetBlocks strives to deliver a fair and inclusive digital future for all.
[ press | contact ] Graphics and visualizations are provided for fair use in unaltered form reflecting the meaning and intent in which they were published, with clear credit and source attribution to NetBlocks. Intellectual property rights are protected including but not limited to key findings, facts and figures, trademarks, copyrights, and original reporting, are held by NetBlocks. Citation and source attribution are required at the point of use.