Network data from NetBlocks confirm a significant disruption to internet service in Sudan from the morning of Tuesday 25 October 2022 affecting cellular and some fixed-line connectivity on multiple providers. The incident lasted approximately eight hours and came ahead of planned pro-democracy protests to mark the first anniversary of the 2021 Sudanese military coup, when internet shutdowns were imposed to silence public dissent.
ℹ️ Update: Internet connectivity is being restored in #Sudan after service was disrupted on multiple providers amid protests against the military junta and calls for civilian rule, one year after the 25 Oct 2021 coup; incident duration ~8 hours

📰 Report: https://t.co/F50jkW0P7m pic.twitter.com/B83VVrojVI

— NetBlocks (@netblocks) October 25, 2022
News of an internet shutdown order issued to operators circulated a day prior to the incident, as demonstrators scheduled anti-coup protests in multiple cities of Sudan.
Metrics corroborate user reports of network disruptions appearing consistent with an internet shutdown affecting multiple internet providers. The disruption is likely to limit the free flow of information online and suppress news coverage of incidents on the ground.
Targeted internet disruptions, including shutdowns and social media restrictions, have gone hand in hand with political turmoil in Sudan since the onset of protests in 2018 that led to the transition to civilian rule. Total and near-total network disruptions, manifesting in a telecommunications blackout for most users, are among the most severe restrictive options available to authorities.
During the country's longest recorded network disruption, Sudan cut social media for 68 consecutive days to quell protests, with Facebook, Twitter, Instagram and WhatsApp restricted from 21 December 2018 up until February 26 2019, according to NetBlocks internet measurements. A more extensive mobile internet shutdown left Sudan offline for 36 days from 3 June to 9 July 2019. The core internet blackout following the October 2021 coup lasted 24 days, with further incidents registered during subsequent anti-coup protests in January and June 2022.
As a result, Sudan ranks 2nd amongst African countries in terms of the intensity and severity of internet disruptions and social media restrictions per Surfshark's internet shutdown tracker. Eight out of ten Africans have experienced the impacts of internet and social media shutdowns according to the research.
Further reading:
Previously: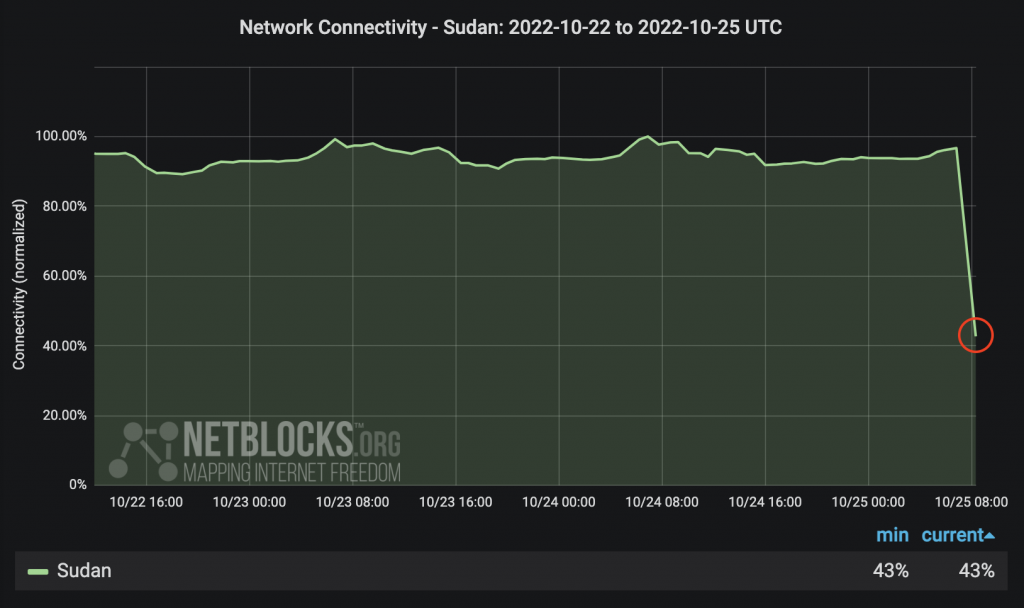 ---
Methodology
NetBlocks diffscans, which map the IP address space of a country in real time, show internet connectivity levels and corresponding outages. Purposeful internet outages may have a distinct network pattern used by NetBlocks to determine and attribute the root cause of an outage, a process known as attribution which follows detection and classification stages.
---
NetBlocks is an internet monitor working at the intersection of digital rights, cyber-security and internet governance. Independent and non-partisan, NetBlocks strives to deliver a fair and inclusive digital future for all.
[ press | contact ] Graphics and visualizations are provided for fair use in unaltered form reflecting the meaning and intent in which they were published, with clear credit and source attribution to NetBlocks. Intellectual property rights are protected including but not limited to key findings, facts and figures, trademarks, copyrights, and original reporting, are held by NetBlocks. Citation and source attribution are required at the point of use.
Core Reporting Sponsor