Network data from NetBlocks confirm a significant disruption to internet service in Sudan from the morning of Monday 25 October 2021 affecting cellular and some fixed-line connectivity on multiple providers. The incident continued until Thursday 18 November, when a significant restoration of service was observed on multiple providers in Sudan after 24 days offline. Social media restrictions remained in place until Wednesday 24 November.
Service came back and users began to post comments online shortly after a court ordered the arrest of internet provider CEOs who failed to restore internet access and Sudan's state news network announced that service would return. It remains unclear whether the restoration will be sustained.
The disruption first came into place amid reports that senior government officials were detained in an apparent military coup. Mobile service was briefly restored on major operators around the 35th hour at 4:00 p.m. local time Tuesday, allowing some messages and videos to come through.
⚠️ Confirmed: Internet disrupted in #Sudan amid reports of military coup and detention of Prime Minister; real-time network data show national connectivity at 34% of ordinary levels; incident ongoing 📉

📰 Live Report: https://t.co/uVVZKchH5S pic.twitter.com/SoyZK2uYQ9

— NetBlocks (@netblocks) October 25, 2021
Metrics corroborate user reports of network disruptions appearing consistent with an internet shutdown. The disruption is likely to limit the free flow of information online and suppress news coverage of incidents on the ground.
⚠️ Confirmed: Internet partially restored in #Sudan on 25th day of post-coup blackout; real-time metrics show significant rise in cellular connectivity from ~4:30 pm local time; it is unclear if service will be retained, or for how long 📈

📰 Live Report: https://t.co/uVVZKc05Hi pic.twitter.com/z68J4JPDTR

— NetBlocks (@netblocks) November 18, 2021
The internet disruption for the most part affects connectivity at the network layer and cannot be worked around with the use of circumvention software or VPNs. However, VPN services are effective at circumventing the social media restrictions in effect as of 18 November.
⚠️ Update: Social media and messaging platforms remain restricted in #Sudan on the 29th day of post-coup telecommunication disruptions imposed by the military.

The public's ability to participate online is a vital component of a free and fair society.

📰 https://t.co/uVVZKchH5S pic.twitter.com/gAZbc2l7Xt

— NetBlocks (@netblocks) November 22, 2021
Social media metrics are taken from an initial set of 600 network measurements from a dozen initial vantage points across Sudan.
ℹ️ Update: Social media and messaging platforms have been restored in #Sudan on all major internet providers.

Telecoms disruptions since the 25 October military coup included a near-total blackout and partial restrictions that stifled human rights.

📰 https://t.co/uVVZKchH5S pic.twitter.com/C2YdXvvPN5

— NetBlocks (@netblocks) November 24, 2021
A day earlier, on Wednesday 17 November 2021, many of the remaining fixed-line telecommunications networks were cut for several hours during the most deadly protests to date.
What's happening in Sudan?
Internet service was disrupted early Monday morning after military forces arrested at least four Cabinet ministers and a member of the ruling council. Telephony services were also disrupted as phone calls failed to connect.
Footage emerged showing security forces surrounding Prime Minister Abdallah Hamdok's home and Sudan's main pro-democracy group, the Sudan Professionals' Association, called on people to take to the streets against a "military coup."
Connectivity remained largely disrupted despite an order by the Khartoum general court to restore internet service following successful legal intervention by the Sudanese Consumers Protection Society and the Association of Sudanese Lawyers and Legal Practitioners. The military subsequently declared in a statement via Sudan's Telecommunications and Post Regulatory Authority that its decision to stop Internet access "overrides any decisions from other parties."
Targeted internet disruptions, including shutdowns and social media restrictions, have gone hand in hand with political turmoil in Sudan since the onset of protests in 2018 that led to the transition to civilian rule. Total and near-total network disruptions, manifesting in a telecommunications blackout for most users, are among the most severe restrictive options available to authorities.
During the country's longest recorded network disruption, Sudan cut social media for 68 consecutive days to quell protests, with Facebook, Twitter, Instagram and WhatsApp restricted from 21 December 2018 up until February 26 2019, according to NetBlocks internet measurements. A more extensive mobile internet shutdown left Sudan offline for 36 days from 3 June to 9 July 2019.
Further reading:
Previously: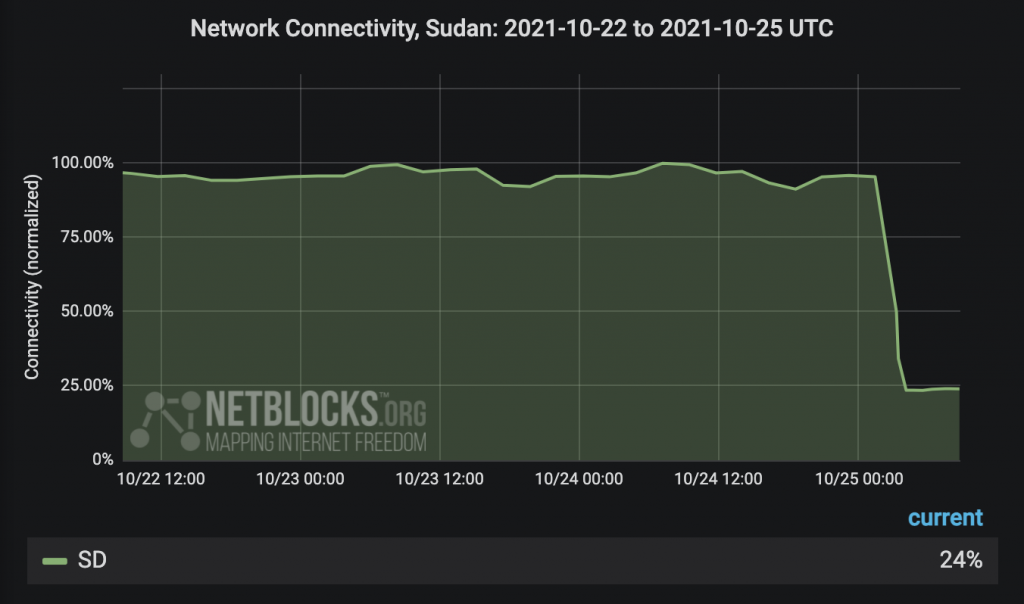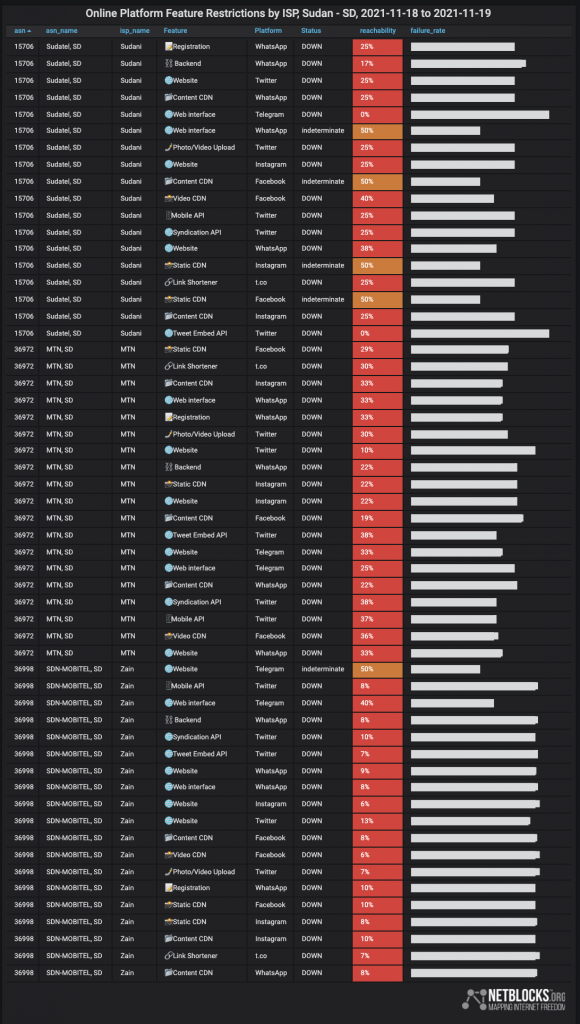 ---
Methodology
NetBlocks diffscans, which map the IP address space of a country in real time, show internet connectivity levels and corresponding outages. Purposeful internet outages generally have a distinct network pattern used by NetBlocks to determine and attribute the root cause of an outage, a process known as attribution which follows detection and classification stages.
Internet performance and service reachability are determined via NetBlocks web probe privacy-preserving analytics. Each measurement consists of latency round trip time, outage type and autonomous system number aggregated in real-time to assess service availability and latency in a given country. Network providers and locations are enumerated as vantage point pairs. The root cause of a service outage may be additionally corroborated by means of traffic analysis and manual testing as detailed in the report.
---
NetBlocks is an internet monitor working at the intersection of digital rights, cyber-security and internet governance. Independent and non-partisan, NetBlocks strives to deliver a fair and inclusive digital future for all.
[ press | contact ] Graphics and visualizations are provided for fair use in unaltered form reflecting the meaning and intent in which they were published, with clear credit and source attribution to NetBlocks. Intellectual property rights are protected including but not limited to key findings, facts and figures, trademarks, copyrights, and original reporting, are held by NetBlocks founder Alp Toker. Citation and source attribution are required at the point of use.