NetBlocks metrics confirm the restriction of multiple social media platforms including Facebook, Twitter, WhatsApp, Viber and YouTube in Sri Lanka after midnight on Sunday 3 April 2022 local time, with service largely restored after 16 hours. The incident comes as the government declares a state of emergency, imposing curfews to counter widespread protests over the economic crisis.
⚠️ Confirmed: Real-time network data show Sri Lanka has imposed a nationwide social media blackout, restricting access to platforms including Twitter, Facebook, WhatsApp, YouTube, and Instagram as emergency is declared amid widespread protests.

📰 Report: https://t.co/XGvXEFIqom pic.twitter.com/KEpzYfGKjV

— NetBlocks (@netblocks) April 2, 2022
Real-time network data collected from over 100 vantage points across Sri Lanka show the restrictions coming into effect across multiple providers from midnight. Metrics corroborate user reports of service unavailability across the country, showing that all of Sri Lanka's major network operators including Dialog, Sri Lanka Telecom, Mobitel, Hutch are covered by the measure. Fully or partially impacted social media and messaging platforms include Facebook, Twitter, YouTube, Instagram, TikTok, Snapchat, WhatsApp, Viber, Telegram, and Facebook Messenger.
Sri Lanka has a history of imposing nationwide social media restrictions at times of unrest. The list of restricted platforms in this instance appears largely consistent with the list used during previous national social media bans imposed by authorities.
ℹ️ Update: Metrics show that access to social media and messaging apps is being restored in Sri Lanka after restrictions were imposed by the Defence Ministry to help "people to maintain calm" amid protests; duration ~16 hours #EconomicCrisisLK

📰 Report: https://t.co/XGvXEFIqom pic.twitter.com/4vS7kA0cSP

— NetBlocks (@netblocks) April 3, 2022
Earlier, NetBlocks tracked a significant decline in connectivity levels on internet provider Dialog from 29 March coinciding with the onset of the protests:
ℹ️ Note: Sri Lanka is experiencing a moderate decline in internet connectivity amid state-imposed power cuts, with observable impact to provider Dialog.

Meanwhile, some activists report being unable to get online at protests. The situation remains under observation. pic.twitter.com/x6NHq4lEmQ

— NetBlocks (@netblocks) March 31, 2022
The platforms can be accessed indirectly through the use of VPN services, which can work around government-imposed internet restrictions. The mobile app versions of some of the services remained accessible on certain devices due to the partial implementation of the ban at the time of writing.
NetBlocks recommends against the use of social media platform restrictions to counter protests, given their disproportionate impact to fundamental rights including freedom of expression and freedom of assembly.
References:
Previously: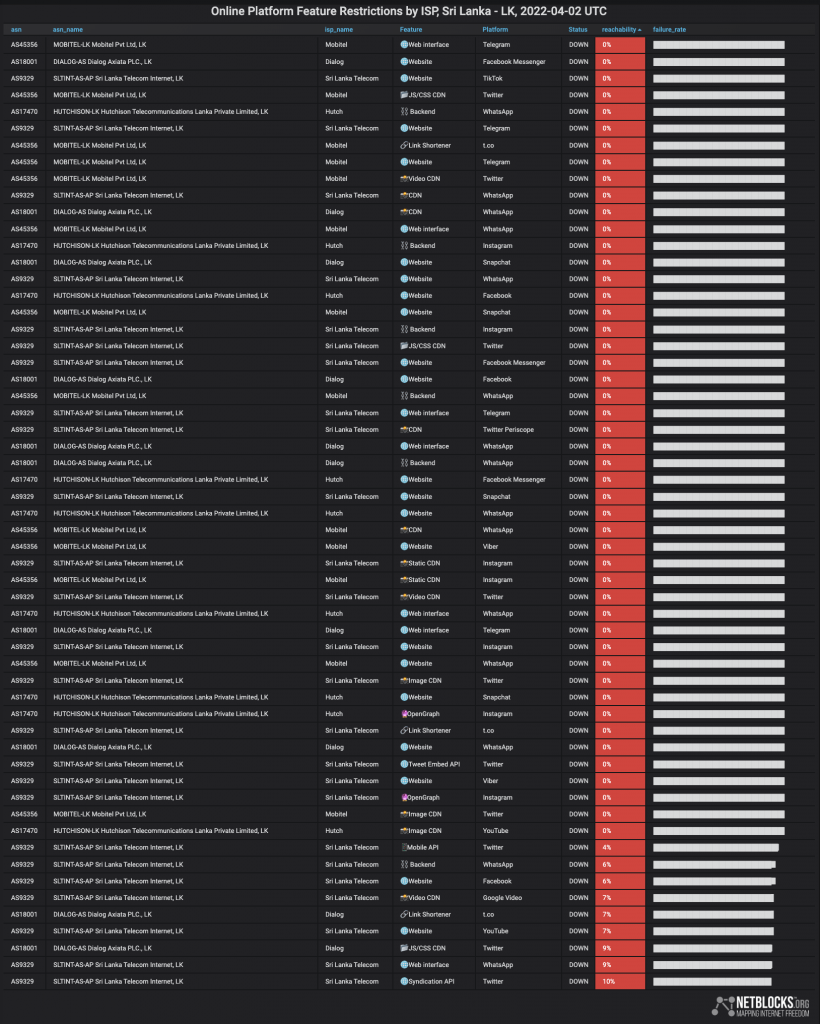 ---
Methodology
Internet performance and service reachability are determined via NetBlocks web probe privacy-preserving analytics. Each measurement consists of latency round trip time, outage type and autonomous system number aggregated in real-time to assess service availability and latency in a given country. Network providers and locations are enumerated as vantage point pairs. The root cause of a service outage may be additionally corroborated by means of traffic analysis and manual testing as detailed in the report.
NetBlocks diffscans, which map the IP address space of a country in real time, show internet connectivity levels and corresponding outages. Purposeful internet outages may have a distinct network pattern used by NetBlocks to determine and attribute the root cause of an outage, a process known as attribution which follows detection and classification stages.
---
NetBlocks is an internet monitor working at the intersection of digital rights, cyber-security and internet governance. Independent and non-partisan, NetBlocks strives to deliver a fair and inclusive digital future for all.
[ press | contact ] Graphics and visualizations are provided for fair use in unaltered form reflecting the meaning and intent in which they were published, with clear credit and source attribution to NetBlocks. Intellectual property rights are protected including but not limited to key findings, facts and figures, trademarks, copyrights, and original reporting, are held by NetBlocks. Citation and source attribution are required at the point of use.