NetBlocks metrics confirm disruptions to internet service on multiple providers across Pakistan after 5 p.m. local time Wednesday 25 May 2022. The incident comes as the government moves to ban rallies and a march to the capital organized by ousted Prime Minister Imran Khan.
⚠️ Confirmed: Real-time network data show internet disruptions across #Pakistan as ousted Prime Minister Imran Khan organizes mass rallies; metrics show impact to multiple providers in cities including Karachi, Lahore and Islamabad 📉#LongMarch

📰 Report: https://t.co/FVFwtxUzLp pic.twitter.com/0ScS8krmuy

— NetBlocks (@netblocks) May 25, 2022
Real-time network data show the restriction coming into effect across multiple providers in a pattern consistent with an intentional disruption to service, corroborating user reports of outages in multiple cities. Authorities have also deployed road barriers to push back the march per reports. Service was restored after approximately two hours following a backlash from subscribers, and some internet providers claimed an issue in the country's web filtering infrastructure.
Pakistan has a history of imposing nationwide internet restrictions at times of unrest. The disruption affects service at the network layer and cannot be readily worked around through the use of VPN services. Some service remains available via alternative internet providers.
NetBlocks recommends against the use of network disruptions and social media restrictions to counter protests, given their disproportionate impact to fundamental rights including freedom of expression and freedom of assembly.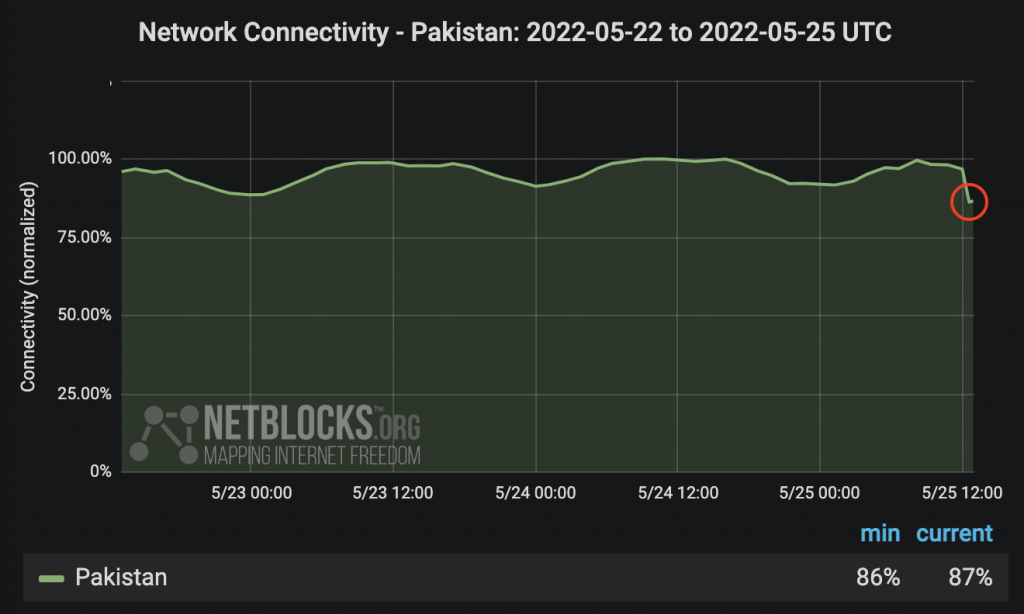 ---
Methodology
NetBlocks diffscans, which map the IP address space of a country in real time, show internet connectivity levels and corresponding outages. Purposeful internet outages may have a distinct network pattern used by NetBlocks to determine and attribute the root cause of an outage, a process known as attribution which follows detection and classification stages.
---
NetBlocks is an internet monitor working at the intersection of digital rights, cyber-security and internet governance. Independent and non-partisan, NetBlocks strives to deliver a fair and inclusive digital future for all.
[ press | contact ] Graphics and visualizations are provided for fair use in unaltered form reflecting the meaning and intent in which they were published, with clear credit and source attribution to NetBlocks. Intellectual property rights are protected including but not limited to key findings, facts and figures, trademarks, copyrights, and original reporting, are held by NetBlocks. Citation and source attribution are required at the point of use.