Network data from the NetBlocks Internet Observatory confirm disruptions to internet service in Tehran from 7:00 p.m. local time (3:30 p.m. UTC) on Thursday 8 October 2020. Metrics show an ongoing fall in regional connectivity that came into place as Iranians took to the streets to commemorate outspoken musician Mohammad Reza Shajarian, who passed away at the age of 80.
Confirmed: Internet disrupted in #Tehran from 7:00 p.m. local time (15:30 UTC); real-time network data show regional restrictions in #Iran as thousands take to the streets to commemorate outspoken singer #Shajarian; incident ongoing 📉 #IranProtests

📰 https://t.co/Wrt7FEg2Rv pic.twitter.com/eWxXB2vLTR

— NetBlocks (@netblocks) October 8, 2020
Shajarian, an acclaimed singer whose following spanned political divides, was banned from performing in his country after speaking out in support of Iran's 2009 anti-government protests.
Shortly before the telecommunication disruption came into effect, videos appeared on social media showing gatherings outside the hospital where Shajarian was being treated while users began to report connectivity issues and slowdowns.
The internet disruption shares characteristics with previously recorded partial, localized restrictions observed during periods of unrest in Iran. On 14 July 2020, a similar incident was documented by NetBlocks as Iranians spoke out against the death penalty following the sentencing of youths who participated in the November 2019 protests:
Update: Yesterday's internet disruption in #Iran had partial impact, reducing service quality for ~3 hours on multiple providers while the hashtag #اعدام_نکنید (don't execute) trended on social media #️⃣ pic.twitter.com/zS8kYIN80H

— NetBlocks (@netblocks) July 15, 2020
This class of internet disruption affects connectivity at the network layer and cannot be worked around by users. Hence, they can limit coverage of incidents as they take place.
Recent disruptions and shutdowns
Iran has faced a series of network disruptions since 2019, with some attributed to external factors, and others to state information controls or targeted internet shutdowns. NetBlocks investigations have helped identify the root causes of these network outages.
In November 2019, Iran shut down internet access nationally amid widespread public protests. In that instance, users gradually regained access as connectivity was selectively brought back after a week of near-total outages.
Update: It's midday in #Iran where technically inclined users have been finding their way online through the #filternet this morning.

National connectivity remains at just 22% but real-time network data show coverage has increased 📈#Internet4Iran

📰https://t.co/1Al0DT8an1 pic.twitter.com/M0yzprwL5v

— NetBlocks (@netblocks) November 23, 2019
See also: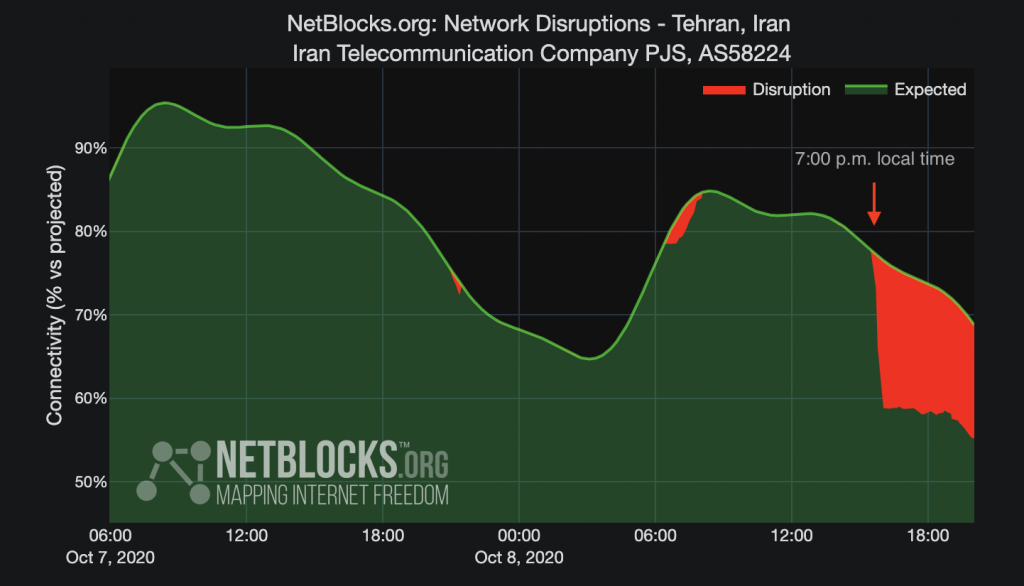 ---
Methodology
NetBlocks diffscans, which map the IP address space of a country in real time, show internet connectivity levels and corresponding outages. Purposeful internet outages may have a distinct network pattern used by NetBlocks to determine and attribute the root cause of an outage, a process known as attribution which follows detection and classification stages.
A summary of data visualizations used in this report:
Network Connectivity, Predictive Analysis  (Regional): Selected internet providers and networks geolocated to their approximate region are visualized in a time-series chart to identify the start and end times of an internet outage event. Scales on the y-axis are adjusted to match localized maxima while minima are scaled to 0 indicate periods when networks were slowed or became unreachable. The x-axis represents Universal Coordinated time (GMT+0). The y-axis corresponds to predicted connectivity levels, while areas highlighted in red represent the difference with actual observed connectivity levels.
---
NetBlocks is an internet monitor working at the intersection of digital rights, cyber-security and internet governance. Independent and non-partisan, NetBlocks strives to deliver a fair and inclusive digital future for all.
[ press | contact ] Graphics and visualizations are provided for fair use in unaltered form reflecting the meaning and intent in which they were published, with clear credit and source attribution to NetBlocks. Intellectual property rights are protected including but not limited to key findings, facts and figures, trademarks, copyrights, and original reporting, are held by NetBlocks. Citation and source attribution are required at the point of use.