Network data shows that Venezuela's state-run internet provider ABA CANTV (AS8048) restricted access to YouTube, several Google services, Android mobile backend servers and Microsoft Bing on Thursday 23 May 2019. The nationwide block coincides with two brief live-streamed appearances by Juan Guaidó from the state of Miranda, where he has been offering medicine and aid at the Convent of the Agustinas in Los Teques.
The disruption, which has nationwide impact, matches similar restrictions introduced moments before Guaidó spoke from Guatire, Miranda on 18 May. Restrictions have been implemented prior to major public appearances in the most recent instances, instead of reactively following the start of broadcasts as in disruptions before May.
Confirmed: YouTube, Bing and Google services restricted in #Venezuela as Guaidó tours Los Teques, Miranda; incident ongoing #23May #KeepItOn 📉https://t.co/DcYl72PC8v pic.twitter.com/qqf6dkt2VH

— NetBlocks.org (@netblocks) May 23, 2019
Update: Connectivity has been restored as 4:50 p.m UTC (12:50 p.m VET). Timings indicate that Guaidó managed to evade the restrictions for the first time in weeks, whether accidentally or otherwise, by starting another live stream at 12:52 VET moments after filters targeting previous appearances from Los Teques were lifted:
Update: Guaidó appears to have evaded the restrictions, starting a live stream at 12:52 VET minutes after filters appearing to target the #LosTeques tour were lifted across #Venezuela (broadcast capture via @VPITV)⏱https://t.co/DcYl72PC8v pic.twitter.com/jLlnxraNGg

— NetBlocks.org (@netblocks) May 23, 2019
Each NetBlocks web probe measurement consists of latency round trip, outage type and autonomous system identity aggregated in real-time to assess service availability and performance in a given country.
The new disruptions show the continuation of ephemeral, or intermittent internet censorship imposed by the state appearing to target critical speech. Data are consistent with previous targeted disruptions during public appearances by Juan Guaidó, and during sessions of Venezuela's National Assembly. The brief, targeted blocks are introduced in addition to long-running online censorship of news media and campaign websites.
Past incidents of network filtering in Venezuela have lasted from twelve minutes to over twenty hours, when YouTube was restricted hours before the country's first nationwide power outage.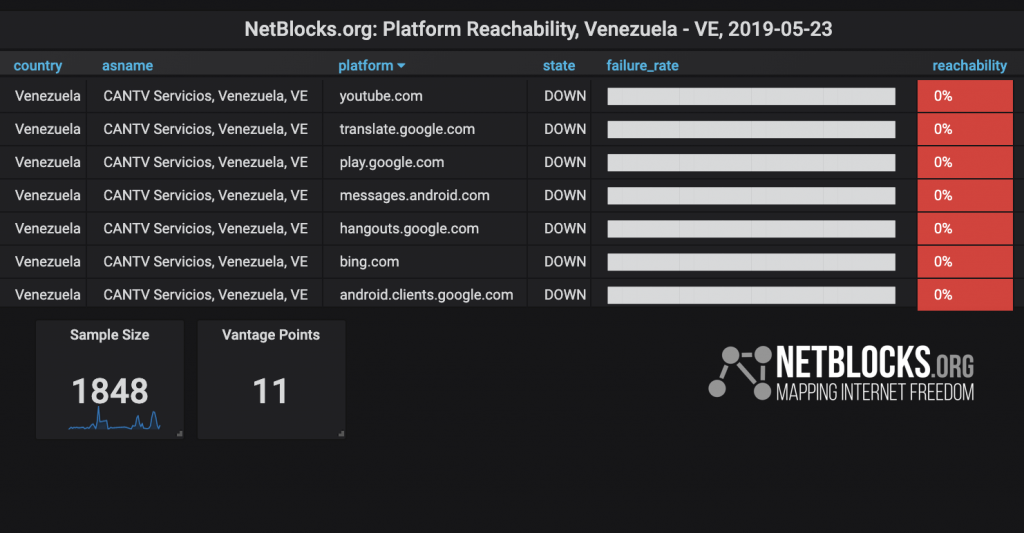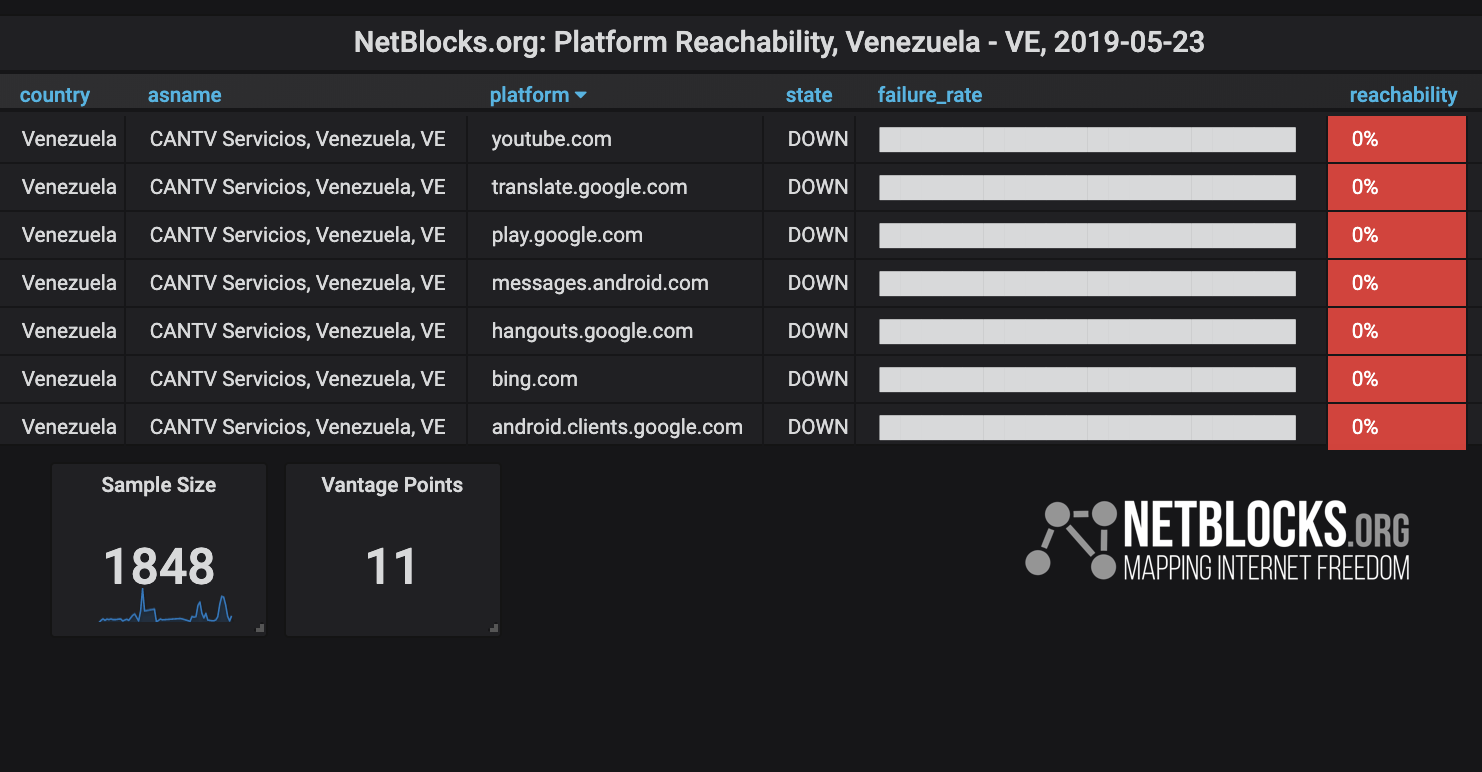 ---
NetBlocks is a civil society group working at the intersection of digital rights, cyber-security and internet governance. Independent and non-partisan, NetBlocks strives for an open and inclusive digital future for all.
[ methodology handbook | press | contact ] Graphics and visualizations provided under a free and open license for reuse with clear attribution.