Network data confirm the restriction of social media platform TikTok on multiple internet providers in Azerbaijan and Armenia amid deadly clashes between the two countries as tensions rise over the Nagorno-Karabakh region.
Real-time NetBlocks metrics show that social media and communications platform TikTok is unavailable for many users in both countries at the time of writing.
⚠️ Confirmed: #Azerbaijan and #Armenia have restricted access to TikTok amid clashes over Nagorno-Karabakh; live internet measurement data show impact to cellular / fixed-lines in both countries, as authorities cite national security grounds📉

📰 Report: https://t.co/qo1p4wz7UO pic.twitter.com/F18jHBFMWC

— NetBlocks (@netblocks) September 14, 2022
The State Security Service of Azerbaijan announced the official suspension of TikTok on grounds of national security, stating that military secrets and misinformation were being spread on the platform. TikTok has become a central rallying point on both sides of the conflict since 2020 when the conflict last flared up.
This class of disruption can be worked around using VPN services, which are able to circumvent government internet censorship measures. VPN usage rose significantly during the previous instance of social media censorship in 2020, when access to several major social platforms was restricted across Azerbaijan.
September 2022 Nagorno-Karabakh clashes in the digital sphere
Azerbaijan and Armenia have been in a bitter standoff marked with outbreaks of conflict since war broke out in the 1990s. The dispute has increasingly played out in the digital space through the use of state-sponsored and organic influence campaigns. These are amplified by a global diaspora and shaped by geopolitics that emerged following the collapse of the Soviet Union in 1991, when Nagorno-Karabakh was split from Azerbaijan. The conflict reached the digital sphere in September 2020 when Azerbaijan imposed widespread social media and content platform restrictions.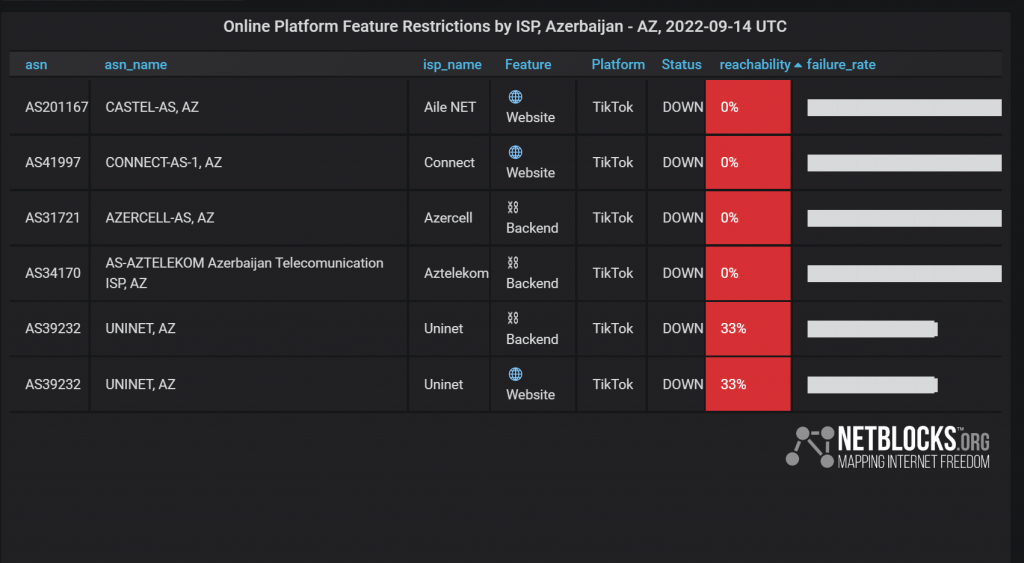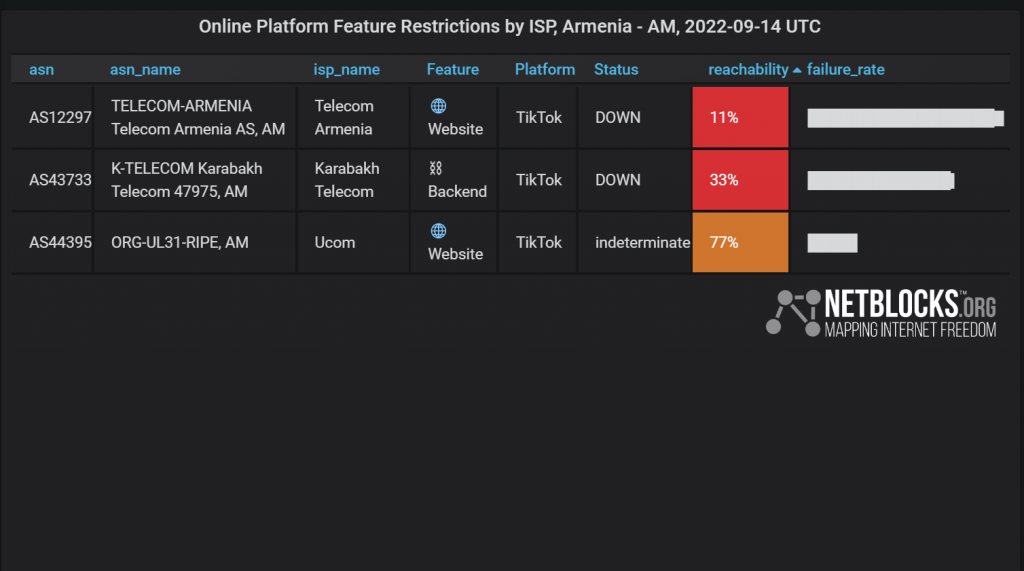 Previously:
---
Methodology
Internet performance and service reachability are determined via NetBlocks web probe privacy-preserving analytics. Each measurement consists of latency round trip time, outage type and autonomous system number aggregated in real-time to assess service availability and latency in a given country. Network providers and locations are enumerated as vantage point pairs. The root cause of a service outage may be additionally corroborated by means of traffic analysis and manual testing as detailed in the report.
---
NetBlocks is an internet monitor working at the intersection of digital rights, cyber-security and internet governance. Independent and non-partisan, NetBlocks strives to deliver a fair and inclusive digital future for all.
[ press | contact ] Graphics and visualizations are provided for fair use in unaltered form reflecting the meaning and intent in which they were published, with clear credit and source attribution to NetBlocks. Intellectual property rights are protected including but not limited to key findings, facts and figures, trademarks, copyrights, and original reporting, are held by NetBlocks. Citation and source attribution are required at the point of use.
Core Reporting Sponsor