Network data from NetBlocks confirm a significant disruption to internet service in Kashmir with high impact to Srinagar from the early morning of Thursday 2 September 2021 local time. The incident comes after the death of separatist leader Syed Ali Geelani and the imposition of security measures by Indian forces.
⚠️ Confirmed: Internet disrupted in #Kashmir as authorities impose security measures following the death of separatist leader Syed Ali Geelani; real-time network data show high impact to #Srinagar on national backbone from ~1 a.m. local time 📉

📰 Report: https://t.co/6uq99EbCVB pic.twitter.com/iB5WzfCBjB

— NetBlocks (@netblocks) September 2, 2021
Technical data show a disruption to access to India's internet backbone from approximately 19:30 UTC Wednesday corroborating reported network restrictions, consistent with past recorded internet shutdowns in the region including the extended August 2019 Kashmir internet shutdown. India's Inspector General of Police announced the restriction of internet services in the Valley.
The disruptions are understood to impact cellular and some fixed-line services, with the precise geographic extent remaining undetermined. Connectivity in the region of Srinagar is indicated at 31% of ordinary peak levels, hence some service may remain available for certain users. Fixed-line service has subsequently resumed, although some users continue to report issues with cellular networks.
Previously:
Further reading: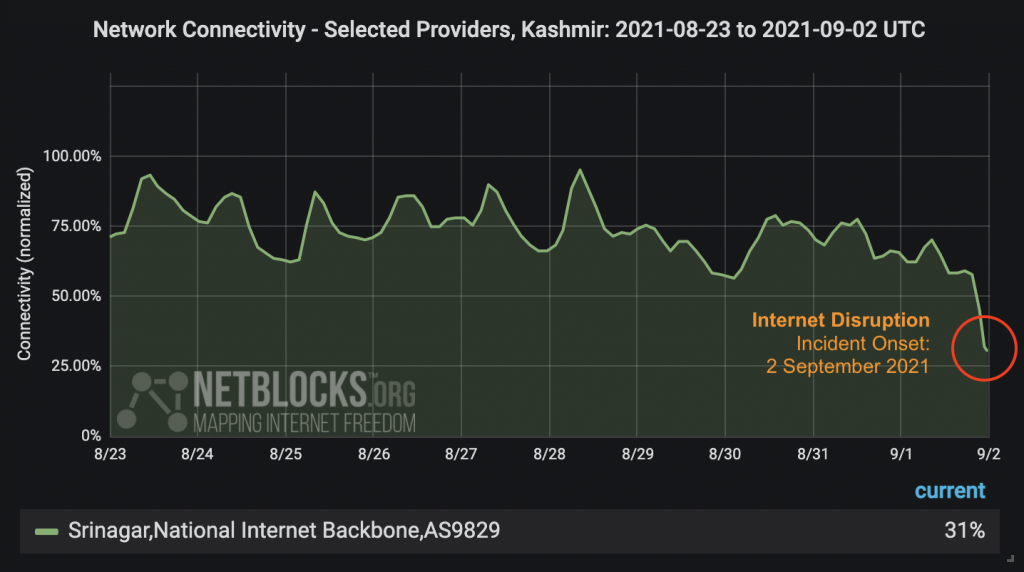 ---
Methodology
NetBlocks diffscans, which map the IP address space of a country in real time, show internet connectivity levels and corresponding outages. Purposeful internet outages may have a distinct network pattern used by NetBlocks to determine and attribute the root cause of an outage, a process known as attribution which follows detection and classification stages.
---
NetBlocks is an internet monitor working at the intersection of digital rights, cyber-security and internet governance. Independent and non-partisan, NetBlocks strives to deliver a fair and inclusive digital future for all.
[ press | contact ] Graphics and visualizations are provided for fair use in unaltered form reflecting the meaning and intent in which they were published, with clear credit and source attribution to NetBlocks. Intellectual property rights are protected including but not limited to key findings, facts and figures, trademarks, copyrights, and original reporting, are held by NetBlocks. Citation and source attribution are required at the point of use.