Network data confirm the restriction of social media platforms on multiple internet providers in Turkey on Sunday, 13 November 2022 following a deadly explosion on Istiklal Street in Taksim, Istanbul. The measure was implemented as Turkey's Radio and Television Supreme Council (RTUK) regulatory authority announced a media ban on the topic of the explosion, and lasted ten hours. Service was largely restored by early Monday morning.
Real-time NetBlocks metrics show that social media and communications platforms Twitter, Instagram, Facebook, YouTube, and some Telegram servers were restricted from Sunday afternoon. The measure was initially implemented on leading network operator Turk Telekom, and subsequently extended to cover most major internet providers. Metrics are taken from an initial set of 50 vantage points across the country and corroborate user reports of service unavailability.
⚠️ Confirmed: Live network data show that social media platforms Twitter, Instagram, YouTube and Facebook have been restricted in #Turkey after a deadly explosion in #Taksim, Istanbul; authorities issued a broadcast ban following the incident

📰 Report: https://t.co/Xww9RgoNlu pic.twitter.com/75DMsF5QLi

— NetBlocks (@netblocks) November 13, 2022
⚠️ Update: Social media remains restricted in #Turkey after a deadly explosion near Taksim, #Istanbul with live metrics showing the measure is now implemented on most internet providers; regulator BTK officially confirms social media throttled

📰 Report: https://t.co/Xww9RgoNlu pic.twitter.com/akjggjk6WM

— NetBlocks (@netblocks) November 13, 2022
Turkey has a longstanding policy of restricting access to social media platforms following explosions, political incidents and terror attacks. However, the policy has been criticised for limiting access to support and assistance, and curtailing press freedom in times of emergency.
Turkey's Information and Communication Technologies Authority (BTK) confirmed after the publication of this report that social media restrictions had been imposed to prevent the circulation of images contrary to press ethics from the scene of the incident, per news agency IHA.
This class of disruption can be worked around using VPN services, which are able to circumvent government internet censorship measures.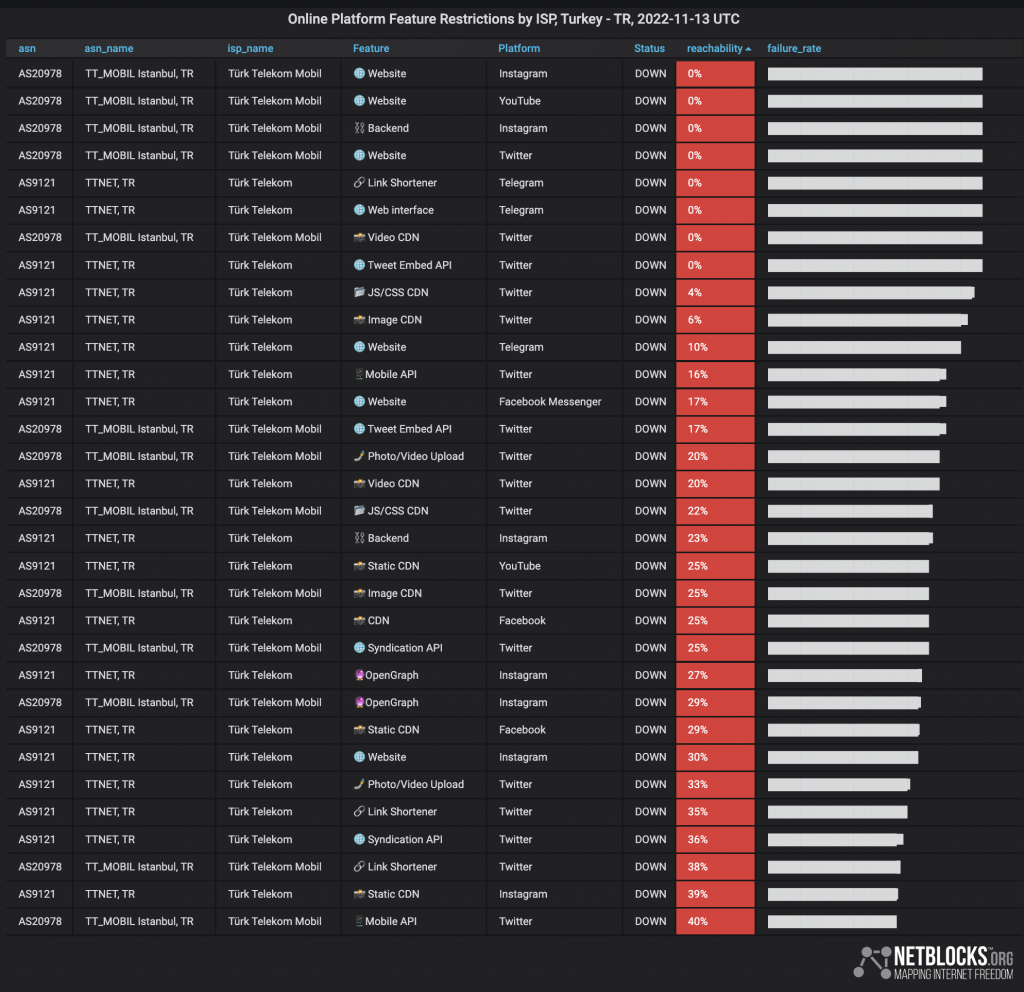 Further reading:
Previously:
---
Methodology
Internet performance and service reachability are determined via NetBlocks web probe privacy-preserving analytics. Each measurement consists of latency round trip time, outage type and autonomous system number aggregated in real-time to assess service availability and latency in a given country. Network providers and locations are enumerated as vantage point pairs. The root cause of a service outage may be additionally corroborated by means of traffic analysis and manual testing as detailed in the report.
---
NetBlocks is an internet monitor working at the intersection of digital rights, cyber-security and internet governance. Independent and non-partisan, NetBlocks strives to deliver a fair and inclusive digital future for all.
[ press | contact ] Graphics and visualizations are provided for fair use in unaltered form reflecting the meaning and intent in which they were published, with clear credit and source attribution to NetBlocks. Intellectual property rights are protected including but not limited to key findings, facts and figures, trademarks, copyrights, and original reporting, are held by NetBlocks. Citation and source attribution are required at the point of use.
Core Reporting Sponsor