Network data from the NetBlocks internet observatory confirm that Turkey has blocked access to social media following an attack on Turkish troops in Idlib, Syria on Thursday 27 February 2020.
Social platforms Twitter, Facebook and Instagram became unreachable at 11:30 p.m. local time (8:30 p.m. UTC) via national provider Turk Telecom (AS9121) and subsequently other leading service providers. Data show that YouTube and WhatsApp messaging backend servers were also partially restricted at the same time or shortly after. The restrictions are technically consistent with techniques used to filter content in Turkey, with SNI and DNS filters in use varying by provider.
Update: Live network data indicate that access is being restored by multiple network operators as of Friday afternoon. Many, but not all users have regained as of 5:00 p.m. local time. The observed core incident duration is in excess of 16 hours with impact to subscribers spanning an 18 hour period.
Update: Real-time network data show social media now being restored in #Turkey; at 16 hours, the blackout surpassed restrictions during the 2016 coup attempt, Russian Ambassador Karlov's assassination and two of the three Ankara bombings in duration 📈
📰https://t.co/bowVKOQixH pic.twitter.com/HsQrwvIsUQ

— NetBlocks (@netblocks) February 28, 2020
Although no broadcast ban has been issued to the public it is understood that the measures are related to the troop deployment in Syria and. News sources have cited online disinformation as a basis for the blockade. The restrictions remain in place as of mid-morning Friday and come amid a dispute over the number of casualties in an attack that took place earlier on Thursday in Idlib, a Syrian city close to the southern border of Turkey.
⚠️ Update: Twitter, Facebook, Instagram and Messenger are now blocked via multiple internet providers in #Turkey. Real-time network data indicate SNI filtering in effect by operators; incident ongoing – see live report 📉
📰https://t.co/bowVKOQixH pic.twitter.com/A12edOlNoi

— NetBlocks (@netblocks) February 27, 2020
Internet performance metrics collected from 100 vantage points show that Twitter, Facebook, Instagram, YouTube and some WhatsApp servers are currently blocked by leading internet service providers in Turkey, corroborating widespread outage reports from users. There is no indication of a technical fault and other services are functioning normally.
The restrictions remain in place six hours after the initial time of blocking. VPN tools that can circumvent online censorship remain effective in working around the blocks at the time of writing.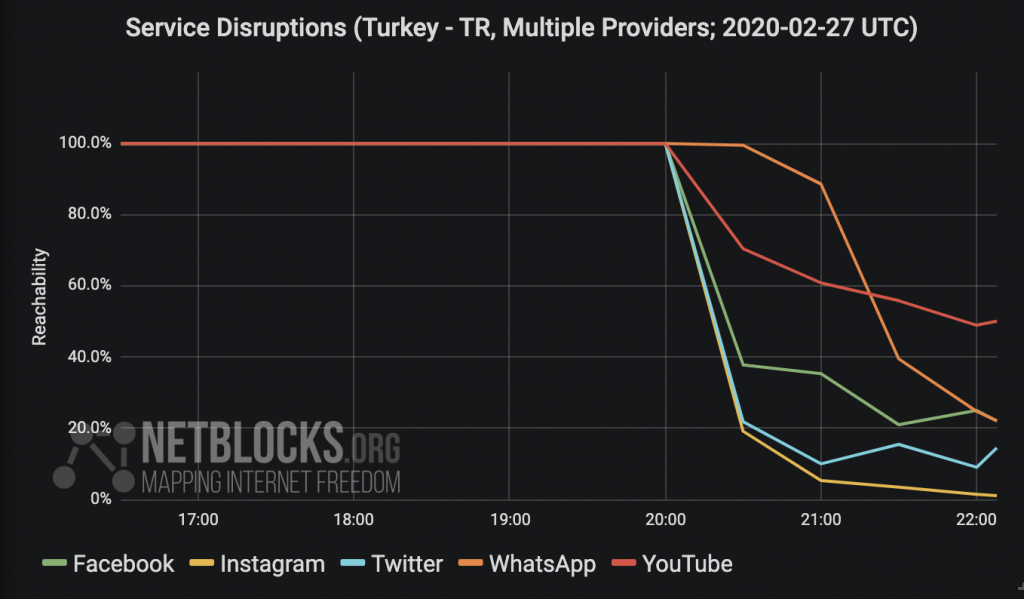 Wartime social media restrictions in effect
The blocking measure indicates the reinstatement of wartime social media restrictions, for which legal exceptions were introduced in 2016.
The same measures were understood to have been implemented as the Turkish Armed Forces and Free Syrian Army launch an expansive incursion into northern Syria targeting PKK/YPG and IS groups in the first phase of Operation Peace Spring. Another partial restriction was recorded during the October 2019 incursion into Syria.
Similar measures were also previously invoked during the initial phase of Operation Euphrates Shield on Thursday, 25 August 2016 when social media platforms Facebook, Twitter, YouTube, Vimeo and Instagram were blocked throughout Turkey for a period of seven hours.
Turkey passed an internet "killswitch" into law in 2016, permitting the ICTA regulatory authority to partially or entirely suspend internet access due to war or national security needs without the need for ministerial oversight.
By early Friday morning internet service providers updated their call center recordings to explain that social media platforms are no longer available to customers:
It's 5:30 a.m. in #Turkey where social media have been blocked for six hours after a military incident in #Idlib, Syria.

The internet censorship measures are the most severe on record there since 2016.

We obtained recordings from two leading ISPs 📞

📰 https://t.co/bowVKOQixH pic.twitter.com/XnodAi48Qc

— NetBlocks (@netblocks) February 28, 2020
Since 2016 Turkey has emerged as a regional leader counting several YouTube stars and major companies which rely on social media for marketing and growth. In January Facebook announced plans to open a further eight regional offices in the country:
It's 8 a.m. in #Turkey, where citizens are waking to find Twitter, Facebook, Instagram, YouTube blocked and WhatsApp limited.

Turkey is a global leader in Twitter usage, and Facebook had just announced plans to open offices in eight Turkish provinces.

📰https://t.co/bowVKOQixH pic.twitter.com/4jcrm4jAx9

— NetBlocks (@netblocks) February 28, 2020
When was the last time Turkey blocked social media?
The new nationwide restrictions are among first to be implemented since December 2016, when Turkey blocked social media nationally to prevent the sharing of a video showing the immolation of Turkish soldiers by the IS group.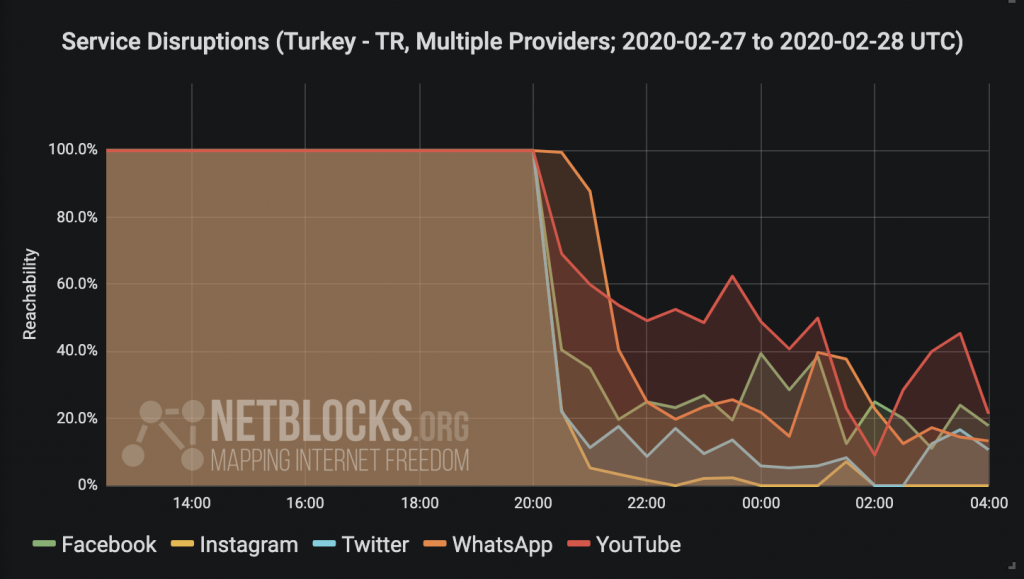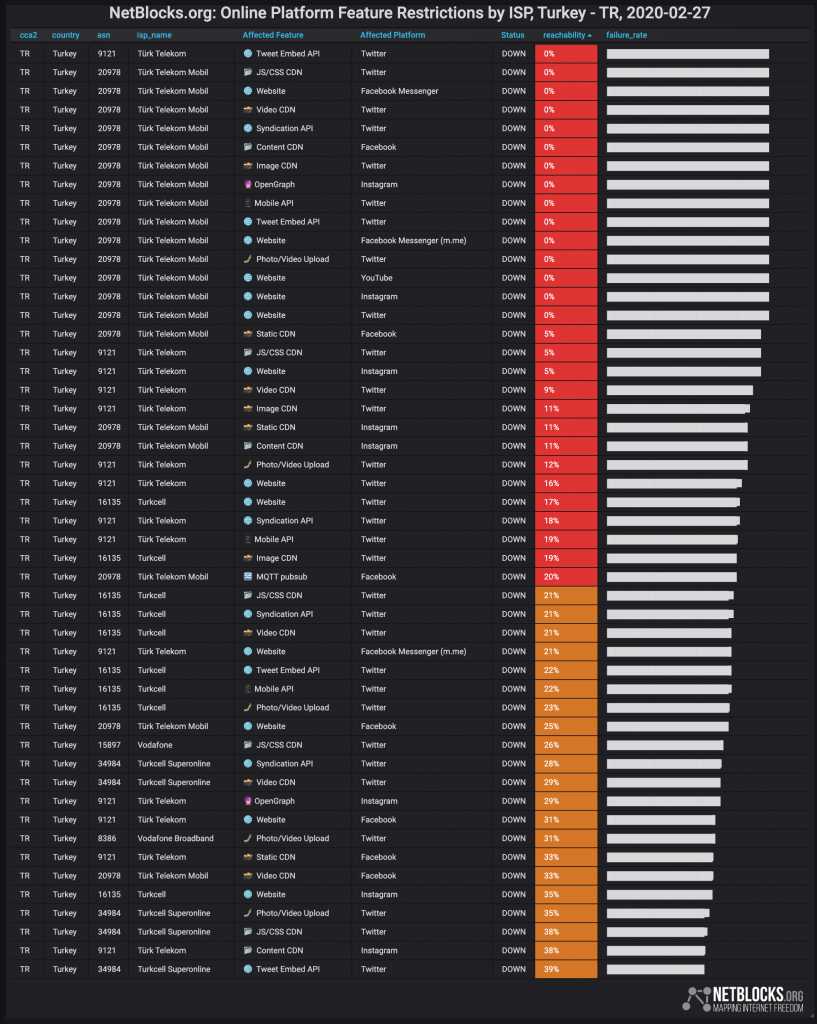 ---
Methodology
Internet performance and service reachability are determined via NetBlocks web probe privacy-preserving analytics. Each measurement consists of latency round trip time, outage type and autonomous system number aggregated in real-time to assess service availability and latency in a given country. Network providers and locations are enumerated as vantage point pairs. The root cause of a service outage may be additionally corroborated by means of traffic analysis and manual testing as detailed in the report.
---
NetBlocks is an internet monitor working at the intersection of digital rights, cyber-security and internet governance. Independent and non-partisan, NetBlocks strives to deliver a fair and inclusive digital future for all.
[ press | contact ] Graphics and visualizations are provided for fair use in unaltered form reflecting the meaning and intent in which they were published, with clear credit and source attribution to NetBlocks. Intellectual property rights are protected including but not limited to key findings, facts and figures, trademarks, copyrights, and original reporting, are held by NetBlocks. Citation and source attribution are required at the point of use.