Network data from the NetBlocks internet observatory provide technical evidence of a targeted internet shutdown in Russia on Saturday 3 August 2019 as demonstrators took to Moscow's streets to protest against crackdowns on political expression and representation in local elections.
Confirmed: Technical data provide evidence of Internet shutdown targeting #Moscow demonstrators on 3 August 2019; real-time network measurements indicate disruption to wifi networks from 12:00 p.m. UTC in addition to mobile data cuts #Russia #KeepItOn
📉📰https://t.co/P81tAdVgwt pic.twitter.com/RnqreDeu4N

— NetBlocks (@netblocks) August 4, 2019
Internet measurements of Russia's IP space reveal that state-run operator Rostelecom experienced partial disruptions as police cracked down on the unauthorized protest. Between 12:00 p.m. UTC and 2:30 p.m. Rostelecom network AS12389 experienced a small, but detectable, anomalous fall in connectivity consistent with a targeted localised internet shutdown that is understood to have affected fixed-line and wifi connections: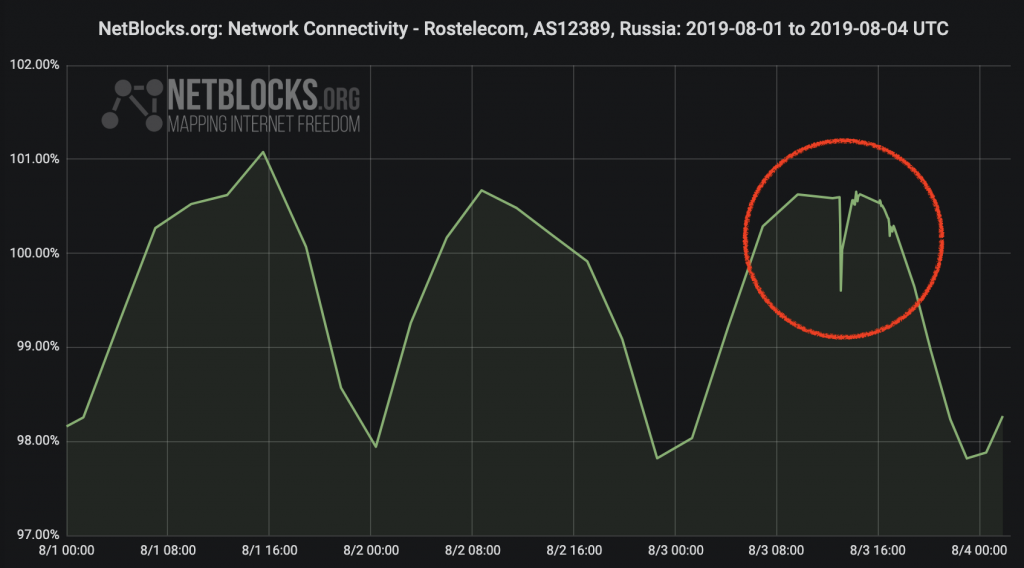 On Saturday morning, users also reported the loss of mobile internet and telephone connectivity in parts of central Moscow after 11:00 a.m. UTC (2:00 p.m local time) as demonstrators gathered to protest the disqualification of opposition candidates from standing in local elections. Mobile internet was reported unavailable with mobile operators including MTS and Beeline (PJSC VimpelCom):
We are seeing off mobile data at the center of the Russian capital Moscow. Mobile internet disconnection associated with the ongoing protests #shutdown #protests #Moscow
FYI @netblocks @accessnow pic.twitter.com/gXxsfXjDlx

— Michael Klimarev (@wanderer_from) August 3, 2019
NetBlocks data show the onset of the Rostelecom disruption shortly after the mobile disruptions, supporting reports that an order had been issued to disable public wifi networks in central Moscow in addition to the GSM shutdown, cutting off alternative lines of communication that demonstrators might use to organize and livestream interventions.
Social media posts from frustrated customers indicate that the disruptions affected users who were not directly involved in the protests, with one subscriber saying "Rostelecom certainly came up with a great idea, let's lower the Internet speed on a rainy weekend, thanks, now I can neither play nor watch the video":
Ростелеком конечно отлично придумали, давайте в дождливые выходные снизим скорость интернета, спасибо, теперь я не смогу ни поиграть ни посмотреть видик. Спасибо ростелеком pic.twitter.com/Q4V7BMouHq

— Долбач (@naotvage) August 3, 2019
More than 600 people are reported detained following Saturday's protest in Moscow, which follows larger protests that took place on 27 July 2019 where police were criticized for their disproportionate response. Social media, and particularly YouTube, have been used by opposition figures to express concern over the local election disqualifications. Protesters claimed their right to walk, in what was billed as a "stroll" after authorities refused to provide an official permit for the demonstrations.
Purposeful or politically motivated Internet shutdowns are rare in Moscow, although telecommunication blackouts have been documented in other parts of Russia under similar circumstances. Saturday's disruptions are likely to draw criticism from mainstream as well as opposition voices given their impact on critical infrastructure. NetBlocks recommends against the use of network disruptions to limit the rights to free expression and free assembly.
Update: 6 August 2019: In a news feature, BBC Russian reveals that a corresponding blocking order was issued to internet providers, confirming that Internet in central Moscow was "disabled at the request of law enforcement agencies" during Saturday's protests. The reported disruption has been classed "the first state-owned shutdown in Moscow's history":
https://twitter.com/lizafoht/status/1158830228514508801
---
Methodology
NetBlocks diffscans, which map the IP address space of a country in real time, show internet connectivity levels and corresponding outages. Purposeful internet outages may have a distinct network pattern used by NetBlocks to determine and attribute the root cause of an outage, a process known as attribution which follows detection and classification stages.
---
NetBlocks is an internet monitor working at the intersection of digital rights, cyber-security and internet governance. Independent and non-partisan, NetBlocks strives to deliver a fair and inclusive digital future for all.
[ press | contact ] Graphics and visualizations are provided for fair use in unaltered form reflecting the meaning and intent in which they were published, with clear credit and source attribution to NetBlocks. Intellectual property rights are protected including but not limited to key findings, facts and figures, trademarks, copyrights, and original reporting, are held by NetBlocks. Citation and source attribution are required at the point of use.