Network data from the NetBlocks internet observatory confirm that social media and messaging have been were partially blocked in Mali since Friday 10 July 2020 amid mass protests, up until afternoon Tuesday 15 July 2020. Demonstrators seeking political reforms, some calling for President Ibrahim Boubacar Keïta's resignation, occupied the national broadcaster in Bamako sending transmissions off air as a constitutional crisis developed.
Confirmed: Social media and messaging apps restricted in #Mali as protesters in #Bamako occupy national broadcaster demanding president resigns; real-time network data show Twitter, Facebook, Messenger and WhatsApp cut on Orange; incident ongoing 📉

📰 https://t.co/3Gyq1DOn3J pic.twitter.com/TjT9LejLbN

— NetBlocks (@netblocks) July 10, 2020
Social media platforms Twitter and Facebook and messaging apps WhatsApp and Messenger remained restricted with Mali's leading private operator Orange Mali 10:30 p.m. UTC / local time Friday as tensions rose, with the censorship measure spanning six consecutive days.
National telecom operator Malitel's cellular network has additionally restricted Instagram. The filtering is also more comprehensive, with indications of near-total impact. The internet censorship measures are implemented at the ISP level and applied differently by each company.
Update: Internet restrictions continue in #Mali amid intensifying protests after dissolution of Constitutional Court; real-time network data show targeted and total blocking of major social platforms on national telco #Malitel's cellular network 📉 #M5

📰 https://t.co/3Gyq1DOn3J pic.twitter.com/z4wz0yuDAz

— NetBlocks (@netblocks) July 13, 2020
Affected users are able to regain access via VPN services which circumvent internet censorship by tunnelling to other countries. Listed platforms remain blocked or degraded as of Monday while other online services and websites continue to function normally on restricted networks.
Update: Social media and messaging apps remain restricted in #Mali as of Saturday afternoon amid widespread protests; real-time network data show targeted blocking of Twitter, Facebook, Messenger and WhatsApp on Orange (AS30985) 📉

📰 https://t.co/3Gyq1DOn3J pic.twitter.com/MFTlIJM4DH

— NetBlocks (@netblocks) July 11, 2020
Internet performance metrics collected from an initial 50 observation points and a wider set of analytics data confirm that Twitter, Facebook, Messenger, and WhatsApp servers were restricted on Orange's network corroborating user reports. Findings are consistent with previous restrictions in Mali and there is no indication of a technical fault.
Authorities remained active on restricted social media platforms through Friday evening to denounce the unrest and circulate state security measures. The events are the latest in a series of widening protests since Mali's contested March 2020 legislative elections.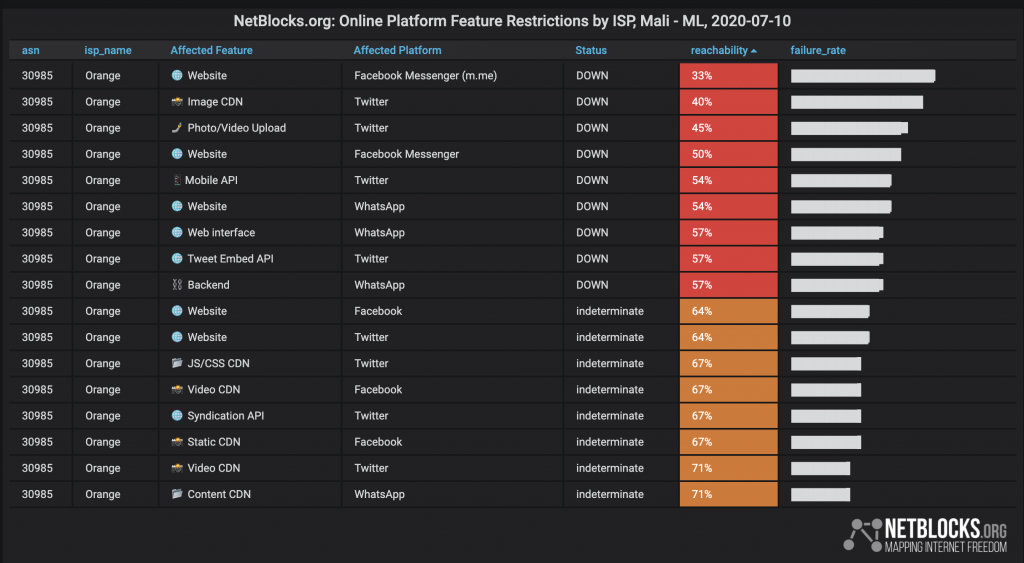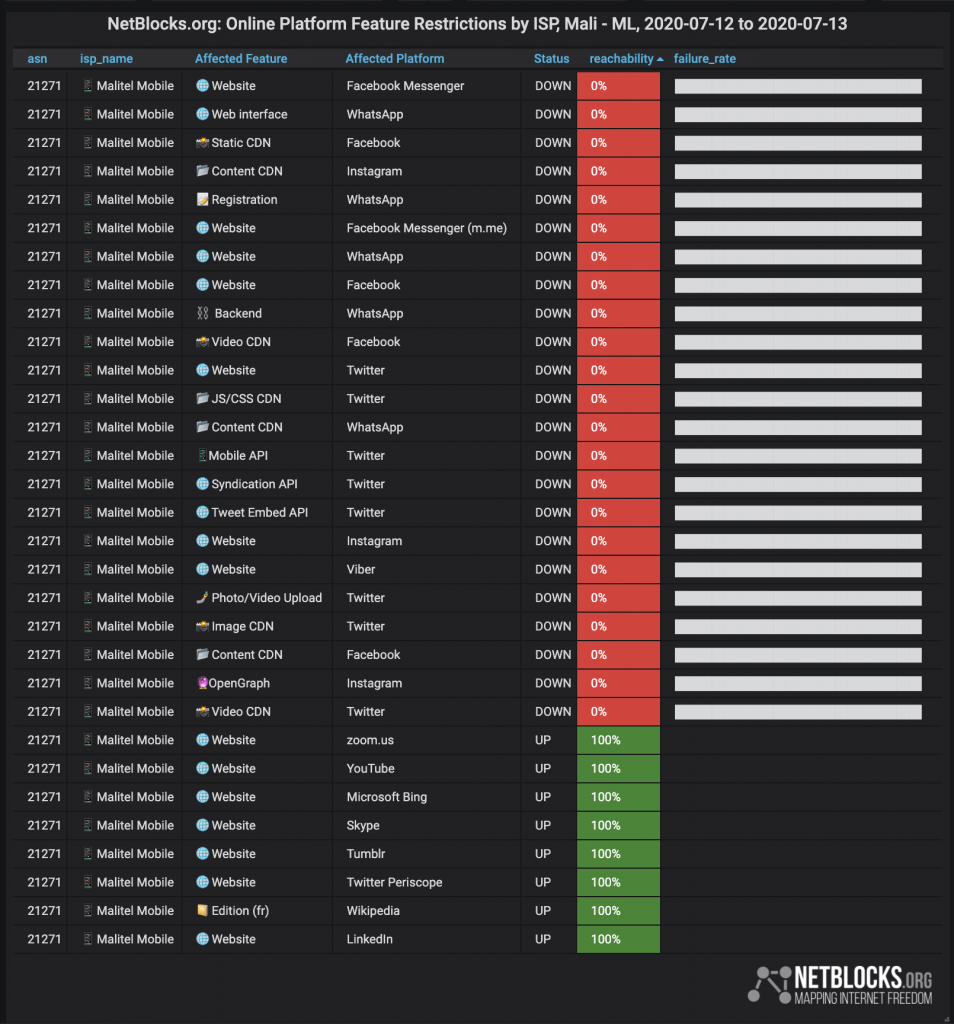 Background: Mali's election internet shutdowns
On 16 August 2018, NetBlocks reported that Mali disrupted internet connectivity and blocked social media in the runoff following July's presidential election. Incident timings show that restrictions were in place before polling and during vote counting and the announcement of results, which the opposition alleged were marred by irregularities. Incumbent President Keïta was ultimately re-elected and went on to serve his current five-year term with 67% of the vote.
Records show that internet access and social media were previously restricted in #Mali during the August 2018 national elections, when President Keita was re-elected to serve his current term 📔https://t.co/zh9Y25B1lq

— NetBlocks (@netblocks) July 10, 2020
Further reading:
---
Methodology
Internet performance and service reachability are determined via NetBlocks web probe privacy-preserving analytics. Each measurement consists of latency round trip time, outage type and autonomous system number aggregated in real-time to assess service availability and latency in a given country. Network providers and locations are enumerated as vantage point pairs. The root cause of a service outage may be additionally corroborated by means of traffic analysis and manual testing as detailed in the report.
---
NetBlocks is an internet monitor working at the intersection of digital rights, cyber-security and internet governance. Independent and non-partisan, NetBlocks strives to deliver a fair and inclusive digital future for all.
[ press | contact ] Graphics and visualizations are provided for fair use in unaltered form reflecting the meaning and intent in which they were published, with clear credit and source attribution to NetBlocks. Intellectual property rights are protected including but not limited to key findings, facts and figures, trademarks, copyrights, and original reporting, are held by NetBlocks. Citation and source attribution are required at the point of use.