Network data from the NetBlocks Internet Observatory confirm disruption to internet connectivity in Iran on the evening of Saturday 27 February 2021 from 10:30 p.m. up until midnight local time. The disruption follows four days of localized regional network disruptions reported in the Sistan and Baluchestan region amid deadly protests.
⚠️ Confirmed: Significant internet disruption registered in #Iran from ~10:30 pm local time; incident has partial impact observable at nation scale, and follows days of reported disruptions during protests in the southeast; incident ongoing 📉

📰 https://t.co/VRph3Rt5Nb pic.twitter.com/LXFIomAgbi

— NetBlocks (@netblocks) February 27, 2021
The anomaly having partial impact and corroborates user reports of difficulty getting online. Impacted networks include the Information Technology Organization of Iran, AsiaTek, Aria Shatel, Pars Online and associated providers.
The disruption is not yet attributed to a root cause and follows days of localised disruptions in the southeast that have limited observability through technical means.
A further network disruption has been tracked on the night of Tuesday 2 March 2021, during which cellular network Irancell experienced a partial loss of service falling to approximately 20% of ordinary levels for 2.5 hours. The incident is anomalous but appears technically distinct from the previously noted disruption:
Confirmed: Mobile internet partially disrupted in #Iran; real-time network data show high impact to Irancell; incident duration ~2.5 hours 📵

📰Previously: https://t.co/VRph3Rt5Nb pic.twitter.com/2F1e6gBAET

— NetBlocks (@netblocks) March 2, 2021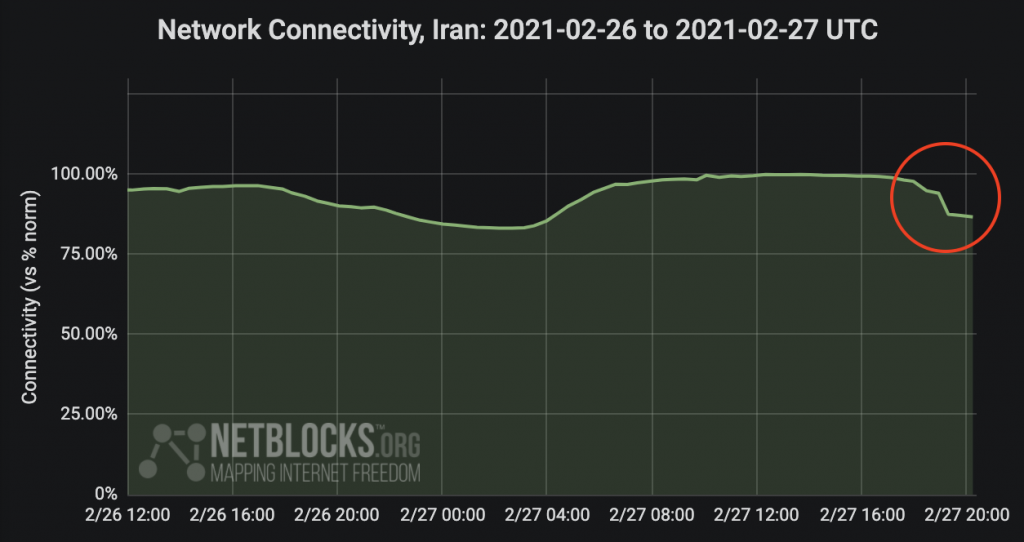 Previously:
---
Methodology
NetBlocks diffscans, which map the IP address space of a country in real time, show internet connectivity levels and corresponding outages. Purposeful internet outages may have a distinct network pattern used by NetBlocks to determine and attribute the root cause of an outage, a process known as attribution which follows detection and classification stages.
---
NetBlocks is an internet monitor working at the intersection of digital rights, cyber-security and internet governance. Independent and non-partisan, NetBlocks strives to deliver a fair and inclusive digital future for all.
[ press | contact ] Graphics and visualizations are provided for fair use in unaltered form reflecting the meaning and intent in which they were published, with clear credit and source attribution to NetBlocks. Intellectual property rights are protected including but not limited to key findings, facts and figures, trademarks, copyrights, and original reporting, are held by NetBlocks. Citation and source attribution are required at the point of use.