Network data from the NetBlocks internet observatory confirm that Iran has blocked access to the Farsi (Persian) language edition of the Wikipedia online encylopedia as of Monday, 2 March 2020. The standard web edition was blocked while the mobile version remained available to users.
Update: The restrictions, in place for some 24 hours, have been lifted as of Tuesday afternoon. A legal basis for the block has not yet been provided by authorities.
Network data confirm that the blocks are technically consistent with known techniques used to restrict online platforms in Iran, with SNI filtering and DNS poisoning in place to prevent the website from loading.
⚠️Confirmed: #Wikipedia Farsi has been blocked in #Iran; real-time network data confirm the Iranian web edition of the online encyclopedia is now blocked by means of SNI filtering as fears over #coronavirus crisis spread online; incident ongoing 📉
📰https://t.co/Xs2kb80gat pic.twitter.com/tiEJKBMPv7

— NetBlocks (@netblocks) March 3, 2020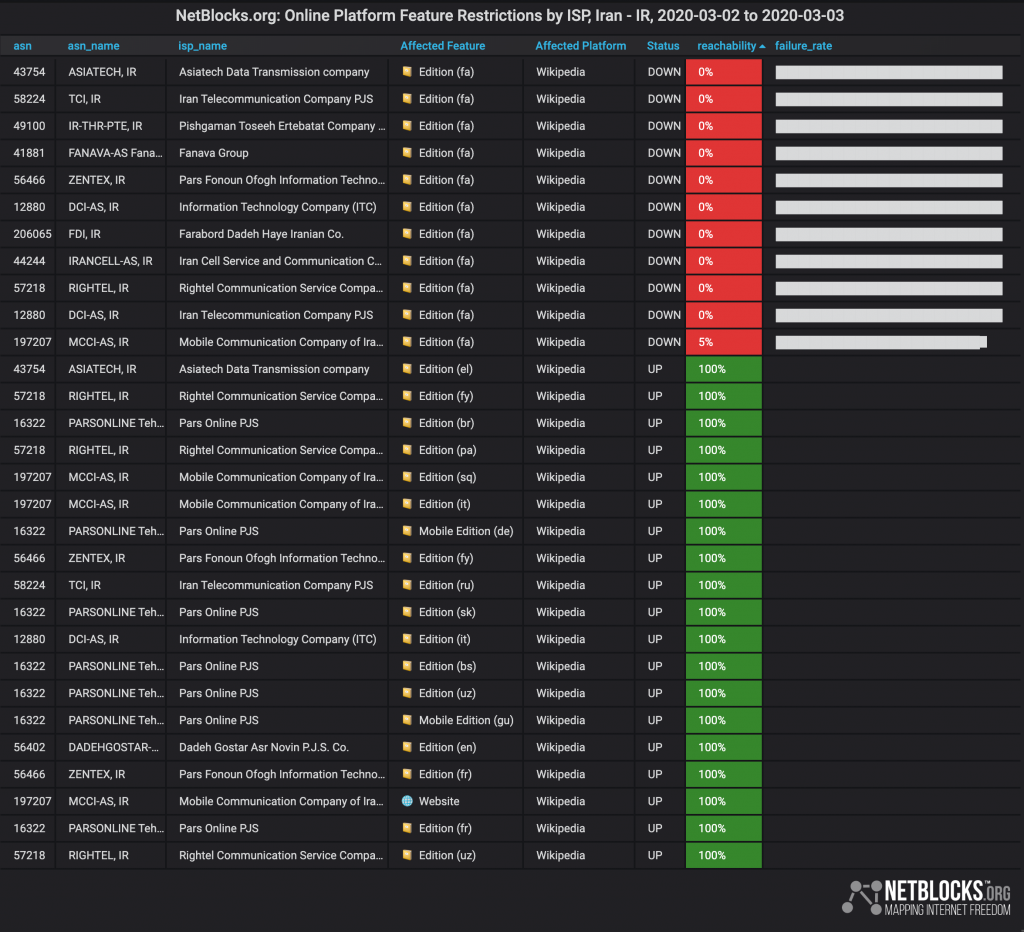 The new restrictions come as Iran faces a growing crisis following the loss of senior state figures to coronavirus and as a spate of misinformation of unclear origin have spread through social media.
All other language editions remain available in Iran except the Hebrew edition which is subject to a pre-existing block on some networks. Records confirm that Wikipedia Farsi was fully available prior to Monday.
Why has Iran blocked Farsi Wikipedia?
Although no official statement has been issued relating to the ban, Iranian authorities have faced a surge in international criticism as well as misinformation over the state's handling of the coronavirus epidemic and the distribution of false medical advice.
While a definitive basis for the restriction has not yet been established, timings indicate that the restriction was put in place as global news media reported the death of Mohammad Mirmohammadi, a prominent advisor to Iranian Supreme Leader Khamenei, who lost his life to coronavirus aged 71.
Wikipedia articles related to Iran's handling of the coronavirus remain unlocked and open for editing at the time of writing.
Which Wikipedia websites and users are affected?
Network data confirm that the Iranian Wikipedia edition is now blocked with Iran's leading fixed-line and mobile network operators.
Analytics data show that the restrictions are in effect nationwide with affected providers, while technical testing confirms that the blocks are implemented with the same mechanism used to restrict access to popular social media platforms such as Twitter and Facebook in Iran. Subscribers of smaller or specialist private network operators may remain unaffected.
Farsi Wikipedia joins Hebrew Wikipedia, which was already partially restricted in Iran by some operators for unknown reasons.
What options do Iranians have to access Wikipedia?
The blocking measure is applied only to the desktop version of Wikipedia Farsi located at https://fa.wikipedia.org. The apparent oversight means it is still possible to gain access via the mobile version of the website located at https://fa.m.wikipedia.org.
Alternatively, users can circumvent the restriction using VPN services. However, Wikipedia has a policy of limiting edits submitted over VPN in order to combat vandalism, so users who are able to get through this way will be unable to edit content as a result.
When was Wikipedia blocked and unblocked?
Network data confirm that the restrictions were in place by early afternoon Iran time on Monday, 2 March 2020. The restrictions were in place for approximately 24 hours.
User reports describing difficulty accessing Wikipedia begin shortly after the incident's detection and span the same 24 hour window.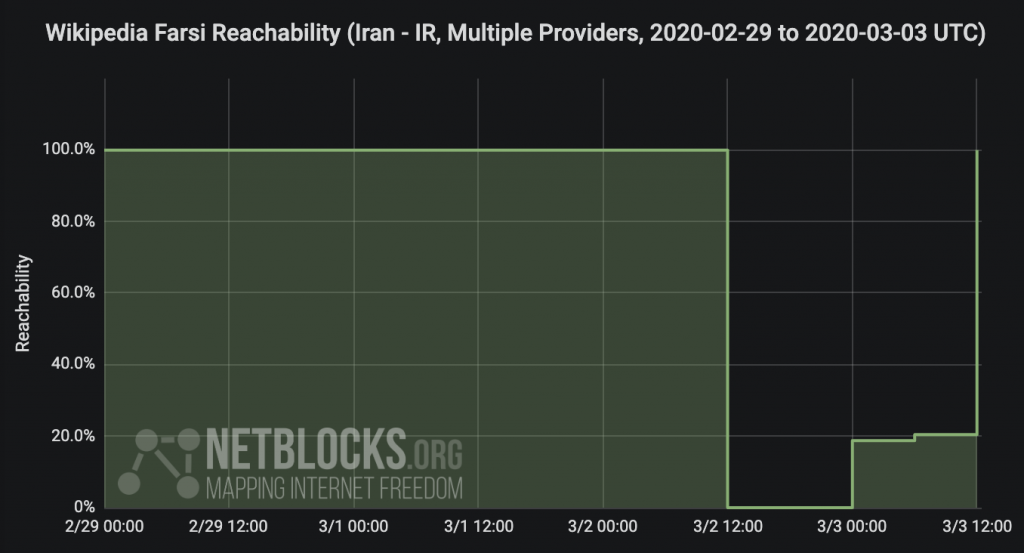 How is access to Wikipedia being restricted?
Investigations show that attempts to establish an HTTPS connection to the service are dropped during the TLS handshake phase based on the supplied server name header. Additionally, DNS servers respond with a non-routable network address, confirming that multiple methods are being used to block the platform as with other banned websites in Iran.

Findings are based on network performance analytics metrics from an initial sample size of 100 web vantage points and 12 networks further corroborated by manual testing using Open Source dig and curl tools and analysis of TLS and DNS network capture data.
Which other countries block Wikipedia?
Wikipedia is largely blocked in China. Turkey recently restored access after blocking access to all editions of Wikipedia for almost three years, and Wikipedia was restricted in Venezuela for a period last year amid a heated dispute over who was president.
Wikipedia has also faced a series of DDoS attacks causing international failures in recent months. However, it is shown that the new restriction in Iran is highly specific and not caused by such cyber-attacks, excessive load or outages reported in the same period.
---
Methodology
Internet performance and service reachability are determined via NetBlocks web probe privacy-preserving analytics. Each measurement consists of latency round trip time, outage type and autonomous system number aggregated in real-time to assess service availability and latency in a given country. Network providers and locations are enumerated as vantage point pairs. The root cause of a service outage may be additionally corroborated by means of traffic analysis and manual testing as detailed in the report.
---
NetBlocks is an internet monitor working at the intersection of digital rights, cyber-security and internet governance. Independent and non-partisan, NetBlocks strives to deliver a fair and inclusive digital future for all.
[ press | contact ] Graphics and visualizations are provided for fair use in unaltered form reflecting the meaning and intent in which they were published, with clear credit and source attribution to NetBlocks. Intellectual property rights are protected including but not limited to key findings, facts and figures, trademarks, copyrights, and original reporting, are held by NetBlocks. Citation and source attribution are required at the point of use.