The NetBlocks internet observatory has collected technical evidence of the blocking all editions of Wikipedia in Venezuela as of 12 January 2019. The restrictions are implemented by the largest telecommunications provider CANTV.
Confirmed: All editions of the #Wikipedia online encyclopedia blocked in #Venezuela by leading telecom provider #12Ene #KeepItOnhttps://t.co/p8KZskcz8T pic.twitter.com/rrxdpS6Zmx

— NetBlocks (@netblocks) January 12, 2019
The study comprising 60,000 metrics has also identified a major network disruption affecting telecommunications infrastructure, coinciding with the other restrictions, that will have impacted Venezuelans' ability to communicate and access information during the previous 24 hours.
In context
The site appeared to be partially accessible as of morning 14th January 2019 though the block is ongoing; the contested Wikipedia articles remained 
locked down
by editors.
The restrictions are understood to follow a bitter Wikipedia edit war where editors put forward conflicting views, during which newly-appointed National Assembly president Juan Guaidó was listed as "president number 51 of the Bolivarian Republic of Venezuela."
Data also show that a number of local sites have been recently restricted, indicating that recent political instability may be the underlying cause for a tightening regime of internet controls.
Venezuela joins Turkey as the only other country presently known to block the entirety of the Wikipedia online encyclopaedia.
The findings are corroborated by several CANTV subscribers who report they can only access Wikipedia using VPN connections which can circumvent censorship.
It could not be ascertained at the time of writing whether an official blocking order has been issued or whether the restriction is intended to be permanent. Other Wikimedia projects such as Wikidata and Wikimedia Commons have not been affected.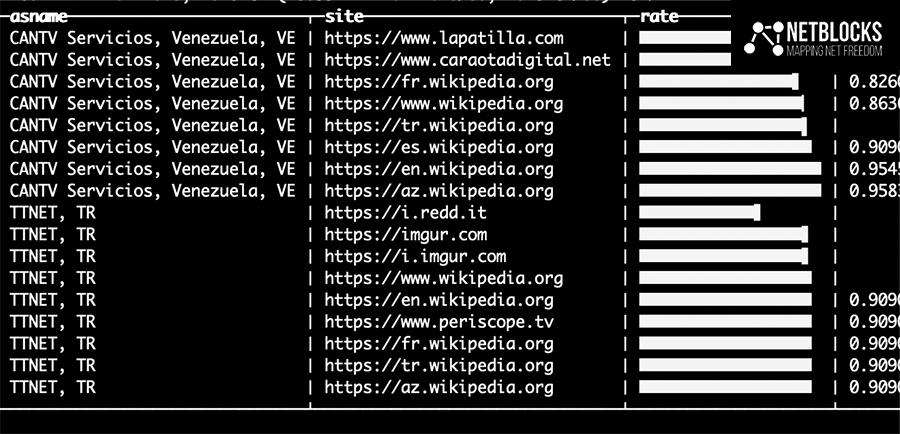 ---
Methodology
Internet performance and service reachability are determined via NetBlocks web probe privacy-preserving analytics. Each measurement consists of latency round trip time, outage type and autonomous system number aggregated in real-time to assess service availability and latency in a given country. Network providers and locations are enumerated as vantage point pairs. The root cause of a service outage may be additionally corroborated by means of traffic analysis and manual testing as detailed in the report.
---
NetBlocks is an internet monitor working at the intersection of digital rights, cyber-security and internet governance. Independent and non-partisan, NetBlocks strives to deliver a fair and inclusive digital future for all.
[ press | contact ] Graphics and visualizations are provided for fair use in unaltered form reflecting the meaning and intent in which they were published, with clear credit and source attribution to NetBlocks. Intellectual property rights are protected including but not limited to key findings, facts and figures, trademarks, copyrights, and original reporting, are held by NetBlocks. Citation and source attribution are required at the point of use.